pTuesday, November 7th was the final Secret Supper event of 2017, and it was AMAZING. And as usual, before I get into the details, I'll quickly go over what The Secret Supper is, if you don't already know.

With the exciting news of Baltimore becoming one of The United States' premiere cities for great food, actually coming in number 2 in Zagat's top food cities in 2015, the folks at The Sun decided to introduce the people of this great city to some of the best, most appealing and interesting restaurants in Charm City.
CHECK OUT ALL OF MY SECRET SUPPER ADVENTURES HERE!
They scoured Baltimore City to find THE outstanding restaurants around, and hand selected their favorites to host this year's second Secret Supper series open to eager Baltimore food lovers, like you and me. Yes. It's a series, and each all-inclusive ticket allows you to enjoy a specialty cocktail and a remarkable 4-course meal with expert wine pairings. Plus the entire evening will only set you back $99. That's a huge bargain if you ask me.
So what's the secret?
IN EACH INSTALLMENT OF THE YEAR-LONG 4-PART SERIES CURATED BY THE BALTIMORE SUN INVITES US ALL TO EXPERIENCE AN EXTRAORDINARY MENU AT ONE OF THE CITY'S TOP RESTAURANTS - BUT WHICH ONES WILL YOU VISIT? THEY DON'T GIVE US A CLUE...YET!
And in my opinion, that's the best part. And yeah, maybe it's also the hand-crafted cocktail, the four-course drool-worthy meal and the expert wine pairings, but let me say, the whole build up and anticipation waiting to find out WHERE we would be dining was extra fun. Shaking up the routine is something that I crave, and this steps in right where I need it.
Check out this quick video on the series, starring yours truly and yours truly's husband!
The previous secret suppers of 2017 were AMAZING. ,The 2017 Secret Supper series kicked off with a bang at Cosima, the modern Italian restaurant up in Mill no. 1, recognized for their fresh take on the Mediterranean cuisine of Sicily, while also capturing the essence of traditional Southern Italian flavors, through their menu and cocktail assortment.
The second installment was at The Elephant in the Mt. Vernon neighborhood of Charm City, and not only was the food intricate, but the space was insanely beautiful and detailed. That was one memorable experience.
The third Secret Supper at City Cafe, also in Mt. Vernon, was sublime. My parents joined Michael and me on a double date in celebration of my mom's birthday. They agreed, it was a wonderful dinner. My favorite course of the night was for SURE the beautiful filet of rockfish with crispy skin, whipped potatoes, green beans, a lemon crab salad and beurre blanc, served with a 2015 Californian Chardonnay. It was dynamite. The whole experience there was dynamite. I also loved how we were able to get my parents out of the house and do something fun. It was fun.
Unfortunately, I wasn't able to make the fourth installment of the Secret Supper, since just a mere few weeks before, I gave birth to my beautiful baby girl. But when I found out they'd be adding a fifth supper to the schedule for 2017? Shoot... I was amped.
So ANYWAY, now we can get into the real meat of this post, the reason we're all here. The 5th Secret Supper!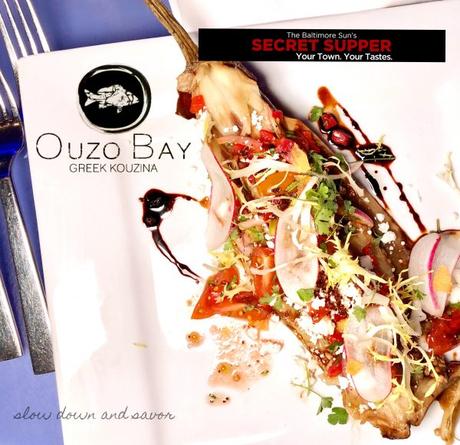 Last Tuesday, November 7th, I sat eagerly, as I always do on Secret Supper days, on the edge of my seat, waiting for the email reveal for that evening's destination. The email came and I discovered we'd be dining at Ouzo Bay, a modern Greek restaurant in Harbor East, headed up by Chef Alex Morris.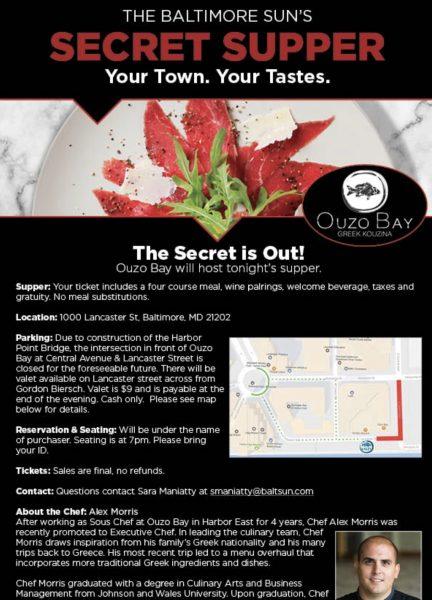 Sadly, my husband was going to be out of town, and due to babysitter situations and plans falling through, I ended up just going alone with Genevieve as my date. Yes, I brought my 4-month-old baby girl, but she's exclusively breastfed, and refuses to take a bottle, no matter what. It's frustrating, but she's a wonderful baby and doesn't tend to be a fusser. Thank God.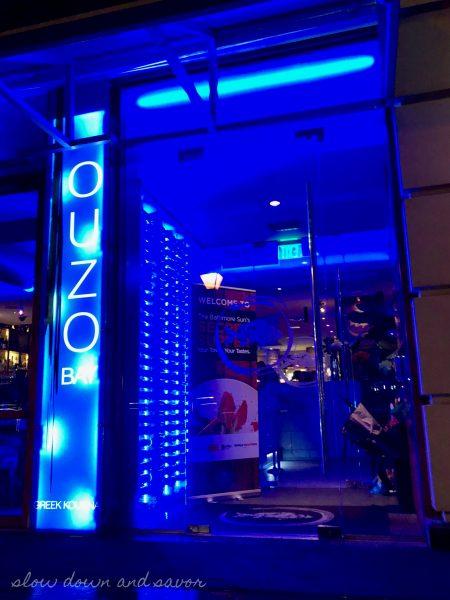 To be honest, I was a bit afraid of going it alone, but it ended up being AMAZING. I met some incredible people at my table, and had a blast.
That's one thing I say in every single one of my Secret Supper reviews: I love the fact that as part of the Secret Supper, you're seated with strangers. And by the end of the night, these strangers are friends, and that's just part of the fun.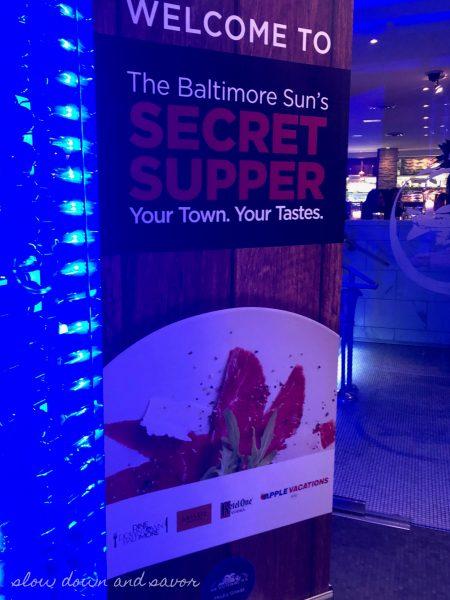 When I arrived at Ouzo Bay, I was greeted warmly by the hostess, and was given assistance without grumbling or complaining to a table where I could have both myself and Genevieve comfortably seated.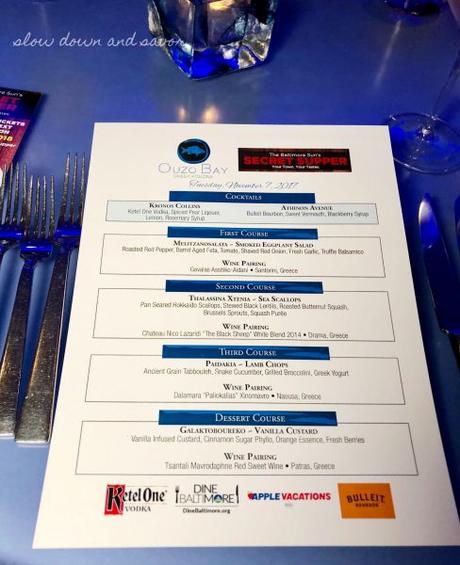 As part of the secret supper ticket, you receive a signature cocktail as a welcome, and after I was seated, I was prompted to select a bourbon-based cocktail - Athinon Avenue, featuring Bulleit Bourbon, sweet vermouth, and blackberry syrup - or a vodka-based cocktail - Kronos Collins, featuring Ketel One vodka, spiced pear liquor, lemon and rosemary syrup. After reading the details of both, I decided on the Kronos Collins. The flavors were subtle and balanced, and made sense together. There were hints of rosemary and lemon, and the pear was a nice addition. I loved it.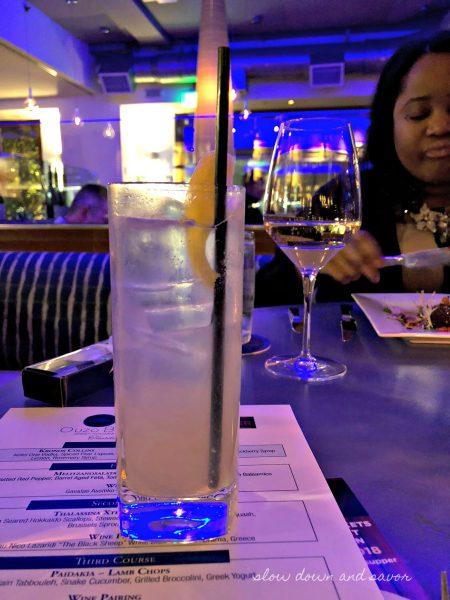 Also, since I was a wee-bit late to the table, I arrived just as the first courses were delivered.
First Course
Melitzanosalta - smoked eggplant salad with roasted red pepper, barrel aged feta, tomato, shaved red onion, fresh garlic, truffle balsamic - paired with a Gavalas Assitiko-Aidani from Santorini, Greece.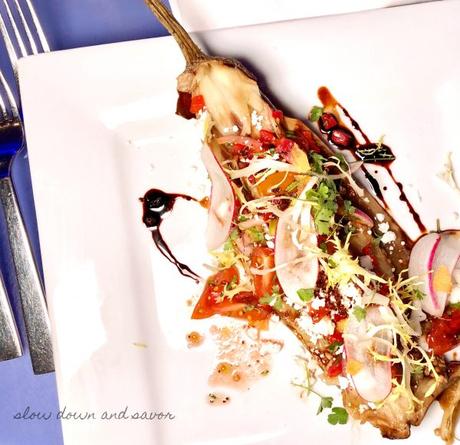 Oh. My. Gosh. This was QUITE a way to start the meal. It truly made a statement, and that statement was, sit down, buckle your seat belts, you're in for a ride straight to the Mediterranean.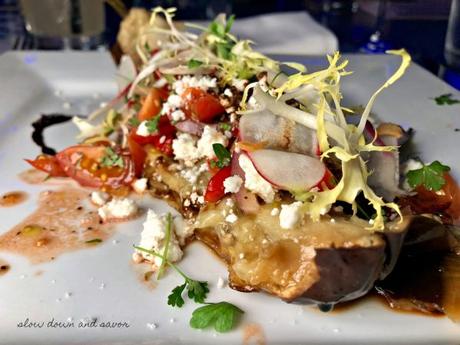 It was good. SO good. The plate was beautiful and fragrant, The flavors were bold and strong but somehow also subtle and fresh. The eggplant wasn't at all eggplanty, if you know what I mean, and the fresh garnish paired with the truffle was fantastic.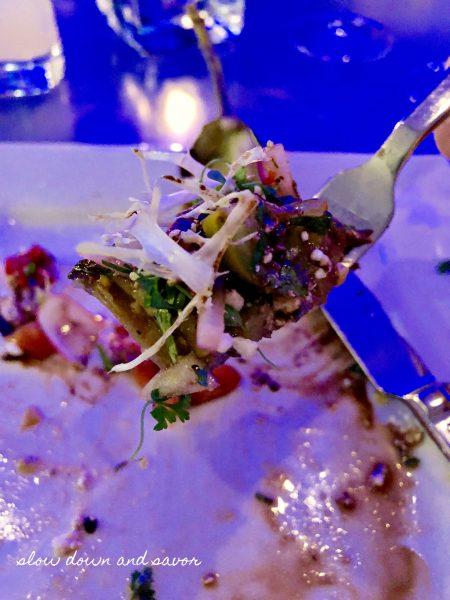 There was a real play between deep earthiness, and a fresh lightness, and yeah, it was a sensational start. I cleaned my plate, and was excited for the second course.
Second Course
Thalassina Xtenia - Sea Scallops: Pan seared Hokkaido Scallops with stewed black lentils, roasted butternut squash, Brussels sprouts and a squash puree - paired with a Chateau Nico Lazaridi "The Black Sheep" White Blend 2014, from Drama, Greece.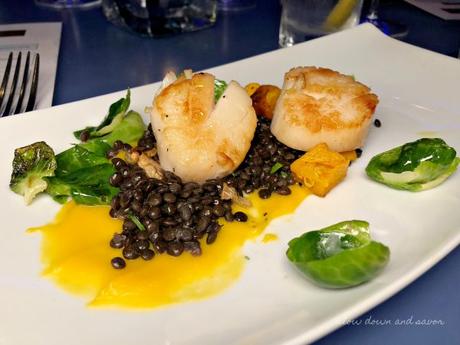 As soon as it was set in front of me, I was blown away. I think that the theme of this post will be "beautiful and fragrant," because once again, the plate was striking. The color contrast and the plain artistry behind plating design was well thought out and exciting, and it was a delightfully aromatic experience.
The vibrance of the butternut squash puree was a beautiful backdrop to the perfectly seared scallops and tender black lentils. The Brussels sprouts were cooked to a point where the leaves were still vivid green, and were like scattered emeralds on a sea of stone, gold and onyx. I'm being really extra here, but it was gorgeous.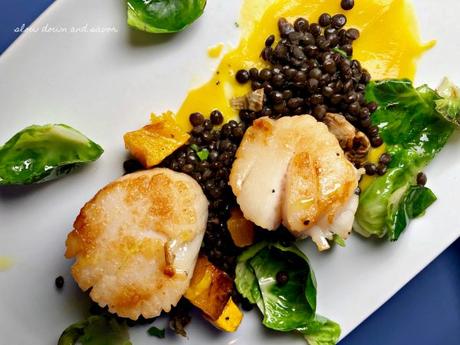 And guess what? It tasted just as gorgeous. The butternut squash puree acted as a sauce for the scallops and the scallops were meaty and flavorful. The lentils were cooked al dente, and packed a nice hearty punch. It was exquisite.
Third Course
Paidakia - Lamb Chops with ancient grain tabbouleh, snake cucumber, grilled broccolini, greek yogurt paired with a Dalamara "Paliokalias" Xinomarvo - from Naousa, Greece.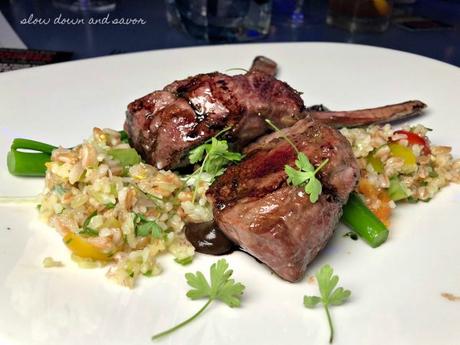 Should I say it? Yeah, I'll just go ahead and say it. The main course was so beautiful and fragrant. I need new words. Anyway, the presentation was elegant. The aroma was intoxicating, and the whole dish was flat out seductive.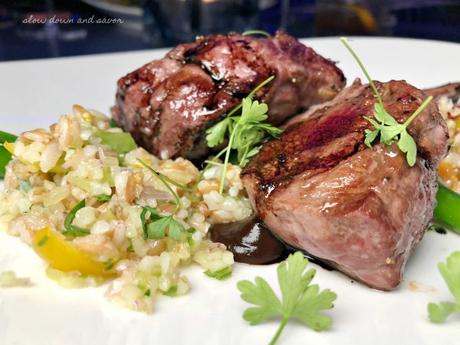 The lamb was cooked to perfection. It arrived at the table warm and fresh and honestly, that's amazing. The ancient grain blend was packed with flavor, was tender and had a great mouthfeel. Literally? This meal was shaping up to be one of the best I've had during the entirety of the Secret Supper series and in general in life. I was sort of bummed I wasn't able to share this meal with my husband, but I'm counting my blessings that I was able to experience it, thanks to my parents who stepped in to babysit my kiddos. Thank you.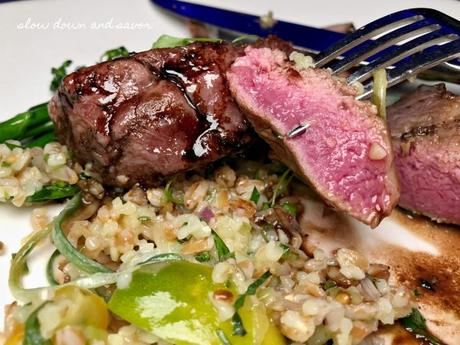 Anyway, I loved this dish and couldn't wait for dessert, even though I'm not a dessert fan. But since every dish thus far had been astounding, I pretty much knew they'd knock it out of the park.
Fourth Course
The menu read: Galaktoboureko - vanilla custard, vanilla infused custard, cinnamon sugar phyllo, orange essence, fresh berries, though I'm pretty sure this wasn't what we got at all at all.
I'm pretty sure we didn't get this at all. I'm pretty sure we got a slice of giant baklava, with some vanilla ice cream (maybe custard, but I'm pretty sure it was ice cream), and macerated grapes. The dessert was paired with a Tsantali Mavrodaphne a red sweet wine from Patras, Greece.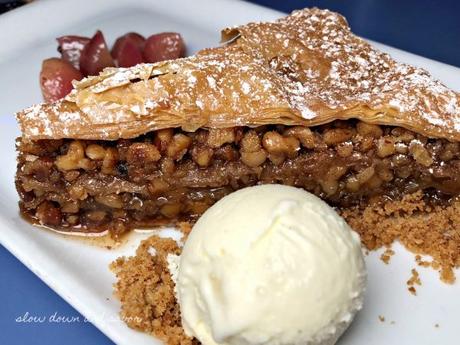 So while the plate wasn't quite fitting of the description, it was still absolutely delicious. The filling was dense and sweet, and just the perfect end to the meal.
Take Aways
I officially love Ouzo Bay. What a beautiful restaurant! As a whole, we Secret Supper goers were presented one after another with electrifying, sultry and creative dishes. Everything was exciting, and smelled and tasted damn good.
I was really impressed with the temperature of each of the dishes, and thrilled that each and every dish I saw looked uniform and aethstetically beautiful.
Why is that impressive? I mean, when you go out for a "fancy" dinner, you expect to get fresh food that's hot and hasn't been sitting on the pass forever. You expect a beautiful, creative plate. You expect these things when you go somewhere like Ouzo Bay.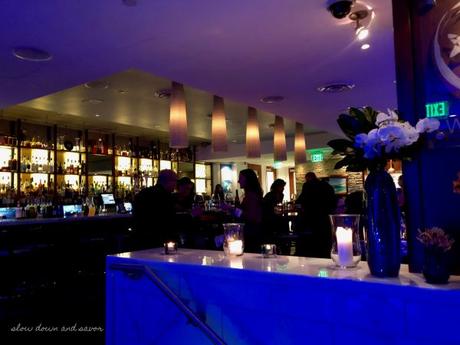 But please, keep in mind that a Secret Supper isn't just a night out for you and your date, or just you and friends. It's an event. It's a HUGE seating where nearly 200 individuals, including you and your date, or you and your friends, are sat at THE SAME TIME. Everyone gets their meals at the same time, and their wine poured at the same time. That puts a colossal strain on the kitchen.
Has every Secret Supper served fresh and warm food? Nope. But not only has Ouzo Bay delivered on creativity, beauty, flavor and freshness with all 4 dishes served, but they delivered each dish in a timely way. We didn't wait for an hour between each course, and we weren't' bombarded with food either. The timing was impeccable.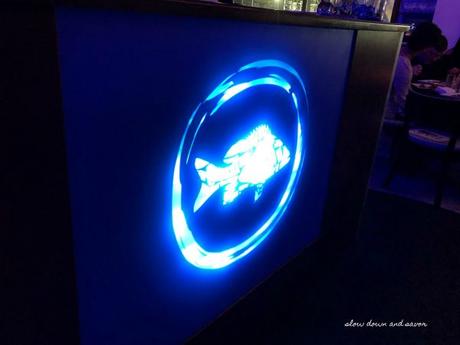 But that's not all. They also left half of their restaurant open to the public. Wait, WHAT!? That's right folks. Ouzo Bay was ballsy, and they succeeded. I absolutely was blown away by the whole evening, and to find out they were doing the Secret Supper ANNNNDDD had seating for the public? Mind blown. They were the first of the whole series in the past 2 years to do that, and were for SURE the creator of one best meals the Secret Supper series has delivered.
OK I'm pretty sure you've gotten the point by now, that I loved Ouzo Bay, and that everything was spectacular. But you may also be wondering, Katie, why didn't you talk about the wine pairings like you usually do?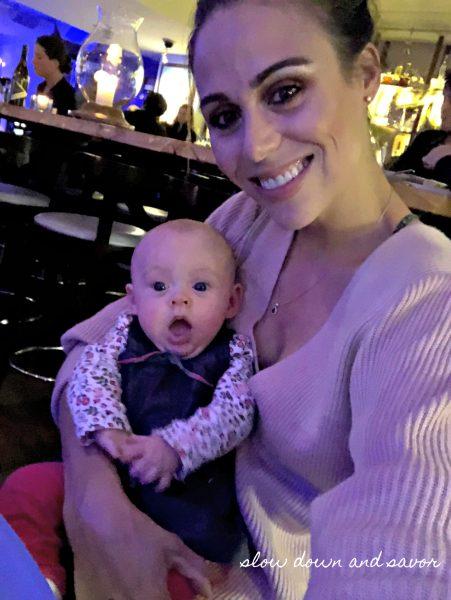 I actually didn't drink the wine except for a taste here and there, and I have to say, the wine really wasn't overwhelmingly fantastic. I mean, it was good, and it went well with the food, but it wasn't spectacular and didn't scream expertly paired to me. Not that there was anything WRONG with the wine, it was great... OK never mind you get it. I'm sure you do.
But overall? I made friends, ate gorgeous and delicious food in a beautiful space and had an incredible night out. I loved my time at Ouzo Bay and can't wait to go back!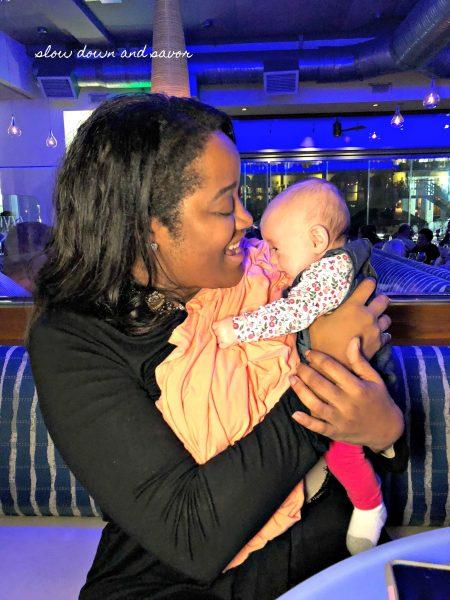 I'm excited to end this review with an announcement of the FIRST Secret Supper of 2018! If you are interested in joining me on the next adventure, mark your calendars for Tuesday, February 6th, 2018! Get your tickets HERE! Who's coming?