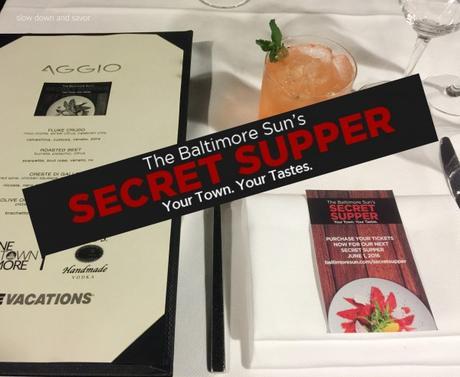 Last night, March 9, was The Baltimore Sun's inaugural Secret Supper event. Did you know that Baltimore has become one of the premiere cities for great food? In fact, Baltimore was rated number 2 in Zagat's top food cities in 2015! Yes. Seriously.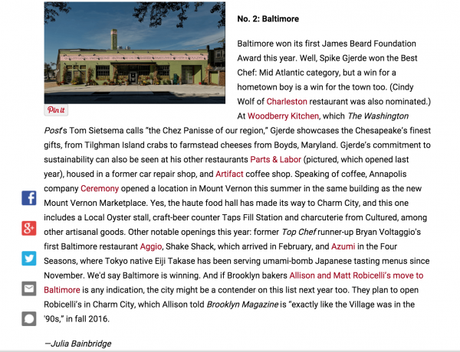 With that in mind, the folks from The Baltimore Sun scoured the city to find this year's outstanding restaurants and hand selected their favorites to host their Secret Supper series. Yes. It's a series.The Baltimore Sun invites us all to experience an extraordinary menu at one of the city's top restaurants. They just can't tell you where...yet! There will be FOUR Secret Suppers this year, including last night's.
Before I get in over my head as I usually do, let me just start from the start, and explain what the Secret Supper entails.
The Secret Supper dinners will feature a four course meal, with expert wine pairings, and a signature cocktail upon arrival. Seatings will be offered at 6:30 p.m. and 7:30 p.m.
Yesterday morning, March 9, we were all eager, on the edge of our seats, waiting ever so patiently for event organizers to email us guests with the venue's name and address, since the deal is, we don't know where we're going until the day of. (Read: Continuously refreshed mail account every 2 minutes dying to see where we'd be going.) The all-inclusive tickets are $99 each, and are available through Mission Tix. Seating is limited and guests must be at least 21 to join.
So at 8:04 a.m. on the dot, the email from The Baltimore Sun reached my inbox, and I yelled up to Michael with the exciting news that we'd be dining at AGGIO, Baltimore, Chef Bryan Voltaggio's fine dining restaurant on Water Street.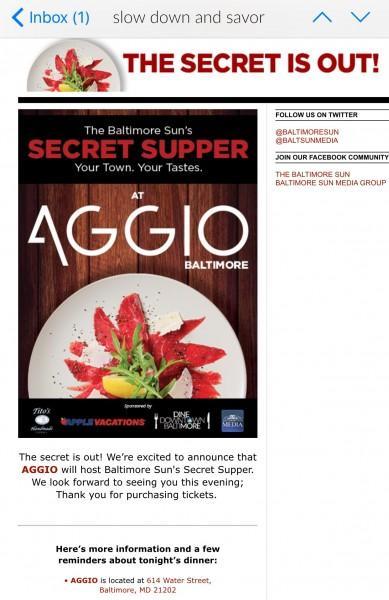 I died. If you know me, you know I absolutely love the Voltaggio brothers, and avidly followed the two of them on season 6 of Top Chef in Las Vegas. Obsessed.
I remained obsessed, and when we moved to Baltimore, I made it one of my missions to get our family out to Chef Bryan's Family Meal, where I had the best dang fried chicken of my life.
I also dreamed of one day visiting and, and to hear that we'd be able to have the chance to go to AGGIO, the romantic and modern restaurant serving upscale, Italian cuisine, I was fired up.
So at 7 p.m., our amazing babysitter arrived, the Uber showed up, and Michael and I were out the door headed out to our Secret Supper adventure.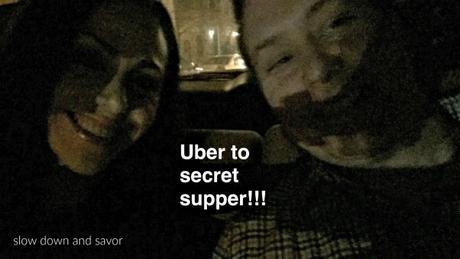 We arrived a bit ahead of our seating time of 7:30 p.m., but that's OK!
We were greeted warmly, got checked in, received our drink tickets to be used at the bar for the Tito's signature cocktail prepared by award-winning bartender, Amy, and registered for a chance to win an amazing Apple Vacation to Punta Cana. Where Punta Cana is remains a mystery to me, but a winner will be selected at random after the 2016 Secret Supper series comes to a close. Fingers crossed!!!
Michael and I made our way to the bar, exchanged our tickets for a fresh and fragrant Tito's Vodka-based cocktail called "The Password Is..." Cute, right? The recipe included Tito's Vodka, Cocchi Americano (An aperitif wine produced by Giulio Cocchi Spumanti in the Asti province of Italy - Thanks Wikipedia), house-made strawberry shrub, fresh citrus, bitters and a mint garnish. It was pink. It was pretty. It was balanced. It was amazing.
We still had some time before we were to be seated, so Michael and I decided to mingle. And of course he found a guy with a camera, and geeked out with him over specs, models and lenses.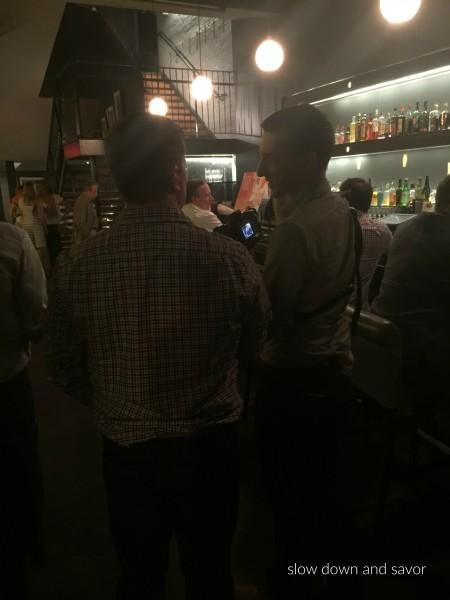 As it turns out, the guy with the camera, Sam, has a photography and design business, Stories Captured, and was there to cover the event. Very cool. Cooler still, he had Michael and me on camera for an interview, talking about the event. We felt really cool. And famous. Mostly just cool, even if I get SUPER nervous on the front end of a camera. It was a lot of fun!
After saying goodbye to Sam and his crew, we headed back to the hostess stand where we were seated with two other couples at a 6-top. Awesome! I really loved how we were encouraged and able to get to meet new people at this community table dining experience.
Our table was awesome, by the way. Quite possibly the best table of the night. Just sayin'. (Hi, Dr. Dan, Georgia, Michael and Annette!)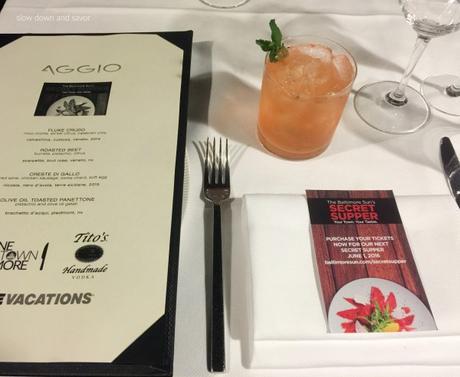 As soon as we were seated, I poured over the menu, getting more and more excited for what was to come for the rest of the evening. Not only was the location kept a secret, so was our meal!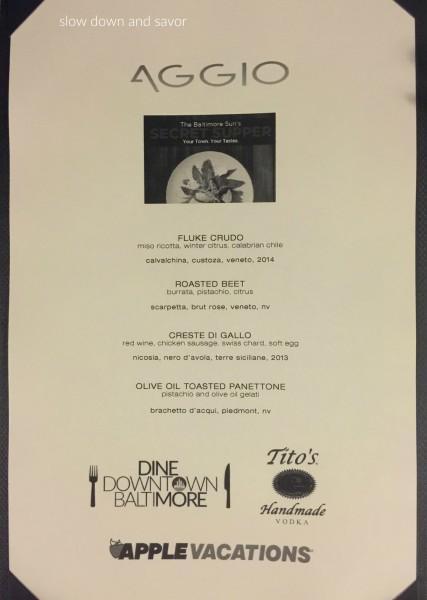 One of the best parts about the Secret Supper is that it got us out during the week to do something DIFFERENT. I mean, if we had - on our own - planned to go out to AGGIO, I'd be willing to bet that by the time we arrived for our reservation, Michael and I would have already decided exactly what we'd have, after having done prior research. This event kept us on our toes, and that made it all the more fun.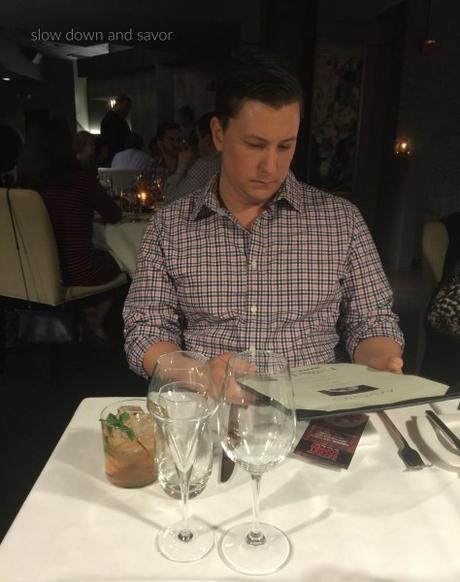 First up, the table received an off-menu surprise, a rosemary-parmesan savory funnel cake.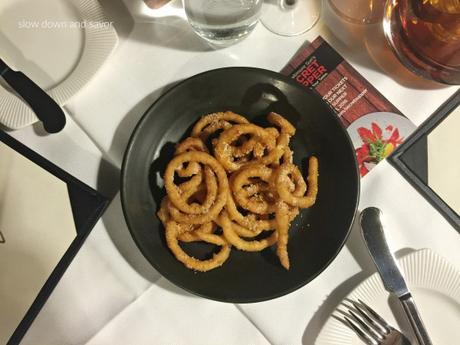 Delicious! What a fun way to start the evening! And boy do I love my funnel cake... The table also received a basket of some of the most mouth-wateringly delicious bread I've ever had. I don't know what made it so good, but as someone who doesn't EVER eat bread before dinner while dining out, I made short order of my piece. I slathered in the accompanying mortadella mousse and whipped ricotta with olive oil and chives.
I sense a trend here. Chef Bryan has me eating both fried chicken and pre-dinner bread... His team sure knows how to turn things I generally shy away from, into dishes that make me want to go back for more. Crazy.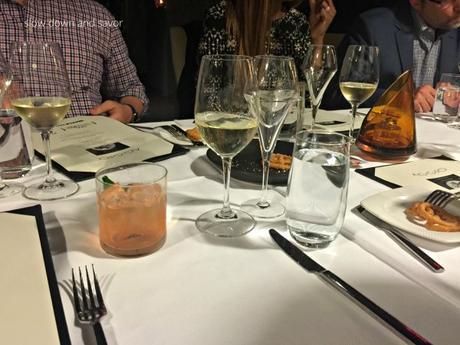 Next was our first course: Fluke Crudo: miso ricotta, winter citrus and calabrian chile. The sommelier paired this dish with a Cavalchina, Custoza, Veneto, 2014, a beautifully bright, chilled white wine that went perfectly with the chilled, raw fish.
The crudo was bright, tangy and frankly, it was a drop-dead gorgeous dish. It made me just want to dive in.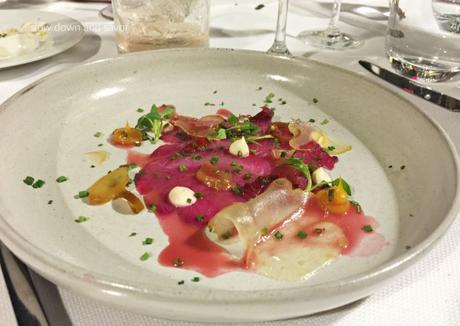 Our second course was a roasted beet, surrounded in greens, with fresh burrata, pistachio, and citrus. This dish was paired with a sparkling Scarpetta, brut rose, Veneto, NV, and once again, I was just pretty excited about how amazingly well the wines were going with each dish. It was another stunning plate of food.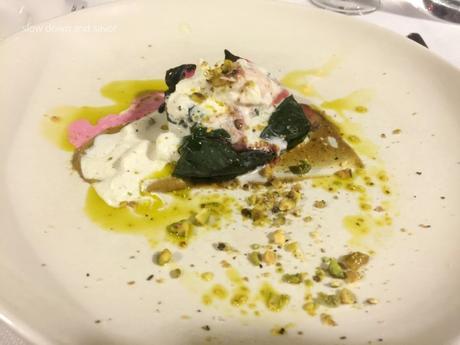 I love roasted beets. They may be in my top 5 favorite things to eat, and this was no disappointment. In fact, it was a revelation. I loved the way the soft and salty cheese combined with the earthy, sweet and robust beet. The greens added a nice depth, and the pistachio added that textural component that was so needed. The dish was deep, and it was provocative.
Our third course stunned me. Flat out stunned me. It was Creste di Gallo, a red wine pasta shaped like the crest of a rooster, with chicken sausage, swiss chard and a sous vide style soft egg.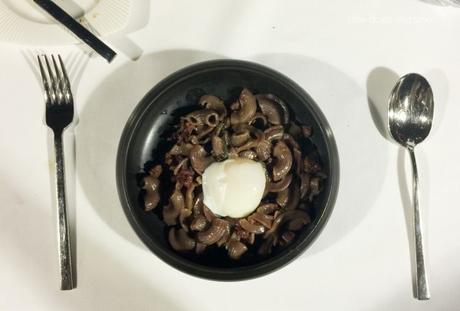 No. It wasn't a pretty dish, but it was overwhelming with flavor. It was creative, bold, and impressive on its own, but once the egg was broken and the yolk was stirred in, the whole thing became complex, and had a heavenly texture, like the most luscious velvet. I can see why AGGIO is known for their pastas. I savored each bite of this dish, and I didn't want it to end. It was elegant.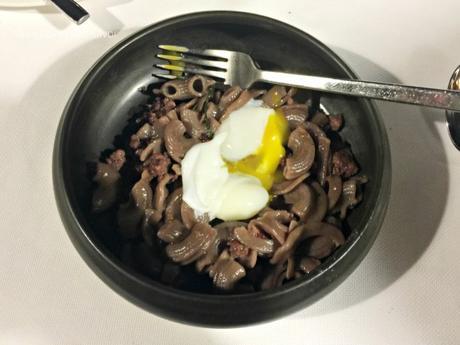 The wine that the sommelier paired with this dish was a Nicosia, Nero d'Avola, Terre Siciliane, 2013, and once again, it was perfection in its spicy depth.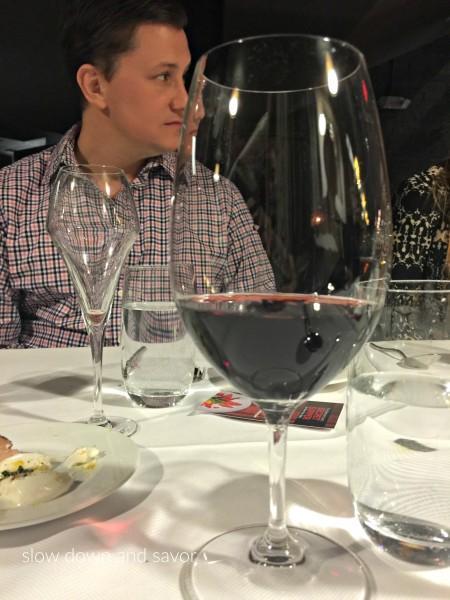 Our fourth and final course was a dessert course; an olive oil toasted panettone with pistachio, and olive oil gelati.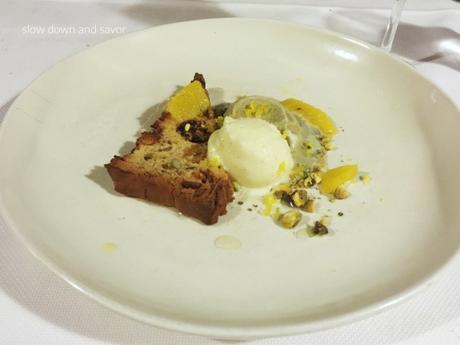 This is the moment though that the sommelier really showed his expertise. He paired it with a sparkling Brochette d'Acqui, Piedmont NV. This was the first time in my life that I can say that a wine pairing actually MADE the dish BETTER.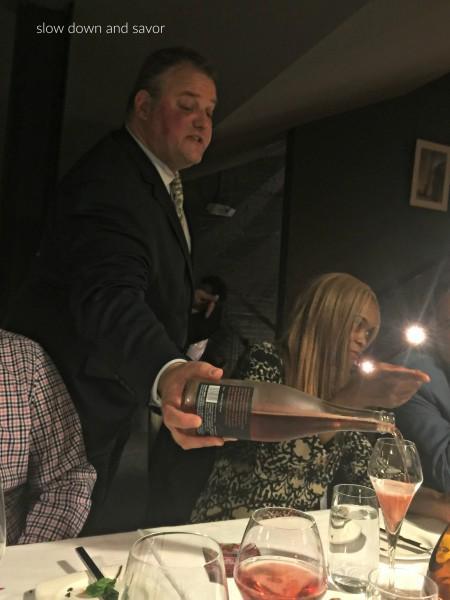 The dessert was good, but WITH the wine, it was set apart. The dish was elevated by this beautifully sweet yet refreshing wine, and it was the best way to end our meal.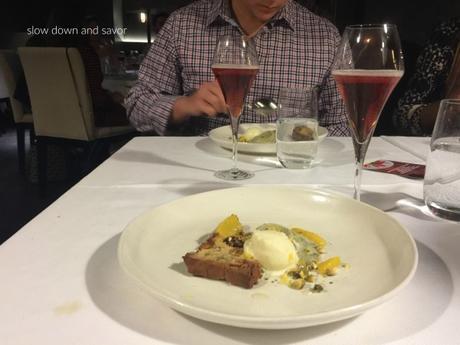 All in all, we had an absolutely spectacular time. From the moment I heard about, and then accepted invitation to The Baltimore Sun's Secret Supper, to the email with the great reveal, to arriving at AGGIO, to being seated with some new friends, and THE FOOD, oh the food, and the wine... The Baltimore Sun's Secret Supper was not just a good idea. It was amazing in practice.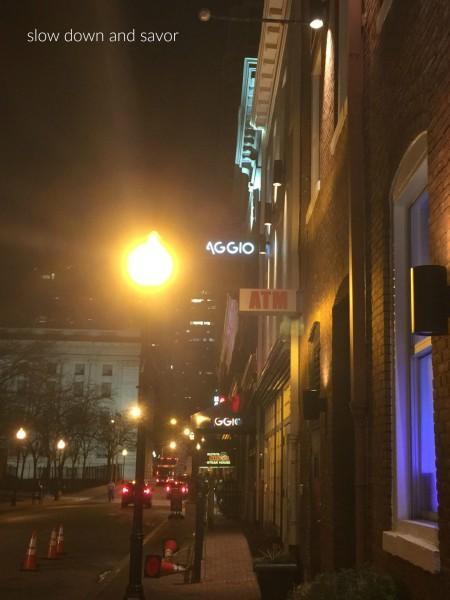 I love how this Secret Supper took Michael and me out of our normal routine, and gave us something exciting to look forward to; something to break up the monotony that daily life can fall into. It gave us an amazing memory, that's for sure.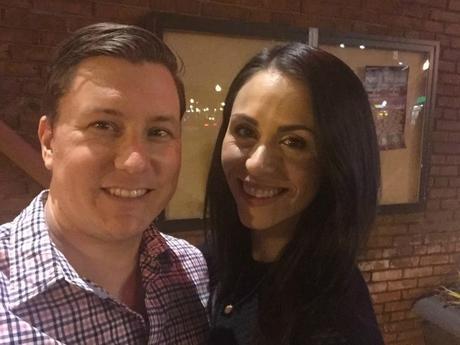 I know I can't wait for the next Secret Supper on June 1st. I'm already trying to make guesses as to where it'll be. Will we see you this summer at the 2nd part of this ultimate foodie experience? Let me know below in the comments!
Disclaimer: The Baltimore Sun invited me to be a guest at The Baltimore Sun's Secret Supper event on March 9th 2016. All opinions of event, the restaurant, the food and the experience are 100% my own, and were not swayed by any outside parties.