Hello again peeps!  This review is based on one of my favorite subjects – foundation (yes, I've always loved using foundations and trying out different formula's and new brands).  When Tammerly from Spoilt asked me to trial and review this foundation for her website, I couldn't wait to '

slap

' it on! Read on for my thoughts, or click herefor the initial published version.
The Balm timeBalm Foundation is a solid cream foundation, free of parabens and enriched with rejuvenating, anti-ageing ingredients like antioxidants and an array of vitamins, which is considered 'makeup with skin care benefits', whilst it irons out imperfections and creates a flawless, long-lasting  finish.  Suitable for all skin types, even the most sensitive.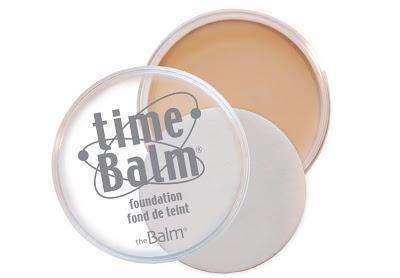 The foundation is wrapped in a cardboard outer box that has a very simple blue, yellow and gray color scheme, scattered with faint stars and product information, but the presentation is quite dull in comparison to the majority of their colourful, entertaining, retro-style packaging.  The inner compact-sized container looks cheap and a bit tacky, made of clear, rather brittle plastic, with a screw off lid (that will break in a flash if accidentally dropped).  I was somewhat surprised after my previous experience with this quality brand to find their foundation housed in something resembling that of a budget, no-frills cosmetic brand.  The compact has no mirror and the sponge is too flimsy, so it was essential to use my own applicator, so based on the whole packaging concept, I wouldn't consider this product to be very travel friendly and not ideal to pop in my bag and use on the go.
The foundation has a slightly dry, stiff surface texture, however it amazingly transforms into a smooth, creamy consistency once it begins getting worked.  It has a subtle herbal-type scent, which isn't offensive or noticeable after application.  Providing a generous coverage that is highly pigmented and super buildable, it blends evenly and there is no streaking, flaking or a caked on appearance.  Because of the weightless, moisturising, noncomedogenic formula, my skin was able to breathe instead of feeling suffocated and it provided adequate hydration throughout the day, without causing excess oil or greasiness.  I received this foundation in the shade medium, which appears to have yellow undertones, which I do prefer, particularly when, like in this case, it is a perfect match for my own natural colouring.  It gives my face a uniform color and discretely conceals any noticeable flaws for a polished, healthy-looking, finish that stays in place with decent longevity, only requiring minimal maintenance throughout the day.  Because my skin is so oily and this foundation doesn't exactly eliminate excess oil, I still wind up with a bit of shine, so a quick touch-up to blot away any surface shine will help to refresh the look.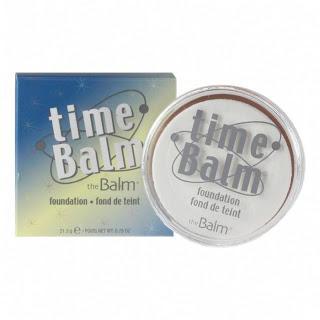 Both the inner and outer packaging.
Despite having such poor, dodgy packaging, the quality of this skin-loving foundation is kind and super effective when it comes to my oily and sometimes sensitive skin.  The gentle formulation hasn't triggered any irritation or breakouts and I am almost certain that my skin has improved slightly during the time I've been using it..  With buildable coverage that conditions and transforms my complexion to skin perfection within moments, it layers and blends over any areas that need extra support, yet never settles into fine lines and pores, nor does it start flaking and looking crepey.  Since having deemed the included sponge useless, I've tried various application methods, but I achieve the best results using a synthetic foundation brush.  I've used it alone and with a pre-foundation primer, however I prefer the overall product performance when I prep and prime my skin first, then follow up with a light dusting of translucent powder to set the finished look.  I guess the retail price is quite expensive as far as foundations go, however considering it's infused with nurturing, caring skin-friendly ingredients and there is actually quite a decent amount of product in the pot, which I also expect will last for ages, it's not really that unreasonable.  Personally, I would be prepared to splurge on the cost of The Balm timeBalm Foundation for myself and I would confidently recommend it to anyone who is looking for a suitable foundation that's flattering, comfortable and long wearing to help achieve/deliver a fresh, dewy, naturally flawless appearance.
TIP
Can be layered if needed, to dab on any extra problem blemishes or under eye circles.
Have you tried this foundation or any of the other products from this brand?  What do you think, sound like something you would be keen to try or....??  Let us know your thoughts by commenting below. xx oo
The images in this post are generic.