Hey eveyrone I am going to review The Balm Instain Blush Toile.  The instain blushes from The Balm Cosmetics are really popular fro their staying power and pigmentation, so lets take a closer look at toile from the The Balm Cosmetics.I love the cardboard packaging on this blush. Its very cute.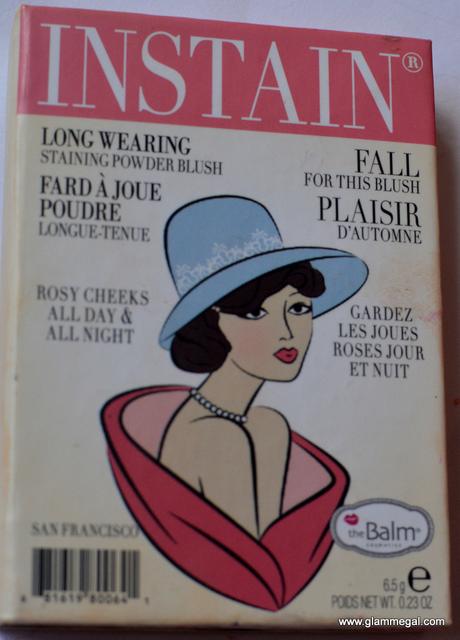 The Balm Cosmetics Toile Blush
In case you want you want to check out the review on the bomb highlighter of all times…The Mary Lou Manizer from The Balm Cosmetics read here.
Price: $22, I f you are in India and want to get hold of these blushes then I would recommend you order through ASOS.com rather than directly from the The Balm Cosmetics, because ASOS ships for free, and the The Balm's shipping charges are pretty steep, so unless you are doing a bulk order from The Balm during their sale I would suggest you use ASOS.com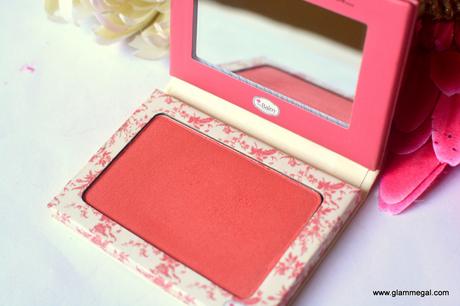 The Balm Instain BLush Toile
Moving on, The Balm Instain blush Toile is described as a strawberry colored blush, it is the most perfect coral pink blush which leans more on the pink side than coral. The color is absolutely to die for, its a beautiful bright coral pink . The color is true to the pan as Toile is highly pigmented and you just just a teeny tiny amount to give you some color on your cheeks.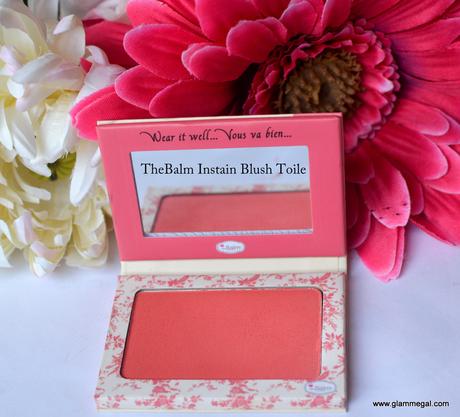 The Balm Cosmetics Instain Blush Toile
Toile can almost pass off as a matte blush but it has ever so light sheen to it, which is not very noticeable.  It is described as a long wear staining blush and it is long wearing. But one needs to blend it really nicely and need to be careful as to not pick up a lot of product on the brush as it is very pigmented. There is no staining as such on the cheeks and honestly who wants a blush that stains, its just a very pigmented and long staying blush.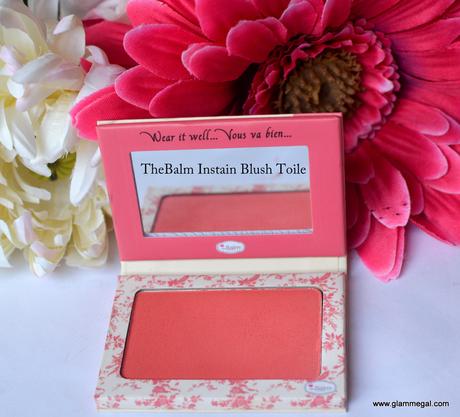 Toile Blush by The Balm
The texture is smooth and soft and it does blend smoothly to give a beautiful bright pink coral color on the cheeks.
Since it is pricey for a blush I expected it to deliver on all accounts and it sure did. Overall I am super impressed with The Balm instain blush Toile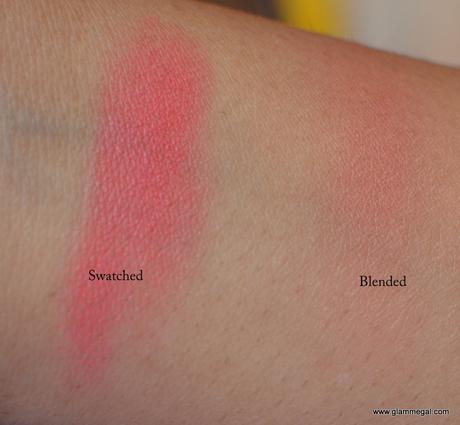 The Balm Cosmetics Toile Blush
Color 5/5
Pigmentation 6/5 Yes it is super pigmented
Texture 5/5
Staying Power 5/5
I have an eye out for a couple of more shades from this range. Until next time…
Related
You Might Also Like
Estee Lauder Dominant 430 Pure Color Envy Sculpting Lipstick Review Swatches
Bourjois Blush 03 Extrait Review and Swatches
YSL BLUSH RADIANCE IN NO.1 REVIEW AND SWATCH
E.L.F. STUDIO CONTOURING BLUSH AND BRONZING POWDER IN ST. LUCIA REVIEW AND SWATCHES
MAYBELLINE DREAM BOUNCY BLUSH IN CANDY CORAL REVIEW AND SWATCHES
Estee Lauder Double Wear Foundation Review: 3W2 Cashew
Gerard Cosmetics Tequila Sunrise Lipstick Review Swatches Price
The Balm Mary Lou Manizer Review and Swatches / Dupe for Mary Lou Manizer
Bourjois Rouge Edition Velvet Lipstick Nudeist 07
Tags:
blush for brides, blush review, glammegal, indian beauty blog, long staying blush, makeup lover, makeup tutorial, peach pink blush, peachy pink blush for indian skin tone, perfect peach blush, perfect pink blush, the balm cosmetics instain blush review, the balm instain blush toile, the balm toile blush, toile blush review