Hoola is Benefit's sellout matte bronzer (without shimmer) albeit being in a cute but ridiculously inconvenient box with a lid.  When you're putting on makeup who wants to fuss with a box and lid?!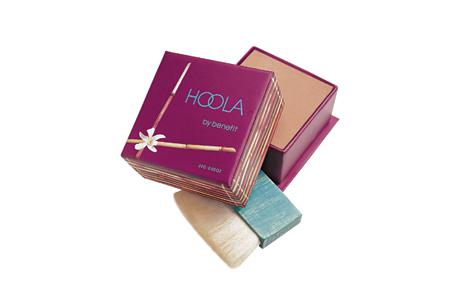 I'd still use Hoola if someone GAVE it to me (coz I'm a beauty "L"oser like that hahaw) but you know, Hoola is $28.00 or Php1230.00…OWCH.  For powder products (excluding powder foundations and finely milled finishing powders) I find you don't really need to go high-end to find fantastic shades.  I've found a great mid-range budget dupe for Benefit's Hoola by The Balm cosmetics brand and it's cutely called Bahama Mama, the vintage design shouts "tropical darling" in 2 seconds.  Don't it remind you of the designs on some of our "bangkas" and jeepneys?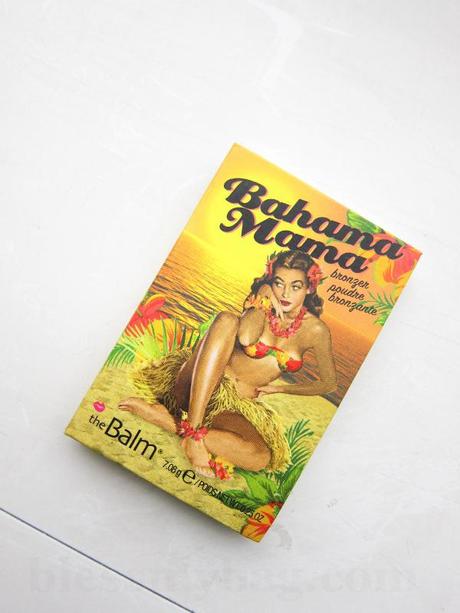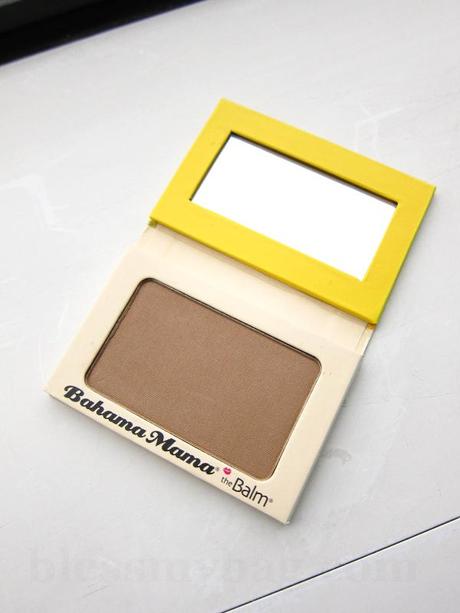 It isn't quite as "warm" in color as Hoola, but I think it works better for skin shades with a yellow undertone to them.  It's also a step "deeper" than Hoola making it more suited for medium to deep skintones.    This pressed bronzer cost me Php775.00 at Beauty Bar.  Read more to see an arm swatch and my subtly contoured face.
Bahama Mama bronzer is delightfully soft and pigmented, plus the packaging is undoubtedly a convenient winner being a strongly magnetized, mirrored compact made of wrapped cardboard that stays shut in your kit.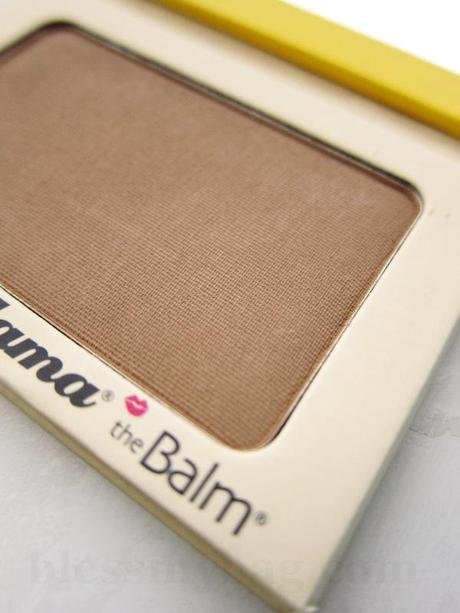 Bahama Mama is soft with very good pay off.  On my arm the shading is natural.  It veers slightly towards tawny (as contour powders really do)  but still has enough warmth to look natural on my skin.  I swirled product with my finger twice over my arm.  Incidentally this powder also works very beautifully as a medium chocolate brown eyeshadow, just like Hoola which is also used on models to define the hoods of the eyes without it being too obvious that eyeshadow is present.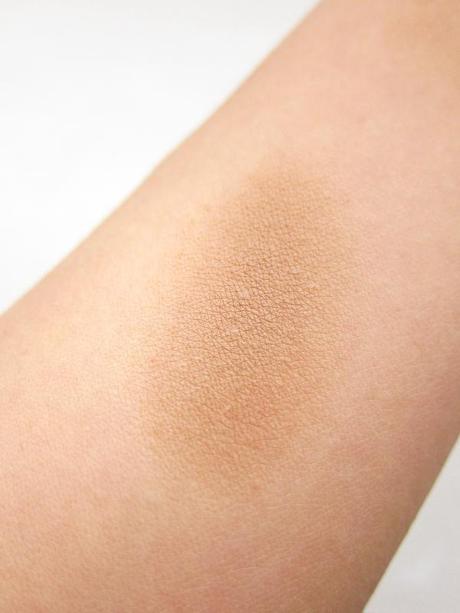 This won't really be a lesson on contouring, but I'll give you one drop of common sense on the subject: don't be heavy-handed with your product when contouring, especially if you're using a strongly pigmented bronzer, the last thing you want to have is muddy patchy looking stripes.  Have a light hand when you have a go at it.  I recommend contouring more for evening looks and events with lots of photography happening.  I wouldn't recommend contouring for daytime.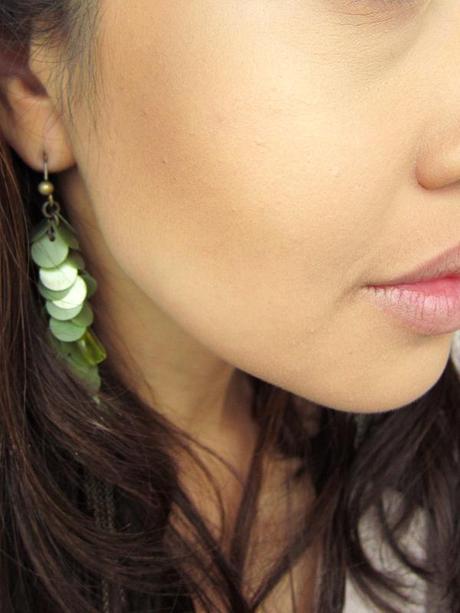 Here I merely made an example of the application so you can see.  It's best to use a fluffy round or dome top brush so application is concentrated at the center and fades around the edges, if you used a flat top or straight cut brush you may end up with a hard edge or stripe which is not what you want.  I've made it darker than I would normally apply it for it to be more obvious in this feature.  I was wearing it also in this next photo which was used in my last post about sponges.  I wore Bahama Mama over MAKE UP FOR EVER HD Foundation in #118 which was set with Laura Mercier translucent setting powder first before I used the bronzer to contour, and because I know you might ask, the lipstick is
NARS Pure Matte Lipstick in Bangkok
.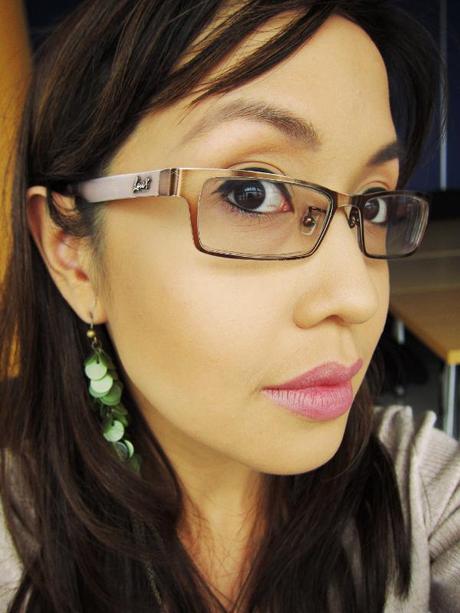 I've also recently brought this with me on a recent fashion shoot, but for now I'm only allowed to give you a sneak peek image I took on set while watching the production.  Even in this dim silhouette, the contouring is somewhat obvious.  For flash photography shoots it's okay to push your looks and add more intensity because the studio lights wash out at least 20% of the makeup's impact.  I won't reveal too much for now.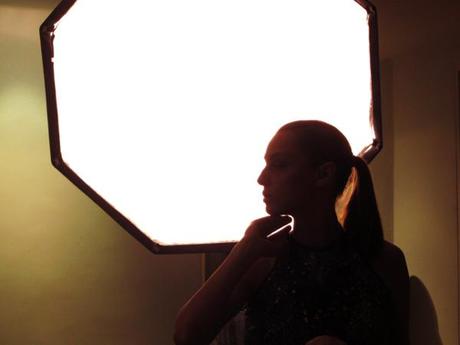 I used Bahama Mama bronzer at my first shoot for one of the Philippines' most established designers.  I applied it on a beautiful Russian model who'd be fitting as an on-the-nose double for Uma Thurman.  This product pulled through for me and I'm glad I won't be needing Benefit Hoola anytime soon.  Tip, if you're looking for something even cheaper than Bahama Mama, try E.L.F counters at your local department store, E.L.F. also do a good contour compact, it's just that for when I work with 5-Star clients I need to pick up the budget a bit when it comes to what I have in my kit, and I prefer to have a matte bronzer available with no shimmer at all.  I'm not sure if E.L.F. do a bronzer that's completely shimmer-free.