Chelsea and South West aren't usually areas we visit anymore, now that we live in North West London, but as we found out, we could be missing out on some absolute beauties.
Recently Alex and I went along to The Artisan Bistro in Chelsea to try out their menu. A short walk from Earls Court station, The Artisan, a cute little bistro which looks really chilled, sophisticated and inviting, can be found on Hollywood Road.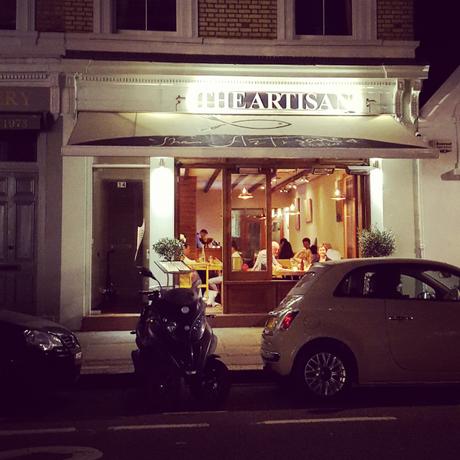 Taken after our delicious meal
We were welcomed by a lovely member of the team and offered a table by the back patio style doors as unfortunately the garden was full. It was a great little spot, and although not quite an alfresco dining spot, we still got the sunshine and a lovely breeze.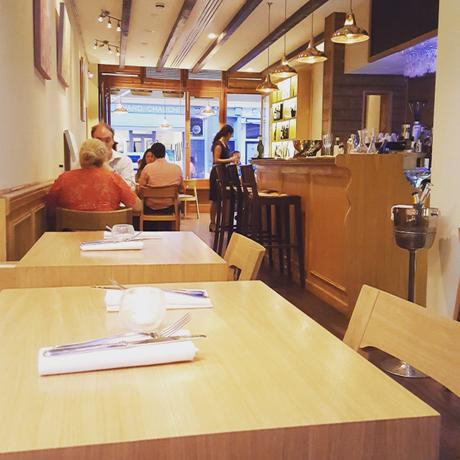 This was the view from our table, towards the front of the restaurant
Alex and I started with a cocktail, myself a Pimm's and Alex a raspberry Mojito. Alex's mojito was absolutely delicious, a long drink which was refreshing and fruity it was the perfect drink for a summer's evening.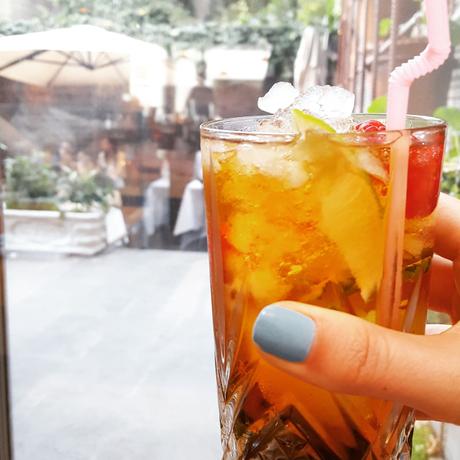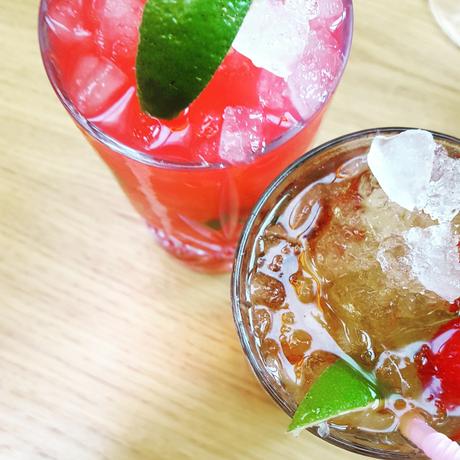 We sipped our cocktails and pondered the menu, deciding on what to indulge in and what we most wanted to try.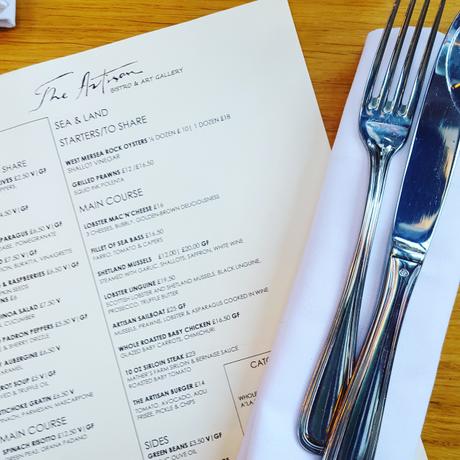 Upon spotting the oysters I knew we just had to get them – I've only had one before, when in Jersey for work, and it was quite nice but wondered what they'd be like served in a restaurant.
We also selected our mains at the same time, choosing to share two dishes as not to suffer from food envy, as I do plenty of the time. We selected the Lobster Mac and Cheese (3 cheeses, bubbly, golden-brown deliciousness) and the Artisan Sail Boat (Clams, Mussels, Prawns, Asparagus cooked in wine) – both fish dishes, but sounding amazing.
The starter came out, along with a side of freshly baked bread, and it looked AMAZING! Just look at this…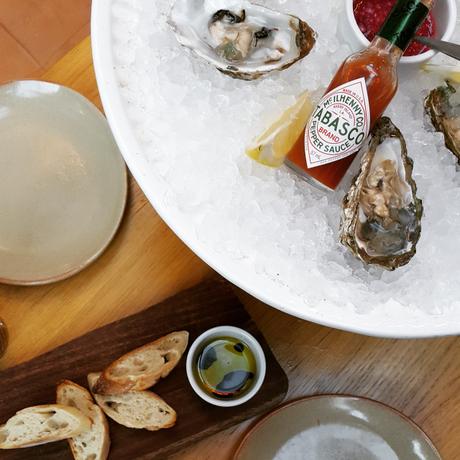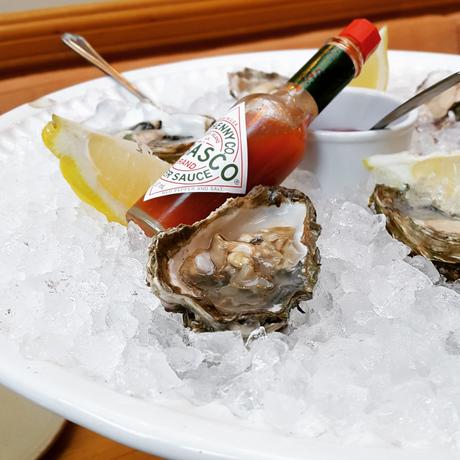 Served with Tabasco, lemon slices and a sauce to compliment them, Alex and I started squeezing lemons, sprinkling the Tabasco and tucking in.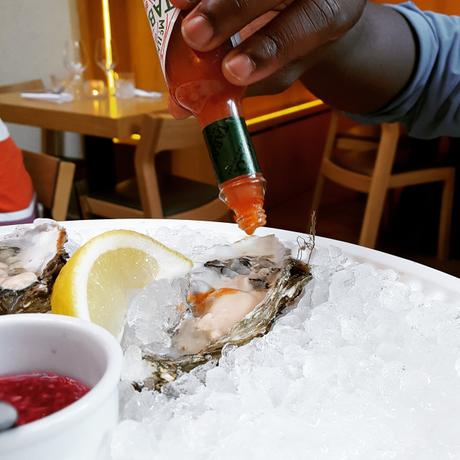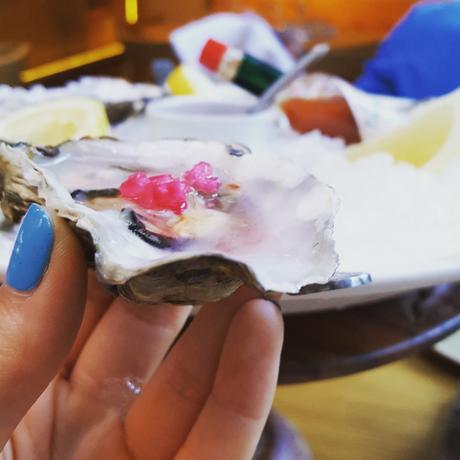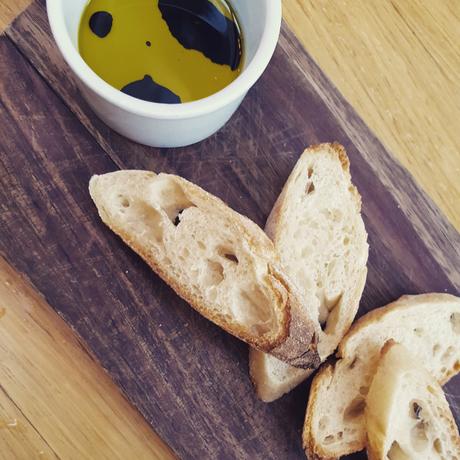 Oysters might not be for everyone, but I really like them. Quite fishy, very salty, and slippery, they do slide down quite easy without chewing, however I do like to chew mine to savour the flavor. For anyone who hasn't had oysters before, they're almost like mussels, but a bit less tough.
These Oysters tasted like they'd just been taken from the sea, so fresh and salty they were delicious. It didn't take us long to get through our half a dozen oysters, and we were soon sat taking in the surroundings and enjoying the view of the garden – it's so pretty!
The lovely host brought out our mains one at a time so that we could enjoy each dish by itself, as we were sharing. First up, the lobster mac and cheese…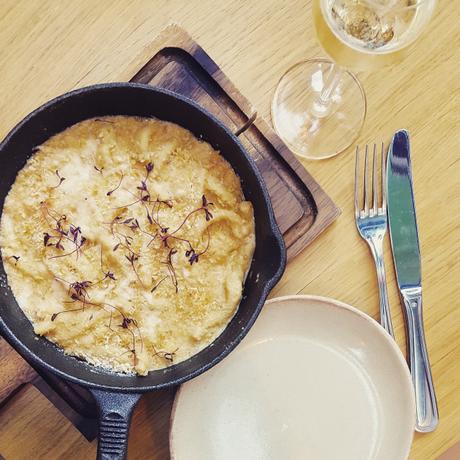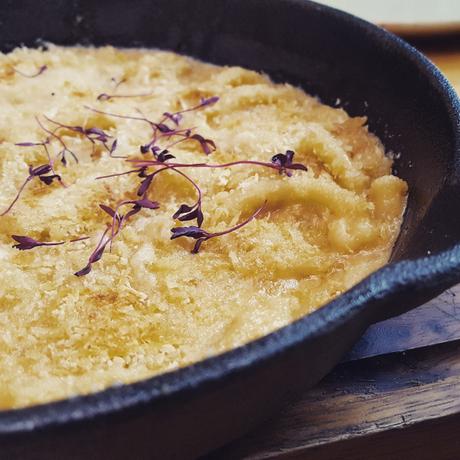 We also had a glass of prosecco to accompany the dish, which was recommended by the waiter as the perfect accompaniment.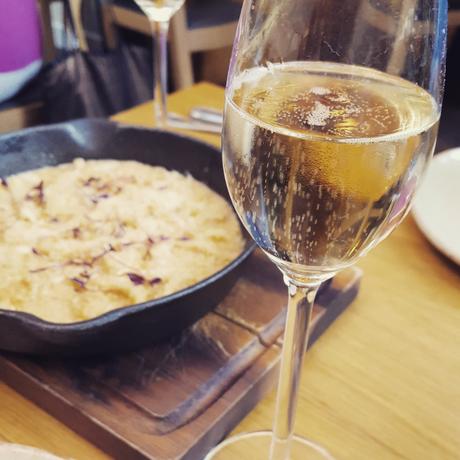 The lobster mac and cheese was absolutely divine. Rich and creamy, with the truffle flavor coming through, the mac and cheese wasn't too thick and stodgy, it was almost like a sophisticated version of the comfort food we all love. I'm sure it's not just me. With the little bits of lobster found through the dish, I almost don't have the words to describe how good it was. I think this might be one of the best choices ever.
The prosecco, a great choice, complimented the dish well, refreshing the palate after a few mouthfuls and bringing out the flavor even more so.
When we were almost finished with our Mac and Cheese, the host came over and was talking about how they source all of their ingredients form local suppliers which I think is amazing, and even took us outside to show us the herbs, chillies, peppers and grape vines they're growing themselves – how cool? I don't think I've ever seen that before.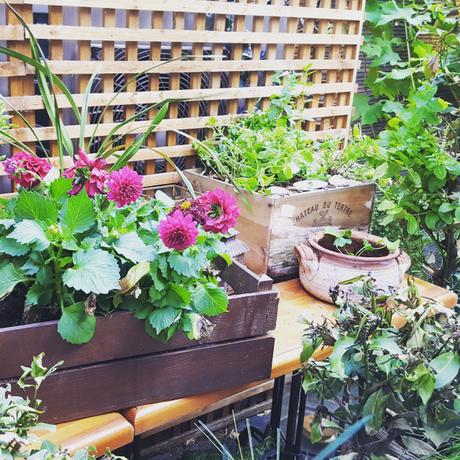 We went back inside and finished up before our second main was delivered to our table – The Artisan Sail Boat.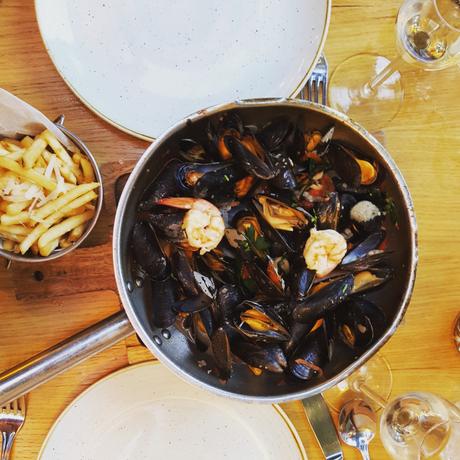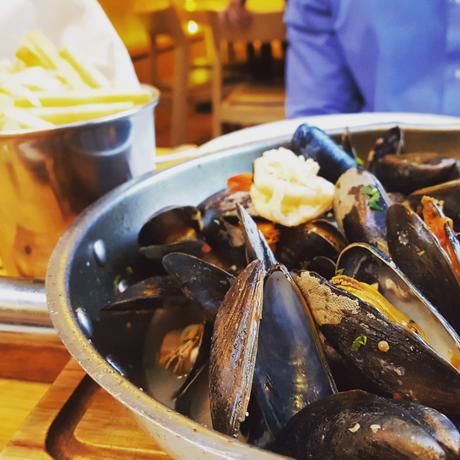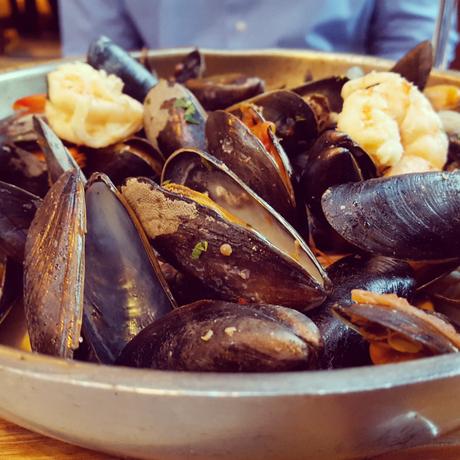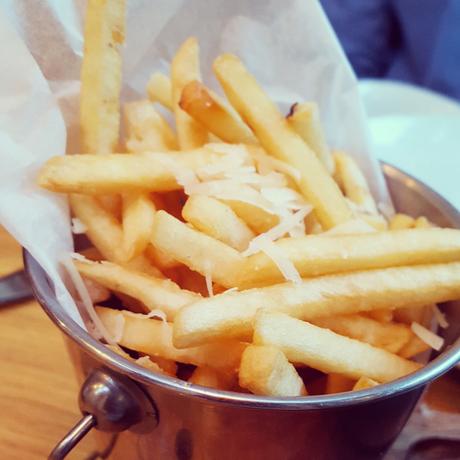 First thoughts – the dish was huge. Piled high with mussels, with two king prawns on top to decorate, it sure did look amazing next to those truffle fries.
The Artisan Sail Boat was pretty good. Coming second, it obviously had a lot to live up to after the Lobster Mac and Cheese, but the mussels were delicious, fishy and tender, the prawns perhaps a little tough, but all together in the white wine sauce it was seriously tasty. Our dish was missing the asparagus, but the host did mention that they were waiting for their delivery – I guess the only downside to working with local suppliers. The fries were really good too, crispy with a slight hint of truffle, and topped with shavings of parmesan, they went really well with our Sail Boat.
I'm sure you might have guessed but we didn't manage to finish the dish, both feeling really full.
Once our table was cleared we did take a look at the desserts, and were also told about the special, a chocolate souffle, served with vanilla ice cream. Both being extremely indecisive, full but really wanting to try at least one dessert, we shared a chocolate souffle and ordered an extra scoop of pistachio ice cream. It's my absolute fave so I just can't resist.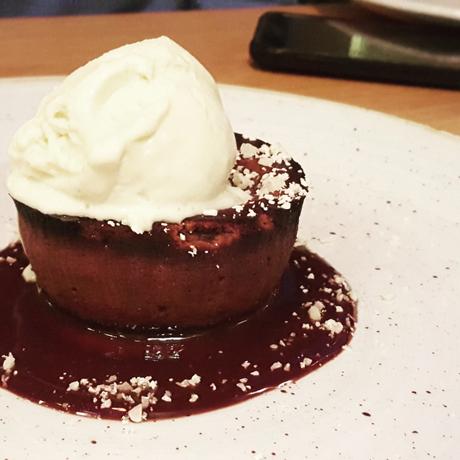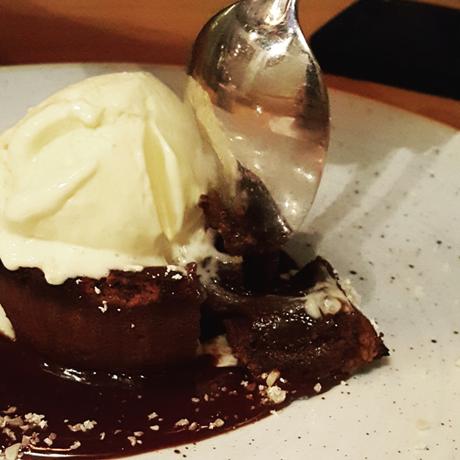 This dessert was amazing. Soft and spongy with a thick, rich melted chocolate center which oozed out once cut into, it was heavenly. The ice cream which accompanied the souffle had a very strong vanilla flavouring and complimented the dessert extremely well, but I did love my pistachio ice cream. Even Alex was eating some of my pistachio scoop with the souffle, suffering from a tiny bit of food envy. Well who can blame him?
Unable to contemplate moving, we sat for a little while to finish our drinks before heading back.
With the bill coming to under £90 for three courses and two drinks each, I think that's pretty reasonable for Chelsea. It's in an easy to find location, is a beautiful bistro and the food is incredible, it really would make for a great spot for a treat or special occasion.
Where have you been recently?
Chloe xx
*I was invited along to review The Artisan Bistro. All views my own.