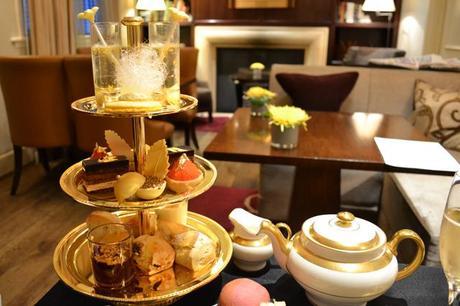 Ordinarily, afternoon tea is seen as one of the most extravagant treats to indulge in, however layer in the world's most precious metal and the world's most prestigious beverage and you take indulgence to all new heights. So, on a gray November Sunday I felt that some extravagance was in order and decided to experience this unique twist on my favorite past time for myself.
The 24 karat gold afternoon tea is collaboration between luxury London hotel, 51 Buckingham Gate and the prestigious champagne brand Luxor, and features all of the traditional trappings of the quintessentially British tradition, with a dusting of real gold.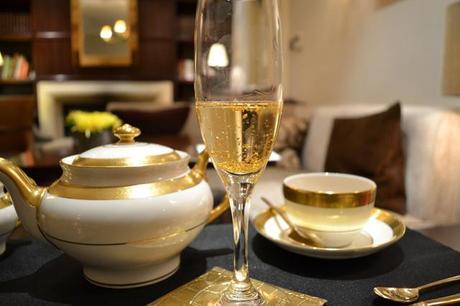 Immediately after arriving at the hotel, we were shown to a cosy corner of the Library room, where we plumped the scattering of cushions and quickly made ourselves comfortable, before studying the menus, intrigued by what lay ahead.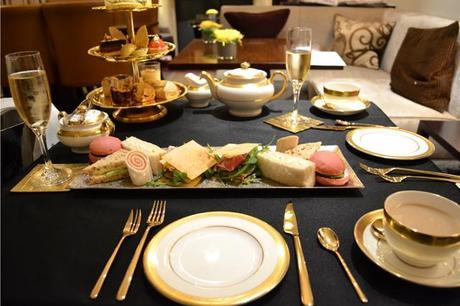 Our waiter poured us each a glass of the Luxor Pure Gold 24K champagne that was already on ice, and we watched as the gold flakes spun amongst the bubbles. As the flakes settled and we toasted our afternoon of excess with a sip of the fruity vintage, I noticed the great attention to detail with the metallic theme.  Everything had seemed to have been given the Midas touch, with crockery, cutlery and even the table cloth edged in gold.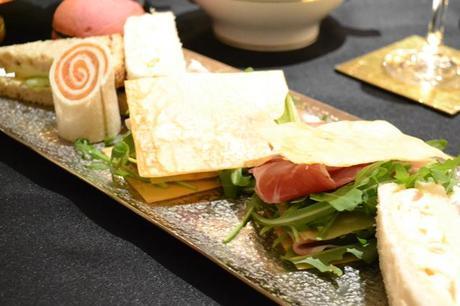 The savoury part of the tea was one of the best I have ever experienced as there was lots of variety and a slight twist on traditional offerings.  Smoked Salmon was spun into a pinwheel, whilst soft cheese and sun dried cherry tomatoes were found amongst a striking pink beetroot bread roll. My favorite however, was the parma ham and ruccola mille-feuille with its crispy layers – for once I wasn't rushing to move onto the sweet treats!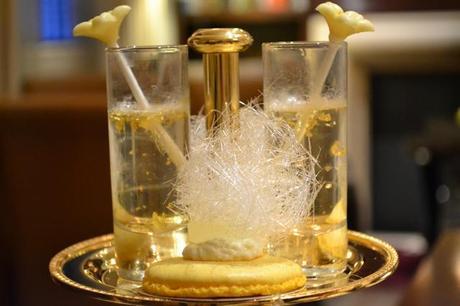 When the time came, we dived into the second part of the gold extravaganza, beginning with the champagne and gold leaf jelly.  Whilst this wasn't really to my taste, it was extremely eye catching with its flecks of gold and a white chocolate flower garnish, each with a gold center of course.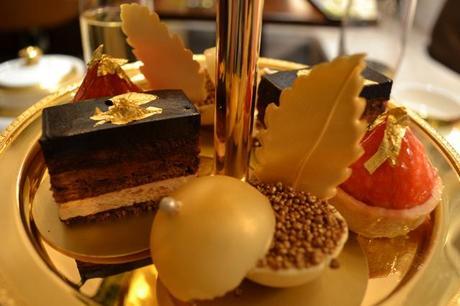 Every cake and pastry had the gold theme thoughtfully incorporated in it somehow, from a light dusting of gold on the macaroon filled with lemon mousseline, to an intricate gold leaf that finished the rich opera cake.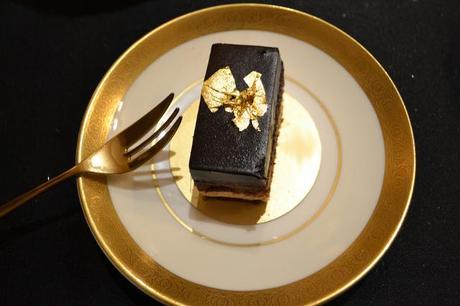 The ball of gold spun sugar had caught my eye as soon as it had arrived atop the tiered stand, and it tasted as delicious as it looked, in fact so delicious my friend didn't get a look in with hers!
Be reassured that you can still find the customary scones and tea amongst this lavish ceremony, with a wide selection of blends available and the accompanying jam and clotted cream given a gold flake garnish, so as not to look out of place.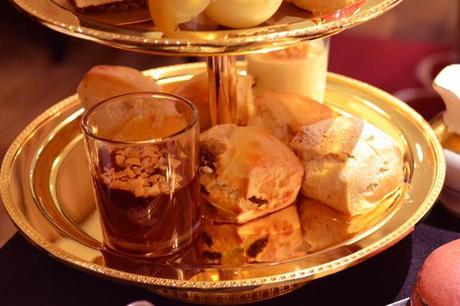 The final bite taken from a scrumptious white chocolate mousse delight marked the end of our decadent but delicious afternoon indulgence at 51 Buckingham Gate. Laying our gold edged napkins on the table, we headed home past the neighbouring Buckingham Palace, wondering if the Queen is as extravagant with her tea drinking rituals as we had been.
24 Karat Gold Afternoon Tea is available at 51 Buckingham Gate for £150 for two including half a bottle of Luxor Champagne. For more details visit the website.
 *The Luxe Life was a guest of 51 Buckingham Gate