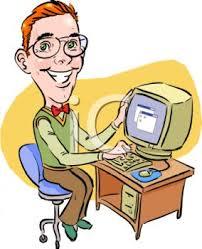 Okay, so you read the blood from  stone line... 
So far, it's similar to on-site courses. But it begins to change from the very start.
I had 15 students, the maximum for a semester. And it is a semester that is very real and very UCLA. The difference is that anyone can sign up for a semester or two or a full course. And there are also UCLA students who take the online course as well.
In other words, it can be a real semester course that can count for a grade.
And it can just be fun for someone in Idaho.
But everybody participates.
My first thing is to tell the students (via email) what we're going to do. Everybody has to write. Whereas on-site courses don't always have everyone write. I know a student who took a full four-year course  and didn't write anything.
So the course begins with me giving them assignments. I had different courses, one was a full screenplay, others were "the first act", the second act, etc. etc.
Then I write down the easiest way to write a screenplay.  It takes less than 5 minutes. It goes like this:
Pick out someone, boy or girl. Okay, boy. 
What does he want most in his life?
To be a basketball player.
What's stopping him?
He's short.
There's your movie.
It always comes down to somebody who wants something but can't get it. Every screenplay has this, every one. 
Okay, that's easy enough. But in my courses, as mentioned, everyone had to write. And rather than stand up and read your script in front of the whole class...
... you do it by writing your scene, or pages.
And here's the real issue; any of the 15 students can offer criticism but however - if you criticize the work someone has done, you have to give them a solution.
And that's one of the advantages of writing online, everyone has to write and everyone has to give criticism with solutions. I don't know if other instructors do that, but I did. 
Here's another thing, most of the instructors had specific times to post their lecture and have specific times for the students to read it and absorb.
I was different. I was accessible every day because I really liked doing it. And I even got to have friends from the course. But eventually, after 3 years, I began to realize that a lot of students really didn't care, mostly those women in Kansas or men in Michigan, who just really wanted a taste of screenwriting.
And I had a few assignments that conflicted with the courses. But it was fun while it lasted. I even thing that I might do it again. Here's a page of evaluations from students. You can make it larger by

left

clicking on

image then right click on View Image and you can expand it there.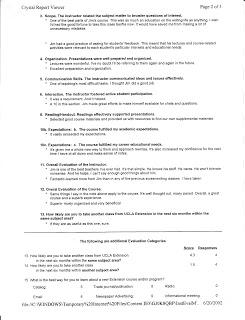 So that's a little more about online teaching. I'll finish it up Friday.
And I'm starting to think more about online courses. 
Or not.