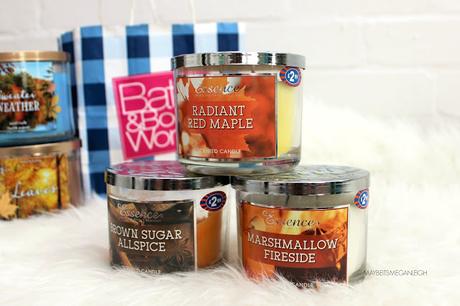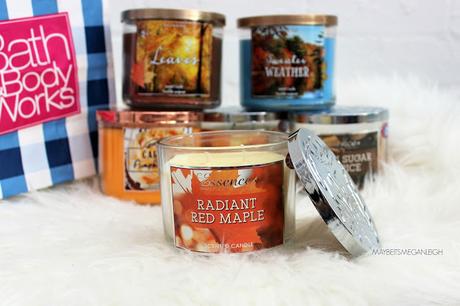 My first Bath & Body Works shopping experience in the Dubai Mall was a sensory overload! All those rave reviews we hear from over the pond, saying how amazing the B&BW scented candles are, well they are all true! Boy are they true! The oh so cute packaging 'sleek glass containers' and the array of scents *insert heart eye emoji here* aghhh I need more *insert crazed Megan Leigh face here*.
Unfortunately us Brits annoyingly don't have a chance to purchase them here in the UK, but when I was browsing in my local B&M HomeStore, as I regularly do, I just love a good bargain home store! I stumbled across what looked like a B&BW candle look alike.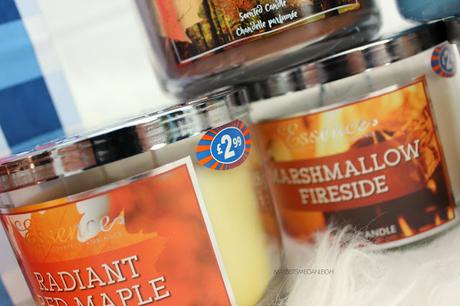 At first glance you could easily mistake the B&M Essence candle range for a Bath and Body Works candle. The packaging is almost identical: from the glass containers, to the seasonal decorative labels and even the silver leaf embossed lid; which really dupes Bath and Body Works Autumn collection with their copper leaf embossed lids.
Well the big ol difference here is the B&M Essence candles cost just £2.99 compared to Bath & Body Works $25 AND we can get them in the UK, hooray!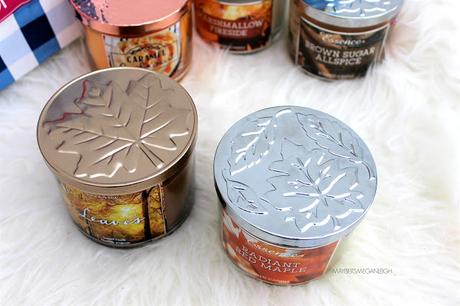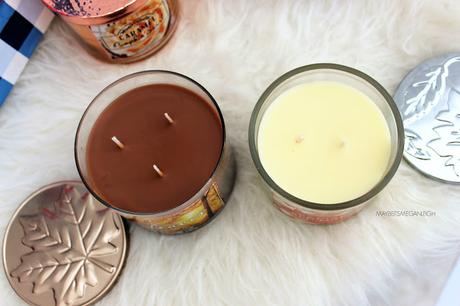 I purchased three scents of the B&M Essence candles:
When unlit Essence Marshmallow Fireside is a more smoky than sweet scent and when lit it has a strong scent of cooking spices which I'm really not a fan of, so sadly this one was a miss.
Brown Sugar Allspice
is exactly that; a warm sweet spiced scent. This is probably my favorite.
And lastly Radiant Red Maple, which is the sweetest from the candle range that I purchased. It really reminds me so much of Yankee Candle Tarte Tatin - which is a sweet cinnamon apple scent.
Now I purchased these candles a few weeks ago and wanted to thoroughly test them out before I posted a review. Since then I have popped into B&M and seen they still have all these scents available PLUS a Christmas range agghhhh!!!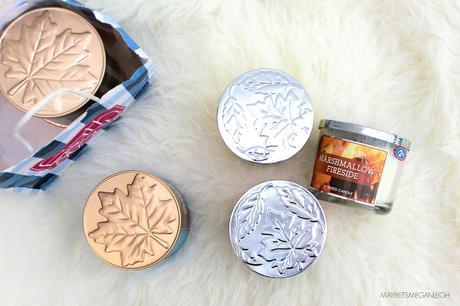 In my store there were four Christmas scents available & the packaging again is so SO similar to Bath and Body Works. The lids are now engraved with a large snow flake and the labels are this time a total knock off of B&BW; you can't deny that. Unfortunately I only liked one of the scents (although it took a lot of will power to not buy them all just because of the cute packaging) I picked up 'Winter Mist' and I am so excited as I have found a 110% spot on dupe for a B&BW classic. I'll have that review up next.
This is a totally different kind of review for my blog which is normally solely beauty, but I really have a love for home wear so wanted to share this with you all.