As you can tell from the pictures I own 2 Real Techniques Bold Metals Diamond Sponges and they both look a little different from each other. There is a story behind that so make sure to read to the bottom of this post for the tea.
I am a massive fan of the Beauty Blender sponge for foundation and concealer application, but as it has a rather hefty price tag of £16 + (dependant on where you buy it) Real Techniques miracle complexion sponge is my second favorite sponge to use.
Touch and application wise, it is super similar to the real OG Beauty Blender, but this one is less than half the price at an affordable £4.99.
When Real Techniques released a new sponge in the shape of a diamond aaaaannnd covered in marble print (swoon) being the beauty junkie that I am I just had to buy it, if nothing else it will look pretty displayed on my makeup table, right!?!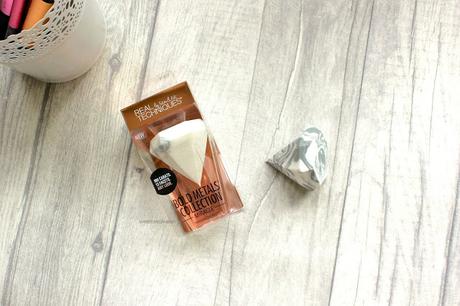 " 13 facets. Any look.

This multi-faceted miracle diamond sponge is uniquely designed to work with multiple products on different areas of your face. No two Miracle Diamond Sponges are alike, each has its own unique swirl design.

pointed tip covers small imperfections

larger flat sides function as a wedge to apply makeup to larger areas like your forehead and cheeks

smaller flat sides are great for precision contouring around your eyes, mouth, and brow bone

top works great to buff and blend out your makeup for a flawless finish "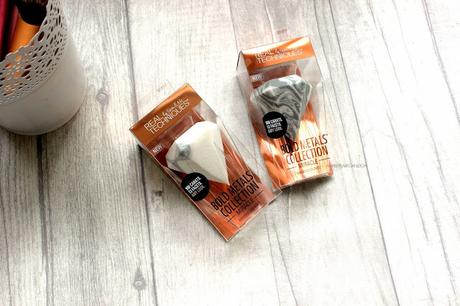 Uuuuugh *sighs* sorry but it's a total gimmick people!I prefer to only write about a product I love but in this case I want to be able to help you spend your well earned money wisely. So save yourself the £7 and buy their miracle complexion sponge that works ten times better than this gimmick.
Here's why: the pointed end is far to flimsy to get into the crevise of the face and apply product let alone blend it out. The smaller flat sides may work for blending out contours but the flat edge of the "miracle complexion sponge" does that job perfectly too (maybe even better in my opinion). Being the biggest area of the sponge the flat top works well for applying foundation as it covers a large surface area, but there's no room for avoiding areas of the face with it (eg. Brows) as it is so large.
Yes the sponge does look really pretty and eye catching, so if your after a bit of eye candy for your makeup table; it's perfect for that.  My advise would be to purchase the sponge at the shops in person to make sure you get a  "marble effect" look on the sponge. Rather than a practically all white one like I received when I first ordered online.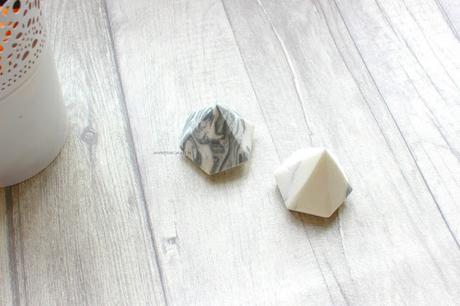 I placed my order for one sponge when they where first released on Boots.com. When it arrived it looked nothing like the images I'd seen online the images that the company use to promote this new sponge. Mine was almost completely white with very little marble effect; the cute shape and marble pattern is why we're buying this product right!? Bare in mind that I am soooo not the type to contact a company or complain, but I felt rather hard done by with my practically all white sponge. Especially considering the price (dependant on where you shop, you can spend just £2-£4 for a real beauty blender) I was looking forward to having my own pretty marble patterned sponge like the ones I'd seen on Real Techniques social media platforms and adverts to promote the new products release. So I emailed asking if my sponge was of a normal standard, only to receive a response simply stating "Much like a chocolate chip cookie recipe, each sponges pattern turns out just a little bit different each time it is made." end quote. So from that I can only take it the Real Techniques do not have quality control and simply hand pick the prettiest sponges to display and promote and 'tuff tits' if you want one that looks the same because they can't control that.  I replied once more saying the above but in a more professional email format, I was then sent a 15% off code for my next order on their site.
Totally bemused by the company's customer service response I took to Twitter to see if any others have had similar issues, to which a lot of beauty bloggers responded in complete disbelief of the situation. I was then contacted by Real Techniques social media team who run their Twitter, asking for my address and offering to send me a replacement. Hummmm.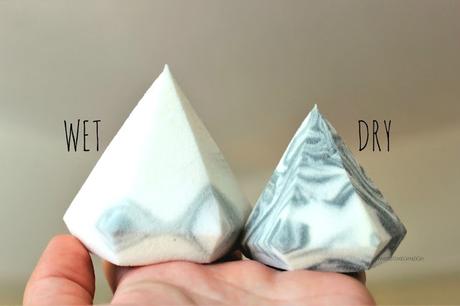 Obviously both sponges work just the same as each other BUT that's not the point. You don't promote a product that looks one way in professional imagery and then sell something that really doesn't compare.
I'd like to again thank the Real Techniques social media team for helping out.