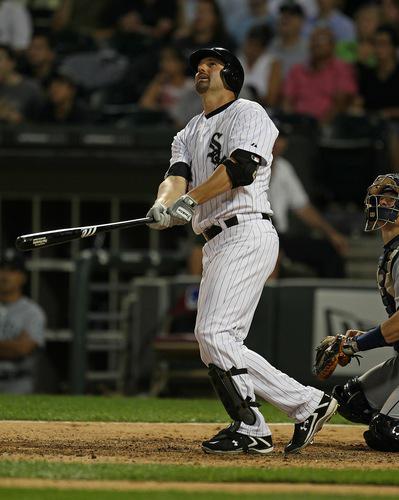 One of the good guys in baseball, first baseman Paul Konerko has been slugging home runs on the South Side for 13 seasons, as well as being the White Sox's clear-cut leader in the clubhouse. Konerko was instrumental to the White Sox's playoff run and eventual World Series win in 2005, and he has remained a productive player through his mid-thirties.
Konerko came up with the Los Angeles Dodgers in 1997, was eventually dealt to the Cincinnati Reds, and was then traded to the Chicago White Sox in November, 1998 for outfielder Mike Cameron.
Konerko, who played one game at third base for the Sox in 1999, alternated between first base and designated hitter that year. The 23-year old had an immediate impact with the White Sox, belting 24 home runs, with an on-base percentage of .352, and an OPS of .862 in 564 plate appearances.
Konerko has suffered through a couple of sub-par seasons at the plate with the White Sox. In 2003 and 2008, he posted a WAR of -0.2 and 0.5 respectively. He bounced back after both seasons, and he has repeatedly been courted by other teams during his windows of free agent eligibility, only to return to the White Sox. The Sox brass has not been disappointed after they re-signed Konerko again at the end of the 2010 season to a three-year deal worth $37 million.
Konerko has come at a relative bargain over the years, averaging 32 home runs per season, 102 RBI, and an OBP of .358. At age 35, Konerko hit 31 home runs, and had an OPS of .906 during a dismal 2011 season where Konerko was one of the few bright spots for the White Sox.
Konerko struggled with the rest of his teammates, however, in their 2000 ALDS sweep at the hands of the Seattle Mariners. Konerko only reached base once in the three games.In the White Sox's 2005 World Series run, which was dominated by the White Sox pitching staff, Konerko knocked out five home runs that postseason, including his pivotal grand slam in Game 2 of the World Series.
With the bases loaded in the seventh inning of Game 2, the Houston Astros brought on reliever Chad Qualls in an effort to preserve their 4-2 lead after dropping Game 1 at U.S. Cellular Field. In his second major league season, Qualls had an ERA of 3.28 in 77 relief appearances, and was being called on to kill the White Sox's two-out rally by getting Konerko out.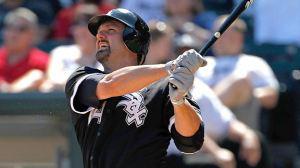 The rain-soaked Chicago crowd were on their feet, chanting "Paulie!" while Konerko surveyed Qualls as he began his delivery to the plate. Konerko smashed a no-doubt bomb to the left field bleachers, raising his fist in celebration as he rounded first base. The "Cell" was up for grabs as Konerko vaulted the White Sox in front of the Astros 6-4 during one of Chicago's greatest sports moments. The White Sox did relinquish the lead, however, but won it in the bottom of the ninth with an improbable home run off the bat of light-hitting Scott Podsednik.
Konerko secured his spot in Chicago sports lore on that cold and rainy October evening, and has continued to be a fan favorite in Chicago, displaying leadership and class. Konerko has always been a good quote for Chicago sports reporters. He consistenly offers an earnest and articulate viewpoint of what's going on with the White Sox at any given time during the season.
White Sox GM Kenny Williams even considered Konerko as Ozzie Guillen's replacement at manager for the 2012 season, with Konerko potentially being a rare player-manager for the Sox. How serious Williams was may never be known, but based on Konerko's approach to the game, he would be just as good of a candidate as any player for that type of role.
After a solid 2011 season, Konerko looks like he has a few more years left in the tank, and he may continue to add to his legacy with the White Sox for years to come, either as a player or perhaps a front-office executive.
-James Kries