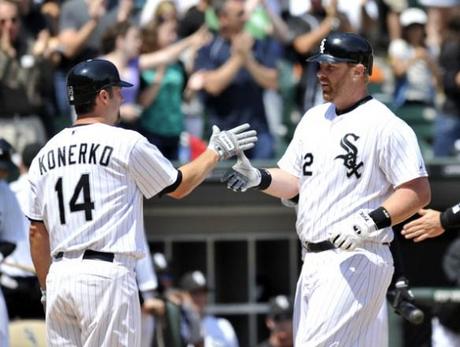 With a decidedly new look to their team for 2012, the Chicago White Sox will infuse some young talent into their lineup in an effort to help out some veteran hitters who struggled during 2011. The White Sox finished 16 games behind the Detroit Tigers last season, and had trouble scoring runs while two of their top veteran hitters turned in terrible performances.
Between new White Sox designated hitter, Adam Dunn, and center fielder Alex Rios, the team paid out $24.5 million to the two players in 2011, and received -3.4 wins above replacement in return. Between Dunn's historically poor performance and Rios' shoddy defense and poor hitting, as well as early-season troubles in the back end of the bullpen, the White Sox's 2011 season spiraled out of control rather rapidly.
With right fielder Carlos Quentin traded to the San Diego Padres this offseason, as well as the departures of Sergio Santos, Mark Buehrle, and Juan Pierre, the White Sox will try to rebound from a disappointing 2011. As a team, the White Sox scored only 654 runs while surrendering 706 last year. Their .388 slugging percentage was the fourth worst in the American League.
Along with Dunn and Rios' struggles, second baseman Gordon Beckham continued his regression in 2011. Beckham posted a weak .633 OPS and continued to fall well below expectations after his solid 2009 rookie campaign hitting line of .270/.347/.460. Third baseman Brent Morel manged a meager .287 OBP in 444 plate appearances.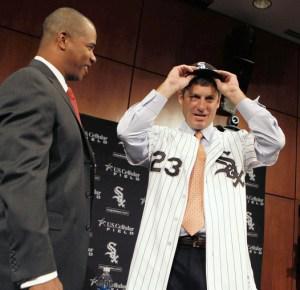 With all of the offseason turmoil for the White Sox, the question of how the everyday lineup will shake out remains. One of the most important changes this offseason concerning the lineup was the hiring of former White Sox All-Star, Robin Ventura, as the team's manager. Will Ventura stick with a regular lineup every game, regardless of trends, or will he follow former Sox manager Ozzie Guillen's habit of constantly tweaking the lineup, while emptying the bench on Sundays and "getaway days". Ventura, who has no managerial or coaching experience, will be learning on the job, and will likely tweak the lineup almost daily to try and find something that works. Hopefully, for Ventura's sake, he won't have to tinker with the lineup the entire season.
Here's how the White Sox lineup may look come opening day, when they take on the defending AL champion Texas Rangers in Arlington, Texas.
1. Alejandro De Aza CF
2. Alexei Ramirez SS
3. Paul Konerko 1B
4. Adam Dunn DH
5. Dayan Viciedo LF
6. Alex Rios RF
7. A.J. Pierzynski C
8. Brent Morel 3B
9. Gordon Beckham 2B
What's evident from glancing at the White Sox lineup is the lack of a true leadoff hitter. While Juan Pierre looked the part of a leadoff hitter during his last two seasons in Chicago, he was rather ineffective as the team's table-setter with his .335 OBP, while being caught stealing 35 times. His .327 slugging percentage didn't help extend many rallies either. Rios, who is moving over to right field in an effort to improve his mental state at the plate, has experience leading off games. While an optimal lineup should have one of the team's top hitters leading off (relative to their on-base percentage), the White Sox aren't exactly stocked with an army of Youkili (Kevin Youkilis- career .391 OBP).
Alejandro De Aza is the likely option at leadoff, and should be the team's opening day leadoff hitter, based on the strength of his .400 OBP in 171 plate appearances and 12 steals in 2011. De Aza's sample size for his MLB career is fairly small, so it's unlikely that he will be able to keep up with that pace over the course of a full season. Including his fine, yet brief performance in 2011, De Aza has a career .337 OBP in just 388 plate appearances. De Aza did have a solid track record for getting on base in the minor leagues. A long-time minor leaguer, De Aza posted a career minor league OBP of .365 (2,794 PA).
Another option at leadoff is Rios, who messed the bed in '11 with a .265 OBP. Rios, who has 603 career plate appearances batting first, has a career .821 OPS at leadoff. For his career, he has averaged 23 stolen bases per year. If Rios can return to his 2010 OBP of .334, the White Sox might have another leadoff option if De Aza stumbles as the team's everyday center fielder. No matter where Rios hits, the pressure will be on him once again to try to play up to his sizeable contract.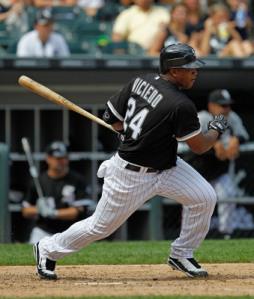 The big "ifs" start to surface when looking at the team's middle of the order. There is definite hitting talent, along with great potential in the heart of the lineup. There also looms the specter of another failed season by Adam Dunn and Rios. Dunn's 2011 disaster may be an outlier, a possible anomaly in an otherwise stellar career. If Dunn can return closer to his pre-2011 average of 35 homers per season, Paul Konerko may get the protection he lacked last season. For anyone who refutes the notion of lineup protection, Konerko would be a great argument against it. Konerko frequently bounced between fourth and third in Guillen's lineup, and despite being occasionally followed by Carlos Quentin and his .499 slugging percentage last season, Konerko often was the lone power source in the team's lineup, yet he managed to have another solid year. Assuming Konerko bats third this season, a return to form for Dunn might help keep Konerko's post age-30 OPS at or above .885.
After Dunn in cleanup, the question marks remain. Viciedo has the potential for 25 home runs, and if he clicks at the major league level as he's being projected to in his rookie season, the Sox could enjoy some extra power in the back half of their order. Baseball Prospectus has projected Viciedo to hit 18 home runs in 2012. Couple that with a potential bounce-back season from Alex Rios, and the Sox could have a solid 1 through 6.
Pulling up the rear of the order, are Brent Morel and Gordon Beckham, two more question marks for the White Sox. Morel, who had a career minor league OPS of .818, struggled to have an impact in his first full season in the majors. His lack of power at the hot corner may need to be addressed at some point by the team if he puts in another 10-homer season for the White Sox. Beckham, as previously mentioned, has suffered a steady decline during his three-year career, and will hopefully find his hitting stroke to go along with his solid glove.
If any of the outfielders struggle, the relatively cheap offseason acquistion of Kosuke Fukudome may come in handy. Fukudome has flexibility in the outfield and is a solid fielder. He also has a career .361 OBP after his four seasons in the majors. The former Chicago Cub could be another option at the leadoff spot, and he is a solid bat that can spell the outfield starters throughout the season. Former Tampa Bay Rays postseason hero, Dan Johnson will add some thump to the bench, assuming he lands on the team's 25-man roster.
The pitching may again keep the White Sox team afloat during what could be yet another bumpy ride in 2012. With Chris Sale moving into the rotation, the Sox may roll with a six-man rotation for part of the season, as they did last year. John Danks, Jake Peavy, Gavin Floyd, and Phil Humber round out the rotation for the White Sox. If the Sox decide to move Floyd to another team at any point during the season, Nestor Molina may see some starts. Molina comes to the team following the trade that sent Sergio Santos to the Toronto Blue Jays.
The White Sox will once again enter a season while lacking a true closer. Pitching coach Don Cooper has already indicated that the finalists for the closer role will be Matt Thornton and Jesse Crain, who both failed to nail down that role in 2011. Rookie Addison Reed will also be contending for the closer role, and may win the job in spring training, or in April if the others should falter again. Reed has a career 12.9 SO/9 in 108 minor league innings of work.
With expectations low following their failed 2011 season, the Chicago White Sox will be banking on comeback seasons from Adam Dunn, Alex Rios, and pitcher Jake Peavy. The team will sport a somewhat different look with longtime pitching anchor, Mark Buehrle having left for Miami. With slugger Carlos Quentin also playing in the National League following the team's offseason trade with the Padres, White Sox manager Robin Ventura will pencil in some different names on the lineup card in 2012 as he leads the team in their uphill battle with Prince Fielder and the defending AL Central champs, the Detroit Tigers.
-James Kries