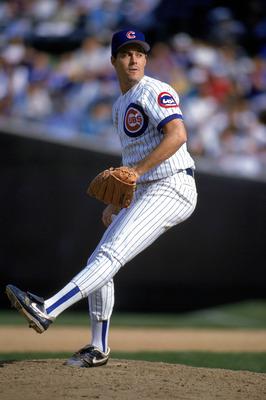 One of the most dominant pitchers of the late 20th century, Greg Maddux honed his craft as a Chicago Cub, winning a Cy Young award in Chicago before leaving for Atlanta and becoming one of the game's greatest pitchers of all-time.
At 27, Maddux left the Cubs in 1993 for slightly more money, but joined a team, the Braves, that had played in the last two World Series. With established pitching aces, John Smoltz and Tom Glavine, Maddux joined a staff that would go on to help Atlanta win 14 straight division titles, 11 with Maddux.
Maddux, who was nicknamed the Professor, had precise control and command of his pitches, frequently painting the corners of the strike zone, and frustrating hitters with his intelligent use of his pitches. Maddux studied hitters, and rarely made mistakes. He wasn't overpowering but changed speeds and kept hitters off-balance with his A+ change-up. He led the major leagues with the most wins during the 90′s, averaging 18 wins per season, with a 2.59 ERA during the decade.
What some recent fans of baseball may not know is that Maddux wasn't just an aging hurler pitching at Wrigley Field in the twilight of his career. Before he enjoyed some of the best individual pitching seasons in baseball history with the Braves, Maddux was a Cy-Young award-winning pitcher for the Cubs, leading the team to a playoff berth with a 19-win season in 1989.
Maddux came up with the Cubs at age 20, and experienced some growing pains after joining the last-place Cubs. Over the first two years of his career, Maddux had an 8-18 record, with a 5.59 ERA. His 1.42 SO/BB ratio would be contrary to his 3.37 SO/BB clip for his career. The Cubs stuck with the young right-hander and saw immediate results in 1988. At 22, Maddux led the Cubs with an 18-8 record, 3.18 ERA, and gave up only 13 home runs over 249 innings pitched.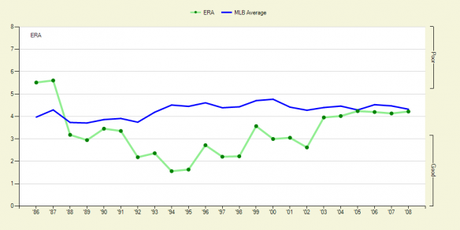 ERA during Greg Maddux's career (graph courtesy of FanGraphs).
The '89 Cubs won 93 games, good for an NL East title. Maddux won 19 that year, lowering his ERA to 2.95. The 23-year-old pitched to contact, and kept hitters off-balance, while maintaining a miniscule 0.5 HR/9 during 1989. The Cubs fell short in the playoffs, dropping the NLCS to the San Francisco Giants, four games to one. Maddux got shelled in his two postseason starts, giving up 11 earned runs in 7 innings. Maddux went on to pitch in 22 more postseason series during his career, posting a 3.27 ERA.
During the first seven years of Maddux's career with the Cubs, he posted a 3.35 ERA, 1.25 WHIP, and a 0.5 HR/9. He pitched 13 shutouts over that time along with 42 complete games.
Maddux's first stint as a Cub culminated in his Cy-Young award-winning 1992 campaign, when he enjoyed a 20-11 record, with an astounding ERA of 2.18, and WHIP of 1.01. Maddux pitched in a career-high 268 innings in 1992, with nine complete games, and four shutouts. It was the first of four consecutive Cy Young awards for Maddux, but unfortunately for Cubs fans, three were with the Braves. After Maddux gained his free agency rights after the 1992 season, the Cubs tried but failed to lock up the game's most sought-after pitcher. He signed a five-year deal with Atlanta, worth $28 million, making him the second highest-paid pitcher at that time.
While Cubs fans watched Maddux record a 2.63 ERA over 11 seasons in Atlanta, along with a World Series title in 1995, he was steadily paving the way for his almost certain first-ballot Hall of Fame induction when he becomes eligible in 2014. Maddux pitched perhaps two of the most dominating individual seasons ever in 1994-1995. Due to the infamous strike of 1994 which wiped out that season's playoffs, Maddux only pitched 202 innings that year, followed by a 209-inning season in 1995. Over those two seasons, however, Maddux was 35-8, with an ERA of 1.60 and a WHIP of 0.85. He threw 20 complete games and enjoyed an amazing 6.24 SO/BB ratio. Not bad for someone not considered a power pitcher.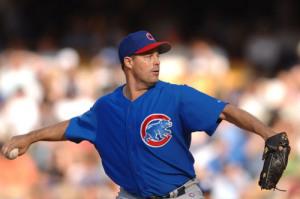 Maddux did excite Chicago once more, however, when he returned to the team before the 2004 season on the heels of the Cubs' painful seven-game NLCS loss to the Florida Marlins in 2003. The Cubs were odds-on favorites going into 2004, led by young starters Mark Prior, Kerry Wood, and Carlos Zambrano. With the return of the 38-year-old Maddux, who was still pitching effectively following a 2002 season when he posted a 2.62 ERA, the Cubs were primed for another run at possible postseason glory. Maddux did his part in 2004, winning 16 games with a 4.02 ERA, 1.18 WHIP, and 4.58 SO/BB.
Maddux's game gradually declined with the Cubs during his second stint. At age 40, the Cubs let him go to the Dodgers, who were in playoff contention. He finished off the 2006 season for the Dodgers with a 6-3 record, with a 3.30 ERA, and 1.08 WHIP. The Dodgers came up short that season, finishing second, but not without some key contributions from Maddux.
Maddux was tapped by the Cubs once again after his career as an advisor and coach. He has now joined the Texas Rangers for the 2012 season as a special assistant to the general manager.
While Greg Maddux posted a career 3.16 ERA over 23 seasons, he undoubtedly will land in the Hall of Fame. His stellar run with Atlanta, as one of the game's best pitchers of all time, was bookended by some great seasons in Chicago. Maddux will always be known as one of the great Cubs of all time, but fans have to wonder what would have been if the Tribune Co. had forked over a few million dollars more in 1993 to keep Maddux in town. Regardless of where he pitched, Maddux was that rare pitcher who didn't use a power game to stifle hitters. He got by on his smarts and precision control to become one of the game's legendary players.
-James Kries