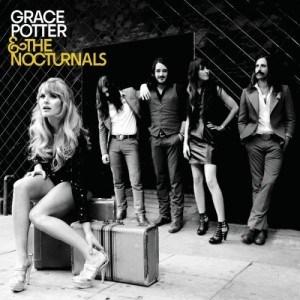 This album from Grace Potter & The Nocturnals is still on heavy rotation in my collection.
Every now and then I run across a significant new artist whose music I'd never find without a prompt somewhere. Back in 2010, Rolling Stone featured the fourth Grace Potter & The Nocturnals album as one of the breakthrough albums of the year, so I gave it a listen and was immediately transfixed, and not just by the big hit on that album, "Paris," but by the entire album. "Money," "One Short Night," "Tiny Light," and basically every song on the album became staples for me in my car and on my iPod, and still are to this day.
Recently I was flipping channels and caught one of those filler segments Palladia puts before the top of the hour, when one show ends at maybe 10 til the hour and they stick a random video in to fill some time (remember music videos, MTV? VH-1? Or any actual music programming? Yeah, those were the days…). Here's the video that showed that particular segment:
I love this song. Love the singer, love the video, love the music, love the voice. And of course I went searching for more from her. Turns out she's a relatively new artist from the UK who sang on many other artists' records but made her solo debut this past year. What a find she is. Another gem of hers is "Suitcase," a slower, sadder song that showcases her voice extremely well.
I love Palladia even more these days because they sprinkle in Later…with Jools Holland, Live from Darryl's House, Unplugged, and Storytellers among their numerous replays of various festivals and other concert footage. These shows can yield such great discoveries of artists, songs, and performances I haven't heard or seen before. For instance, I'd never gotten caught up in Ray LaMontagne's music until I saw his Storytellers episode. Wow what a great showcase for him and his band, the Pariah Dogs. Their stripped down, raw musical style fits a show like Storytellers so well, and their performance on that episode was captivating. And the Grace Potter episode is terrific too. Her story about the new song "Stars" brings her to tears, and the audience right along with her.
I've watched Later…with Jools Holland off and on for years, depending on whether it was available here in the U.S. at any given time (Palladia just added it to their lineup this fall). This is the show where I first discovered Robbie Williams, Keane, Duffy, Travis, and Blur, among others. I found songs from KT Tunstall I liked far more than her biggest U.S. hit, "Black Horse and the Cherry Tree." Her cover of the old Dylan classic, "Tangled Up in Blue," was just terrific, and I've never been able to find it on any album anywhere.
And Later… is where I first saw Adele sing in a live performance….'nuff said.
Thanks, Palladia, for keeping MUSIC available on TV instead of clogging the airwaves with more "reality" shows about pseudo-celebrities pretending to be "real" somethings or other. I for one still want my Music Television.