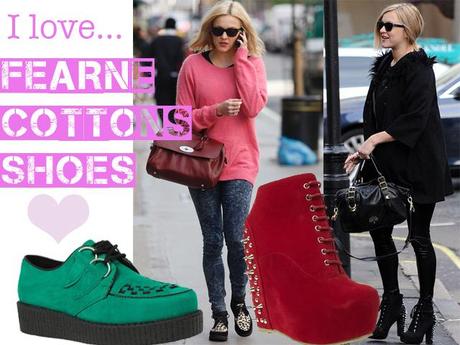 Green Creepers £22, Red Studded Ankle Boots £40 both from Barratts
It's competition time! Regular readers of my blog will know that I love making a good fashion collage, so I jumped at the chance when I stumbled upon the lovely Terri Lowe's giveaway. She's giving one lucky winner a £70 Barratts gift voucher, and a runner-up will receive £30! Just imagine all the pretty shoes... So, if you like making collages, and FREE SHOES head over to her site now for all the information. You've still got a week to enter! 
I got my inspiration from my ultimate fashion icon, Fearne Cotton. I will always try out new styles that she's rocking. (I think she might be to blame for my current knitwear obsession...) I chose the creepers because I adore the emerald green colouring. There are a lot of black and leopard print ones dotted around the high street at the moment, but I've yet to find such a pretty color. It makes them look quite girlie too.
I've carried the grunge/punk theme into the next pair of shoes. I'm not too embarrassed to tell you that I almost dribbled when I saw these beauties! I think I finally understand the meaning of the term 'shoegasm'. I like how these shoes seem to be Lady Gaga inspired, only much more wearable! 
If I won these are the two shoes that I'd buy. A pair for day and a pair for the evening. I love the gorgeous colours of them both, and they'll be my Fearne Cotton shoes! Which means they'll be loved forever (and might even bag me a Radio 1 job! You never know...)