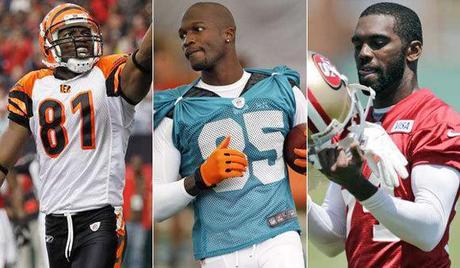 Photo: Kevin C. Cox/Getty Images; Terry Renna/AP; Paul Sakuma/AP
- Adam Parker
It's official. Terrell Owens, Chad Johnson and Randy Moss are all back in the NFL.
These three wily old vets were all staring down the gun barrel of retirement before their new respective teams came calling to give them one final shot to earn an NFL paycheck.
Owens, Moss and Johnson are all dipping into the Fountain of Youth to give it one more go-around in the Big Time. All three guys are coming into 2012 with a colossal chip on their respective shoulders and all still wanting to prove that they can go out and not only get it done, but dominate on game day.
The question is, despite at least two of them in Owens and Moss almost guaranteed to be enshrined in the Hall of Fame once their playing days are done, do any of them have enough left in the tank to "dominate" in 2012?
All three guys are in great positions to succeed on the field this season, as miraculously, they all ended up in the perfect situation for their respective talents, but which will have the best performance?
Randy Moss - San Francisco 49ers
A re-energized Moss, after being out of football for all of 2011 and an abysmal 2010 split between the Patriots, Vikings and Titans, heads to San-Fran to give the incumbent Alex Smith someone else to throw to besides Vernon Davis and the running backs.
Oh, and before we forget to mention it — he's still 6'4" and he's still fast enough to blow the top off any defense despite being 35 years old. Normally, it'd be a no-brainer that Moss would have the biggest impact of these three, but in Jim Harbaugh's run-first offense, Moss will likely be used more as a decoy and a defense-stretcher than anything else. Unless of course teams still try to cover him one-on-one — then, if I'm Harbaugh, I'm telling Smith to let it rip.
Terrell Owens - Seattle Seahawks
Then there's T.O. Seattle is the perfect situation for him. I mean, let's be honest, I'm a big Doug Baldwin fan, but outside of he (who's likely to be the slot receiver anyway) and Sidney Rice who's still recovering from off-season surgery on both shoulders, who else can really make the impact in Seattle's passing game that T.O. undoubtedly will?
Unless Braylon Edwards
decides
 to start playing up to his potential, I'd say no one. In his 16 years in the league, Owens has been through more teams (49ers, Eagles, Cowboys, Bills, Bengals and now Seahawks) than Kim Kardashian has had potential suitors. Will Seattle be his final stop? I'm betting it will be, no matter how he performs on the field, which will likely be better than most people think. Never count out T.O.
Chad Johnson - Miami Dolphins
Johnson, thanks in part to the lack of talent at the position, was brought into Miami to likely be the No. 1 wide receiver by default for whoever is slinging the rock down in South Beach. Because there aren't really any other threats in the passing game now that Brandon Marshall is in Chicago (unless you count running back Reggie Bush and the occasional cameos by Brian Hartline, Davone Bess and Clyde Gates; I certainly don't) Chad, despite being 34, will be the indisputable top target in Miami.
Why do we like him to have the best season out of these three? Well, in addition to being the youngest of the group, he's also joining an offense that will be more "pass-happy" than the run-heavy offenses in San Francisco and Seattle. More passes means more targets for Chad, and therefore more options for him to make plays.
The former Oregon State Beaver looks to be in the perfect spot to bounce back from that horrendous 15-catch 2011 season he put up in the usually wide receiver-friendly confines of New England. Have fun in the Miami sun, Chad. You're our pick to have the best 2012 season out this veteran group.
Be sure to follow Beard And Stache on Twitter 
@BeardAndStache
, and also Adam 
@Adam_Parker43
, Like our Facebook page 
HERE
!