Today I am excited to tell you about the launch of Peter Guber's new book,
Tell to Win
.  In his extraordinarily successful career, Peter Guber has served as Studio Chief at Columbia Pictures; Co-Chairman of Casablanca Records and Filmworks, CEO of Polygram Entertainment, Chairman and CEO of Sony Pictures; and Chairman and CEO of his current venture, Mandalay Entertainment Group. With six minor league baseball franchises, co-ownership of the Golden State Warriors, and three billion dollars in profit during his tenure at the helm of leading multinational entertainment companies, Peter Guber is one of Hollywood's most successful sports franchise owners and entertainment executives.  He is also a Professor at UCLA where he has spent 30 years educating the world's future business leaders.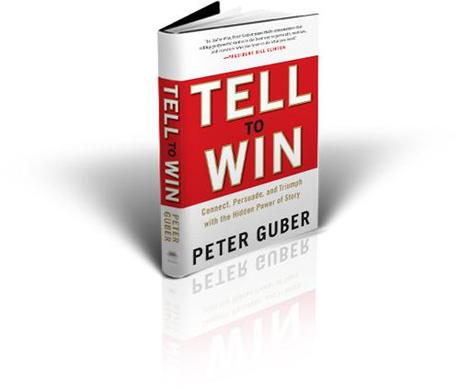 In the book, he tells us how the power to tell emotionally resonant stories can persuade, motivate, excite and incite others.  This book really resonated with me because in business school and at work, we communicate through Powerpoint slides, documents and emails.  In his
book
, Peter Guber argues that a list of numbers or facts in Powerpoint is not memorable.  You MUST be able to tell a story.  Your success in business will ride on your ability to get your intention inside your listeners in a way that moves then to action.  And, what better tool to accomplish that then story telling?
So, the next time you have a presentation or an important business meeting, here are a few things to help you build a great story:
Get your listeners' attention with an unexpected challenge or question.
Give your listeners an emotional experience by narrating the struggle to overcome that challenge or to find the answer to the opening question.
End with a resolution that ignites in the listener a call to action.
Tell to Win
is a great book if you ever want to learn how to get a promotion, improve your relationships, how to land a new job or how to persuade someone to invest in you or your company.  For more information about the book, check out
http://www.telltowin.com/
.
Make sure you come back tomorrow because one lucky reader will win a SIGNED copy of
Tell to Win
 and a year long subscription to Forbes, Fast Company, Wired, Entrpreneur, Education Week, Sports Illustrated or Entertainment Weekly!!
See you tomorrow and good luck!!
Disclosure: Crown Business Books provided me witha copy of Tell to Win to review but that this did not change what I wrote about the book.