With the long weekend approaching, it is time to spend quality time with your friends or family members over a meal or afternoon tea. What about having a cup of coffee and some pastries at the hotel café? Last Saturday, I had attended Nuffnang Lovin'x for an intimate tea session at Conrad Centennial Singapore's trendy outdoor lounge, The Terrace. The Terrace offers delicacies, artisan sandwiches, sweet treats, homemade bread and pastries, freshly bakes by the hotel's culinary team, at competitive prices.
Here are what we had tried: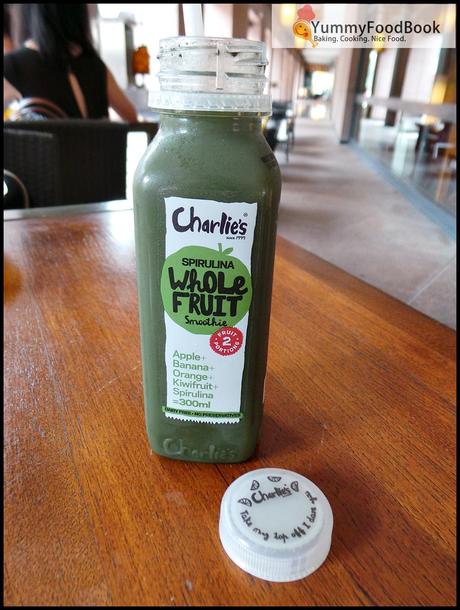 Charlie Bottled Fresh Chilled Juice $6.00
Refreshing fruit juice to quench my thirst before tucking in to the puffs and cakes.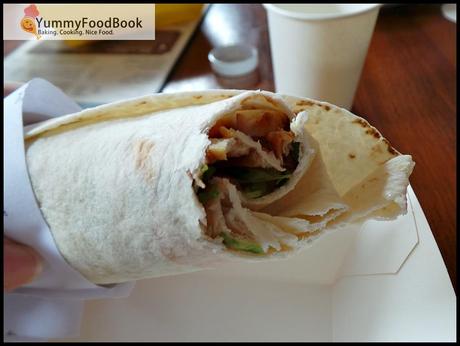 Wasabi Shawarma $7.50
Succulent chicken shavings wrapped with garlic sauce, vegetables and wasabi sauce. Quite an interesting flavour for wrap. If you are not a fan of wasabi, you can opt for BBQ sauce.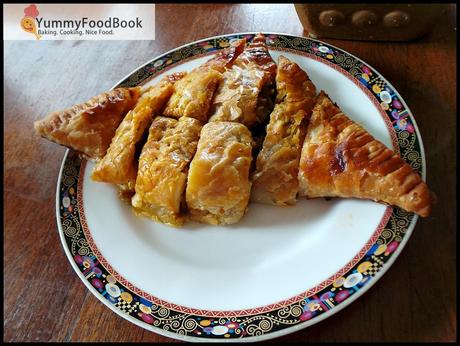 Puff Chicken Curry $6.50
Made with flaky and buttery crust, filled with moist curried potatoes, spicy chicken filling. The Curry Puff is robust, spicy, savoury, spicy and crispy. As a meal on its own or as a snack, you are guaranteed to enjoy this signature item.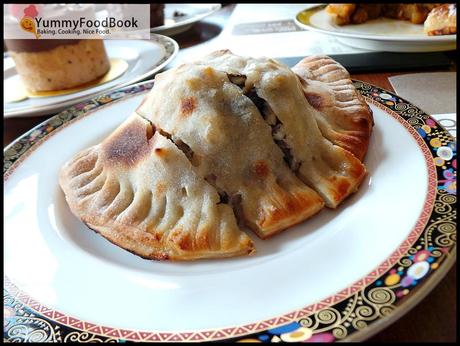 Calzone with Chicken and Mushroom $7.50
The Calzone, a half-moon pizza filled with delicious ingredients from Italy, savour in a choice of Turkey Ham & Tomato or Chicken & Mushroom. Available only at The Terrace from Monday to Friday!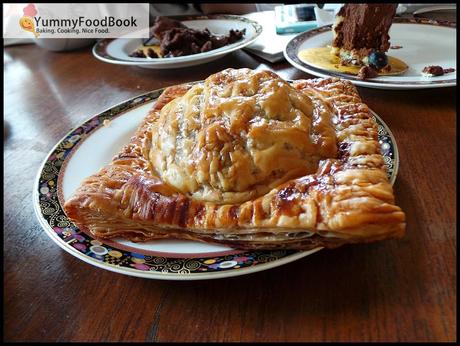 Beef with Onion Pie S8.00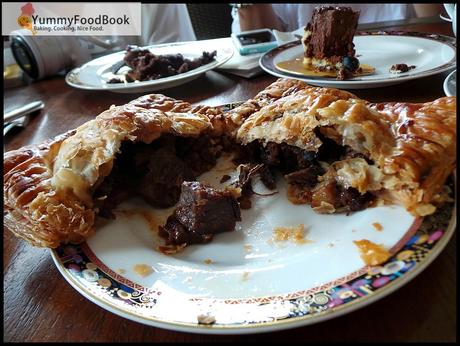 Look at the big chunky juicy beef fillings. So filling and tasty! The crust of of the pie is flakey and buttery.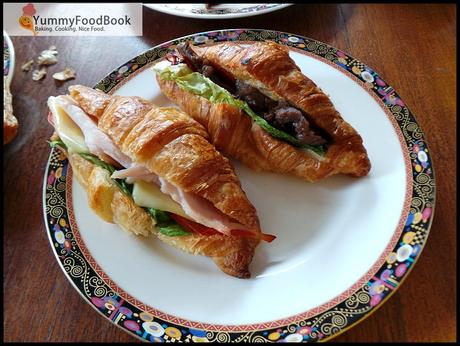 Left: Parma Ham & Mozzarella Crossiant ; Right: Soya Beef with Paprikaa $4.50
Fret not if you are not puff or pies lover.Here come the sweet pastries: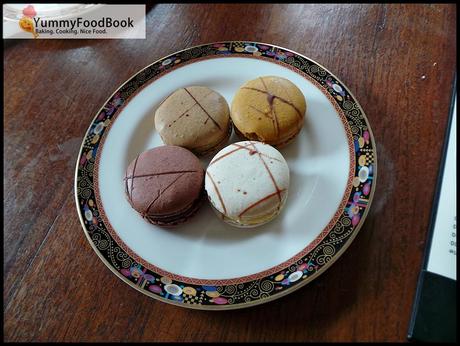 Assorted Macaroons $2.50 each for size medium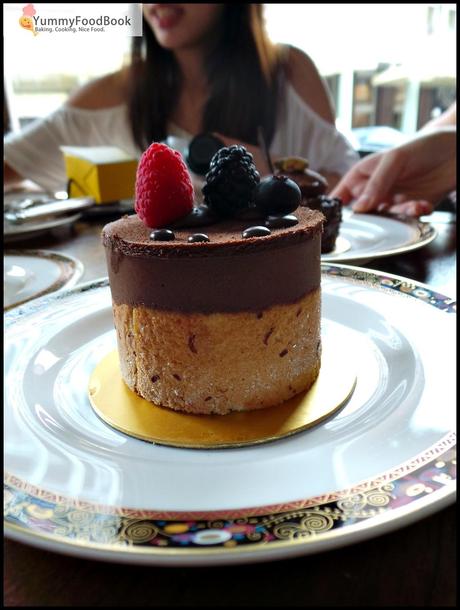 Chocolate Royal Hazelnut Crunch
The chocolate royal hazelnut crunch is one of our favourite cake. It was gone in a while. Love the crunchy texture that goes well with the chocolate hazelnut mousse. Surprisingly it is not 'ge lat' after having the cake The manager was very attentive to know that we love the chocolate royal hazelnut crunch and had offered to serve us one more! So sweet.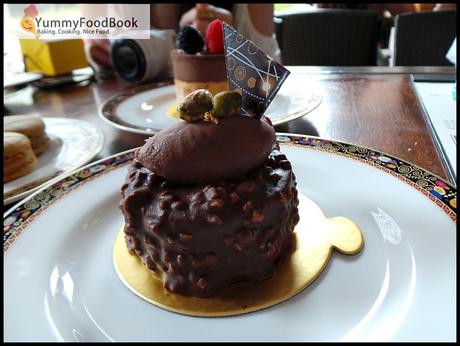 Glazed Macadamia Chocolate Fondant $7.00
Look at how the fondant is beautifully decorated. Can't really bear to eat them. Order this if you are a chocolate lover! So rich in chocolate and perfect with macadamia nuts.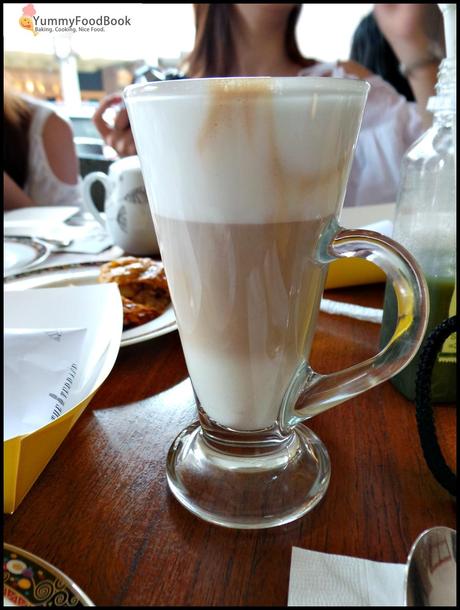 Cafe Latte ( 3 perfect Layers) $6.50
Not forgetting a cuppa of cafe latte to go with the cakes and macaroons.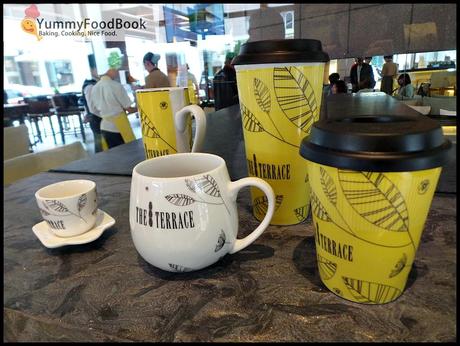 Coffee cups For Sale At The Terrace.
Thanks Nuffnang for inviting YummyFoodBook to this event. Besides indulging in delicious sweets and pastries, I also got to meet some lovely bloggers and had fun at the event.:)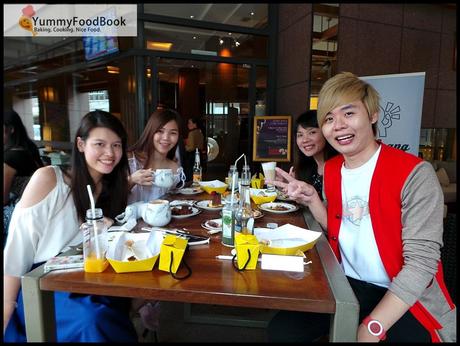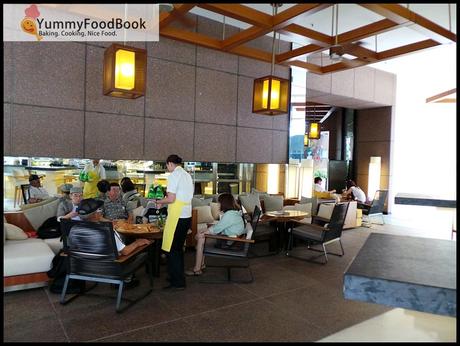 If you still have no plan of where to hang out for this coming long weekend, head down to The Terrace at Conrad Contennial Singapore for a perfect treat. The price is reasonable considering dining at a hotel.
The Terrace is open from 7am to 8pm on weekdays and 9am to 8pm on the weekends daily and seats up to 40 guests.
Happy long weekend eveyone and I am counting down to our trip! Time to start packing!
The Terrace
Address: 2 Temasek Blvd, Singapore 038982
Phone: +65 6334 8888
FaceBook Page: Concrad Centennial Singapore
Posts You May Also Like
McDONALD's NATIONAL BREAKFAST DAY & McDONALD'S SURPRISE ALARM APP
BARISTA WORKSHOP AT STRANGERS' REUNION
CHRISTMAS PARTY SNACK WITH AYAM BRAND
DOMINO'S NEW CHEESY CRUST PIZZA
ALCE NERO COOK OFF
BEN & JERRY'S FOOD INSPIRATION TOUR PLUS GIVEAWAY
BEN & JERRY'S ICE CREAM WORKSHOP: COUCH POTATO FLAVOUR ICE CREAM
LAUNCH OF CORONA MEXICAN BULLDOG COCKTAIL
GORDON RAMSAY VS SINGAPORE'S FAVOURITE THREE HAWKERS AT SINGTEL HAWKER HEROES CHALLENGE
SOMERSBY APPLE CIDER @ BLISS HOUSE RESTAURANT