Chad, don't read this!
The Flea
On Sunday, I actually managed to drag my butt out of the house to travel over to the west end for the TBC Flea at Through Being Cool Vegan Baking Co. There have been a few previously and I always missed it. With Chad's birthday coming up this month, I wanted to go for this one to get a few things for his gift. I didn't take any pictures while I was there because it was pretty crowded. That was good because I was anxious that I'd arrive and be the only one there, with all the vendors eyeing me as I awkwardly browsed their wares. That was not the case, thank goodness.
The Finds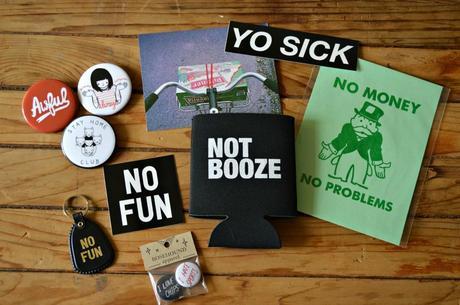 Look at all the stuff I got! Most is for Chad, but some are for me, like the Stay Home Club buttons and the I Hate Sports button from Rosehound Apparel. From Yo Sick, I got a print, a postcard, a beer cozy a stick. From No Fun, I got a sticker and a keychain.
I'm glad I got to support these small businesses. I think this flea is an awesome idea because it gets their products out there in person, instead of just online, plus it brings in business for Through Being Cool and speaking of…
The Food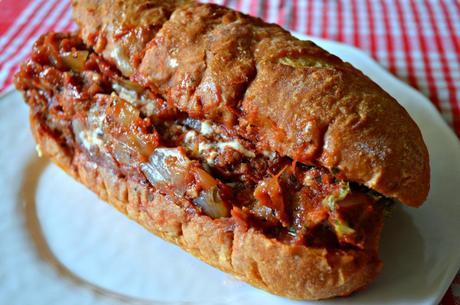 I decided on this visit to the TBC Flea that it was time for me to try one of their sandwiches. Since they don't have any seating and I live on the other side of the city, I usually just grab a pizza roll or something I can munch on while on the subway. Today I got their Chick'n Parm sandwich and it was actually still warm by the time I got home! Score! Plus, it was delicious! Mmmm I love seitan. I was a good wife and saved half for my hubby too. Not sure how I managed to restrain myself, but dessert did help..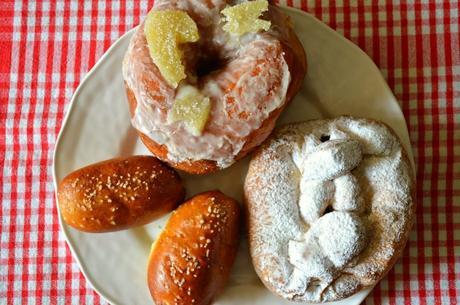 Oh yum! I got a blueberry Danish for myself and a Dark & Stormy Donut for Chad, along with two Pretzel Pups. I had a bite of the rum and candied ginger donut and it was really good, although we couldn't taste the rum LOL. I liked the pretzel pups, which are veggie dogs wrapped in a pretzel, but I felt like they could be even better with some cheese or mustard inside. Not sure how that would work though. I remember eating cheese-filled sausages when I was a kid. Maybe it would work better to have a cheese or mustard dipping sauce.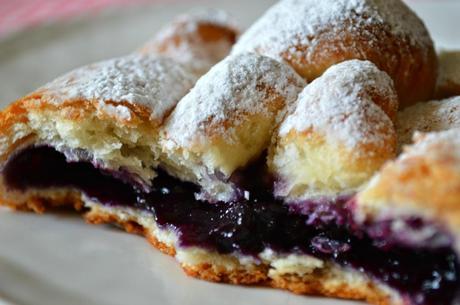 Mmmm I love blueberry anything and this Danish really hit the spot. I wish TBC was just a little but closer because their food is great and is really reasonably priced. A sandwich, latte, giant donut, Danish and 2 pups were only $25.
Definitely looking forward to the next TBC Flea. If you're in Toronto, you should check it out. Watch their Instagram to find out when the next one is happening.
~Laura