When I saw that the raves and positive reviews about Tarte's Airbrush Full Coverage powder foundation had actually crossed the Atlantic via Estee of Essie Button I was quite curious.  Western beauty bloggers and vlogging gurus in the western hemisphere can go on and on day or night about mounds of newly launched liquid bases, luxury or drugstore, but it's unusual to hear western girls rave about a powder foundation.  This one certainly got them talking and now I sort of see why but later on in this post I'll tell you why I was amused, it's because we have something similar to this locally, not 100% as good but pretty darn close in my opinion.  Let's focus first on this one by Tarte.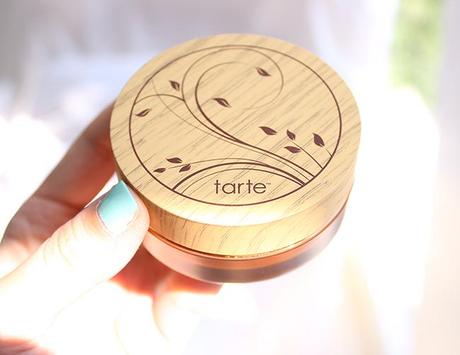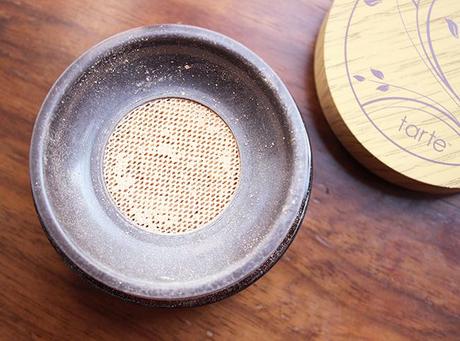 Introducing the latest addition to the Amazonian clay foundation line for total complexion perfection! Amazonian clay full coverage airbrush foundation delivers flawless, natural-looking coverage that lasts, while the skintuitive™ formula invigorates skin tone and texture for a youthful complexion. Powered by Amazonian clay enriched with the Earth's natural, light-reflecting gemstones, this moisture-rich powder buffs on smoothly for waterproof, 12-hour coverage that won't settle into fine lines and wrinkles. Available in 11 shades to perfectly complement a wide range of skin tones and undertones, this innovative foundation also employs a custom mesh delivery system for a fool-proof, mess-free application every time. ($36.00 Sephora)

The range comes with 11 shades which is a pleasing, reassuring thought for all who might be interested.  I have the shade "light-medium neutral ('light to medium skin with yellow and pink undertones')" which is a spot on match for someone in between MAC NC30 and NC35 coloring.  I decided not to get the Tarte airbuki brush for application since I already have something that works just as well by Ecotools, it's larger, covers in half the time and has a handle (the Ecotools bronzing/buffing brush).  Powder foundations that are mineral or clay based like this are great for those with sensitive, oily, or even acne-prone skin who need a break from the onslaught of chemically enhanced liquid foundations.  This powder foundation doesn't cake or apply unevenly.  Read more to get the full post with photos after application.
The one minor thing, packaging related, that annoyed Estee of Essie Button about this product is the lid has a stopper that obstructs possible use of it for tapping or swirling your brush in.  That is the habitual use of the loose powder lid for girls who are familiar with loose powder foundation as I am.  Despite that, I do see the lid's purpose, it keeps the powder from getting everywhere inside when in transit.  There's also a genius sort of mesh/netting over the container mouth that aids in depositing the product gradually instead of suddenly.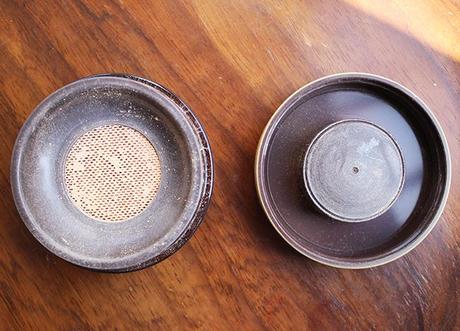 Amazonian clay: nature's most perfect ingredient for better, longer, truer wear. Tourmaline: natural gemstone known to energize skin for a brighter, more radiant complexion. Pearl powder: rich in anti-inflammatory, invigorating & anti-bacterial properties. Camellia leaf extract: natural antioxidant that fights free radicals and aids in skin repair. Mineral pigments: soothe and soften skin
The powder itself is a dense but smoothly applied sort of powder, the texture is undeniably soft and pigmented, super finely milled and has the creamy qualities of kaolin clay in it that help it cling to the skin, and with proper, patient application you get practically flawless coverage to a point where you might not even need concealer.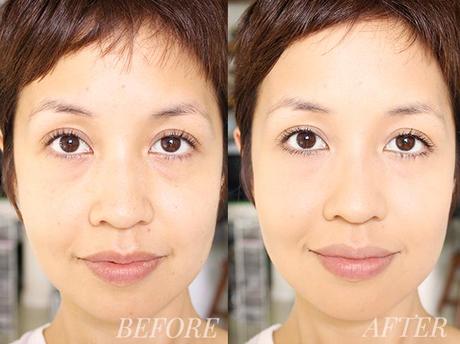 Above in thatthat before are seeing the product applied on its own without any other product to help it.  In this next shot you'll see you can level up your flawless coverage if you use Tarte's Airbrush powder foundation over a sheer base or tinted moisturizer.  I was wearing the Tarte powder in my Hourglass blush review a few posts back but was was wearing it pressed on top of Becca's Luminous Skin tinted moisturizer…the result was absolutely flawless.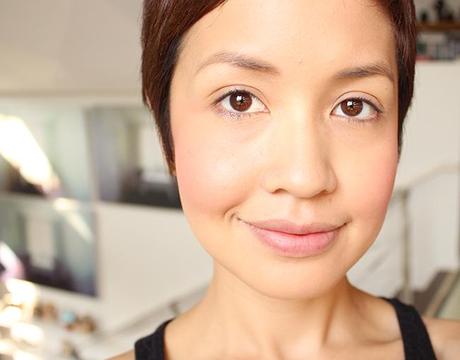 And finally, as I mentioned earlier, you're probably wondering by now.  What happens to be the local product that compares to this Tarte one neck and neck?  Look no further than Ellana Minerals Loose Mineral Powder Foundation which you can purchase with a 5% discount here and which I have reviewed here.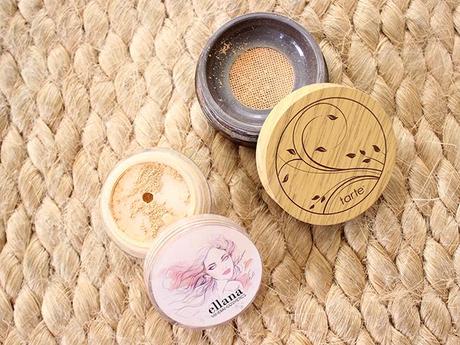 The small difference between Tarte's powder and Ellana's powder are that Tarte has a minimal sheen running through it once it's on the skin, it's more matte than satin (I'd say 96% matte 4% satin finish) but it's not completely matte.  Ellana's own loose mineral powder is completely matte, has slightly heavier coverage and isn't as finely milled but is almost…AS IN almost the same finish.  The magnifying difference is with Ellana up close the powder slightly sits on the skin but is still beautiful to photograph despite that.  Tarte's powder, for some amazing reason, I cannot see sitting on my skin once it's applied and buffed into the skin properly…even with a mirror up close I can't immediately see it once it's on and I guess that's where the finely milled powder technology comes in and beats our local offering by a nose, by just a nose I tell you, as they say in the races.