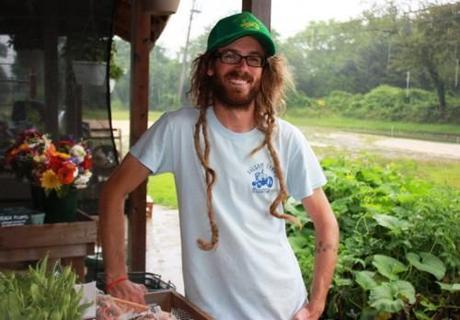 Ah the power of marketing.  Over at Balsam Farms, snuggled up next to the deliciously sweet flying saucer-shaped donut peaches were these little lookalikes, tagged TangO peaches. The only discernible difference was the golden skin of the TangOs, which actually made them a mite less appealing than the flushed pink and orange fuzzed donut peaches.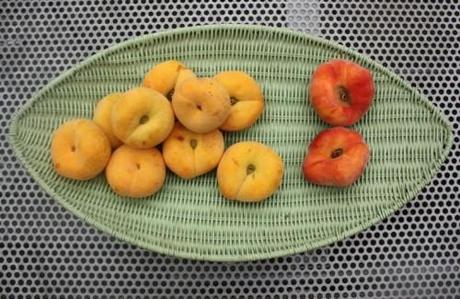 What's the difference between the two varieties?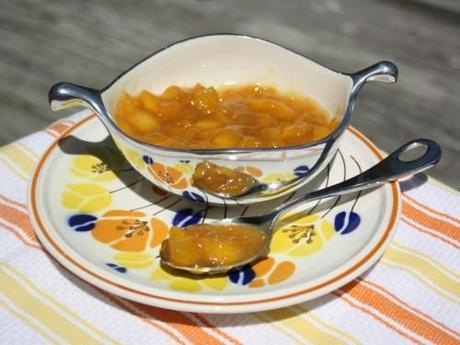 Farmer Bryan was quick to respond, "TangO peaches are the peach with pizzazz!"   Who could resist? Not I.
Back at the Springy Banks Cannery (a.k.a. our kitchen) an informal taste test was convened, comparing TangOs to donuts. The consensus was TangOs had a bit more bite, perhaps more acid that the donuts. Nothing drastic, but still worth amplifying in the jam recipe.
So three tactics were employed to enhance that legendary TangO pizzazz:  
1. Low-sugar pectin increased the fruit to sugar ratio.
2. The mellow, sweeter-than-sugar flavor of honey adds a warm background to the peach chunks in the jam.
3. A generous shot of lemon juice adds energy, keeping the jam from sinking into a super-sweet lethargy.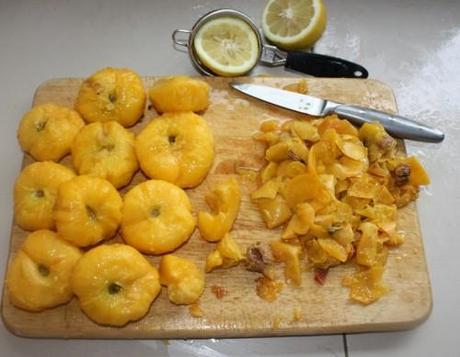 TANGO PEACH JAM — THE PEACH WITH PIZZAZZ
Recipe

2 qts. tango peaches, to make 4 cups of prepared fruit
2 lemons to make 6 T. lemon juice
zest of 1 lemon
1 c. bottled peach nectar
3/4 c. honey
1 c. peach nectar (bottled)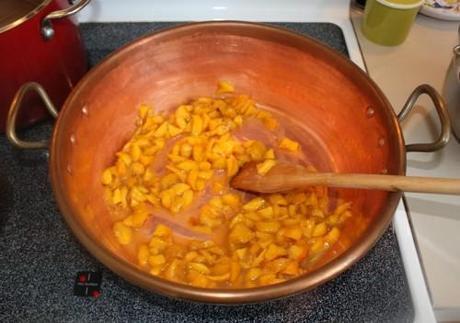 Peel the peaches: Bring a large pot of water to a boil. Lower the peaches into the boiling water, keep them in there for 2 minutes, then remove with a slotted spoon to bowl of iced water to stop the cooking. Drain and pull off the skin. Cut into  3/4″ chunks. Discard the pits.  You should have about 4 cups of peach chunks. 

Macerate the fruit: In a non-reactive bowl or pot toss the peaches with 2 T. lemon juice. Stir in 3/4 cup of honey. Cover and let sit at room temperature for 4 hours. 

Drain the fruit in a colander, retaining the honeyed juice.

Place the fruit in a large pot, add 4 T. lemon juice and the zest from one lemon. Mix 4 T. powedered No Sugar / Reduced Sugar Pectin to 1 cup of peach nectar. Stir the nectar/pectin into the fruit in the pot.  Bring to a boil, stirring.

When the peaches are boiling furiously, add the reserved honey and juice mixture. Return to a full-on boil, cook for 1 minute. 

Pour the jam into sterilzed 1/2 pint jars, seal with sterilized lids. Process in a boiling water bath for 10 minutes.

Print This Post