In light of last night's really disappointing dinner David and I needed a good meal but we didn't want to blow our points.
I pulled out a recipe we already like and altered it a little for our current diet. We both agree that it turned out great. So, I'm happy to share it with you.
I had tried a similar recipe before but I didn't use yogurt as the original recipe called for cream cheese. Replacing the cream cheese with plain Greek yogurt still makes a great dish. Many of these ingredients can be found at Super Target but if you shop around I'm sure you can find them at another store. I'll give the breakdown of the weight watchers points plus at the end.
This is a Tandoori Chicken Sandwich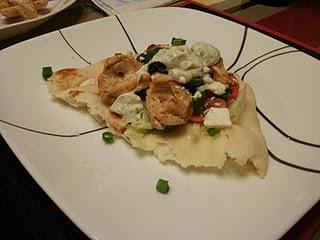 Ingredients
1 lb of boneless, skinless chicken strips
1 Cup of Greek Yogurt
2 Tablespoons of Tandoori paste ( use more or less to taste)
Bamboo Skewers
Tomato
Chopped Onion (I used green onion)
Shredded Lettuce
Reduced Fat Feta Cheese
Dill yogurt/Tzatziki sauce (I used Otria)
Prepared Naan Bread (I used Archer Farms from Target)
Directions
Cut each of your chicken strips in to 4 roughly equal pieces and set aside. In a bowl with a lid combine 1 cup of Greek Yogurt and 2 tablespoons of Tandoori paste.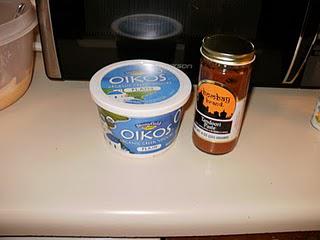 Add the diced chicken to the mixture.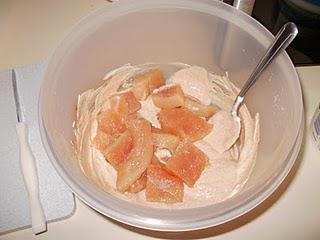 Stir to coat all of the chicken. Put the lid on the bowl and place in the refrigerator to marinate for at least half an hour. 12 to 24 hours is better. The mix will appear darker or lighter depending upon how much Tandoori Paste you add to the yogurt.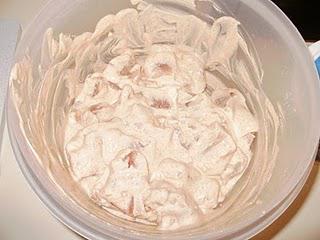 When you are ready to cook your chicken turn you broiler on high on your oven to preheat.
Prepare a broiler pan with rack. Spray with cooking spray to prevent sticking. Skewer chicken chunks on the bamboo skewers and lay across the broiler rack.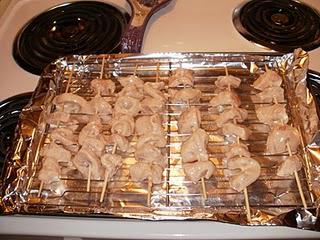 Broil the chicken 6 inches from heat for 6 minutes. Then turn the skewers over and Broil for another 6 minutes or until the chicken is done and they begin to brown but not burn.Place the kabobs on a plate and serve with the…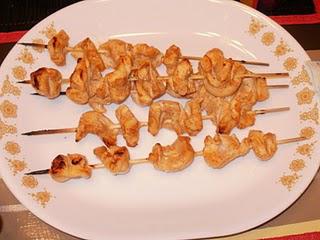 Lettuce, Tomato, and Onion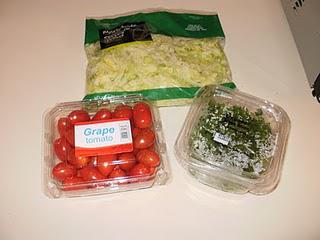 As wells as the Naan Bread, Yogurt Dill Dip, and Reduced fat Feta.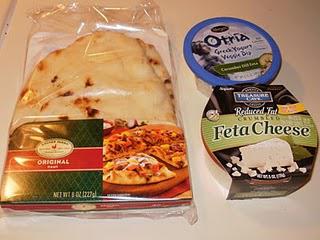 Now, for the WW Points Plus points breakdown.¼ of a lb of chicken with the yogurt/tandoori mix = 4 WW Points Plus points1/8 of a cup of reduced fat feta = 1 WW Points Plus pointsTomato, Lettuce, Green Onion = 0 points½ of a Naan Bread flat = 4 WW Points Plus points1 tablespoon of Yogurt Dill sauce = 1 WW Points Plus pointsThe sandwich below has ½ of a serving of the chicken. The total points used for this sandwich is 8 WW Points Plus points. It's packed with flavor.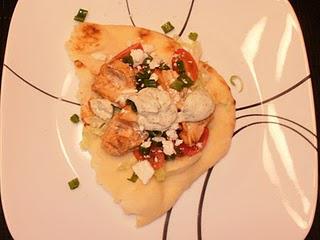 We baked Archer Farms Samosas to go along with this. 3 samosas = 5 WW Points Plus points with an additional tablespoon of the Yogurt Dill dip = 1 WW Points Plus points.
The entire meal was 14 points and extremely satisfying. We had leftovers to take to work for lunch.
You can have 2 sandwiches for 16 points and skip the samosas if you want or have it all if you have the points to spare.