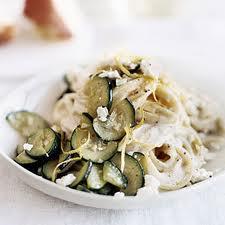 TIME: 20 MIN.
DIFFICULTY ': *
INGREDIENTS:
160 gr. heavy cream
360 gr. fresh egg tagliatelle
2 zucchini
80 gr. in slices of ham
1 bunch basil
4 tablespoons extra virgin olive oil
Salt
Pepper
PREPARATION:
Boil the noodles in boiling salted water, drain, add 2 minutes before you even cut the zucchini into thin strips.
Heat the oil in a pan, let the ham flavor a few moments, then add the noodles with zucchini.
Season with a pinch of pepper and some basil, then add the cream, stir and serve.