The General Manager of Smackdown Booker T made a 8-Team Single Elimination Tournament to determine the #1 Contenders for Team Hell No. The winners of the Tournament will face the champions at Hell in a Cell which takes place October 28.
After Rey Mysterio and Sin Cara defeated Epico and Primo the 8-Team Tournament Bracket looks like this: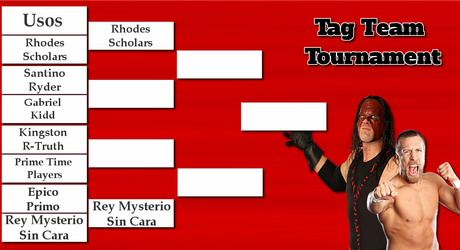 Tomorrow Santino Marella and Zack Ryder face Justin Gabriel and Tyson Kidd on Main Event's debut on Ion. Friday on Smackdown Prime Time Players face former tag team champions R-Truth and Kofi Kingston.