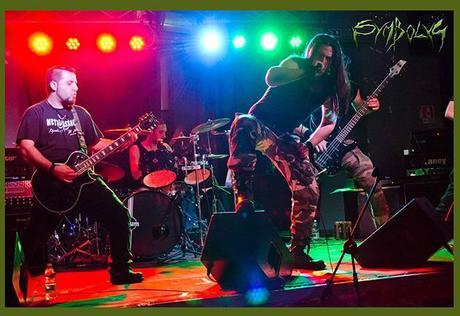 Hello guys! I'm going to introduce today an Italian Death Metal band called Symbolyc, which has an incoming new album entitled "Apocrypha".
Symbolyc was born in the summer of 2003 by an idea of Sox Aversana (Guitars) and Raffaele Pezzella (Drums) when they decided to create an extreme metal band. After a year as a band, they completed the first new songs for their first recording "Souls in the Dark".
In 2005 Symbolyc released an EP entitled "Wingless", which obtained a great success in the underground metal scene giving the possibility to Symbolyc to play outside their home area, performing at various live events.
The band developed its identity and its own personal extreme metal sound, with innovations and some differences between old school Death Metal.
Symbolyc underwent at the same time several changes on the band's line-up and finally they received to Diego Laino as a singer and they continued creating new compositions until the band entered the studio to record their first full-length in late 2007 and early 2008.
After they signed with the Italian label My Kingdom Music, these guys released "Engraved Flesh" album in 2009 with great success from critics and audience and they shared stage with Udo, Vader (XV Agglutination Metal Festival 2009), Dismember, Emeth, Fleshgod Apocalypse Decapitated, Master, Avulsed, Sinister, God Dethroned and many more.
The international success of Symbolyc came into the band's life with "Engraved Flesh" album including it on the top ten in UK with bands like Immortal, Nile, Behemoth and Mastodon. After some new line-up changes, Symbolyc plays in 2012 with bands such as Testament, Dark Funeral and Sadist.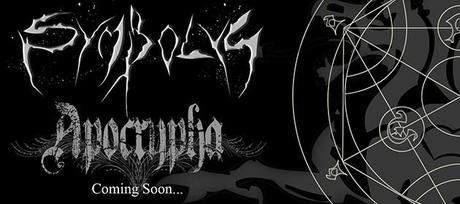 The current guitarist Andrea Sacerdoti enter, Symbolyc has recorded in 2013 their new album entitled "Apocrypha", which is coming soon on 2014.
Meanwhile we can enjoy "Engraved Flesh" album with recommendable songs like "The Pararite's Curse" with an impressive intro, great gutural voices and a fantastic extreme metal sound with an interesting song's final part relaxing the brutality to the end, or "Oncoming Apocalypse", it's demolisher, fantastic!
I also recommend the great "Denial" and "Whitin The Realms Of Human Awareness" with amazing guitar solos and a fantastic brutal sound or "Livin In A Cold Lie". I general I think "Engraved Flesh" is a highly recommended album for all extreme metal lovers.
As for the new release called "Apocrypha", I think it will be an interesting album, what I have heard so far sounds great, the single "300 Demons" it's really a brutal track and the new song "Ikon" with an impressive intro and its amazing extreme sound, show us a really nice and brutal new album, which we will be able to enjoy very soon!
Meanwhile you can enjoy this new song by clicking the following link:
SYMBOLYC – Ikon (VIDEO)
by MetalWind
Ok Metalheads, if you like extreme metal, Symbolyc is your band, these Italian guys are really powerful, their Death Metal is highly recommended.
I send a greeting to Jason Smith for his collaboration. Enjoy Symbolyc and leave your comments! See you soon!
Follow Symbolyc:
http://www.symbolyc.com
https://www.facebook.com/symbolyc.official
http://www.twitter.com/Symbolyc
http://www.myspace.com/symbolyc
http://www.youtube.com/user/Symbolyc
Sell Music online at ReverbNation.com