Singaporean fans of Marc Jacobs beauty would be delighted to know that the full range of eyeshadows, lip glosses, lipsticks, blushers, foundations and nail lacquers would be coming to Sephora Singapore.
I was at the Sephora press day and got to preview the range, here a snap of their Eye-con eyeshadow palettes.
I was told that when the collection was designed, makeup was likened to an accessory, able to be mixed and match to create a totally new look to what the girl is wearing for the day.
I have here swatches of no. 7 THE VAMP palette. The formula is smooth and the majority of color combinations are mostly wearable and natural.
It is interesting to note the position of the eyeshadow colours. At first glance, I thought, what a strange placement. I initially felt that the palette looks quite imbalance with two of the darkest shades on both sides, with the lightest shade third from left. I am organised with my makeup. I like colours running from light to dark, or a very organised placement of colours.
I had to look at the palette for a long time for it to make sense to me.
A beginner to make up can first start with the three natural colours on the left (eyeline, crease, highlight). For a smokey eye, she can use the extreme two colours on the right. When she's feeling daring, she can try out the pink and green in the center to be in the mix.
It's not a straightforward read (unlike Urban Decay's Naked palettes or Laura Mercier's eyeshadow palettes where the shades usually go from pale to dark). All of Marc Jacob's other palettes are a mishmash of colours arranged differently, so the user will have to figure them out with time.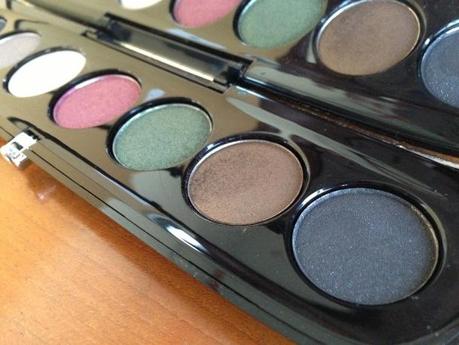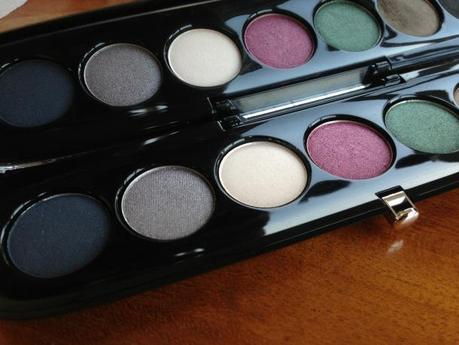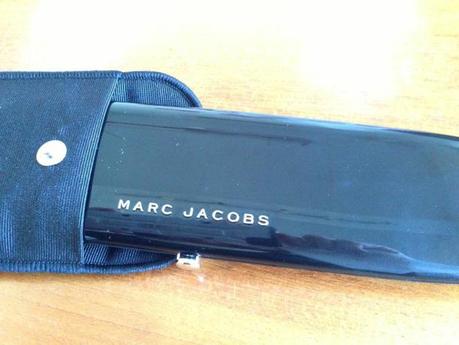 Comes with a black snap button cloth case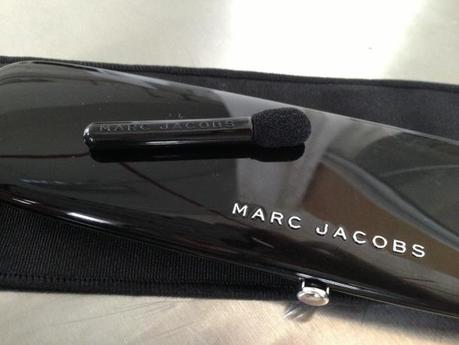 And a puny little eyeshadow applicator (Hey! One applicator isn't enough for this range of colours! At least a double-ended applicator next time?)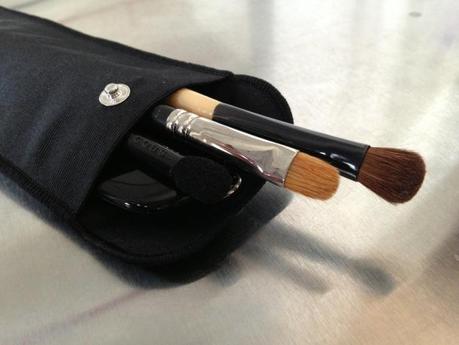 But there's enough room to slot a couple of your own makeup brushes to tote around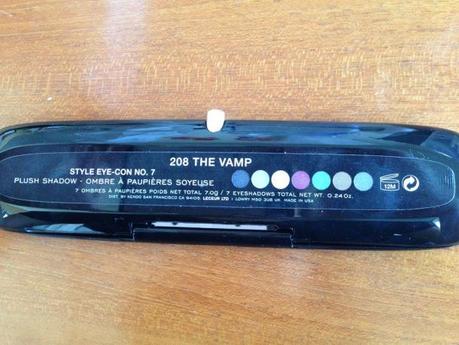 Made in the US of A!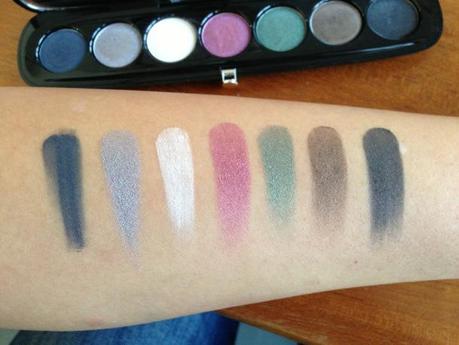 The two darkest blacks have (slight) presence of glitter, the rest are shimmery, and only the highlight shade is matte.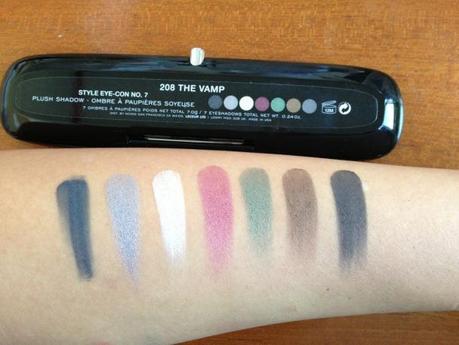 Will be in Sephora Singapore April 2014!