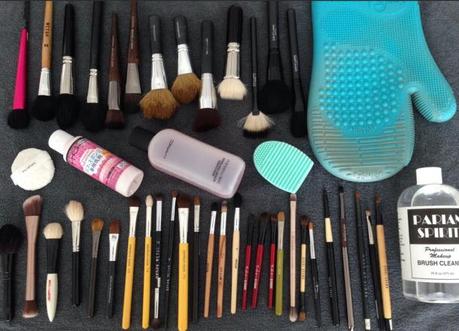 My brushes from Make Up For Ever, Hakuhodu, Bdellium, MAC Cosmetics, Bobbi Brown, Urban Decay, Bare Minerals, Stila, Artisan and Artist, Oriflame, Kent, Make Up Store and more..
Recently I've had many people asking me how often I wash my brushes, and how often they should wash theirs.
For my professional kit, I wash used brushes after every single face it's been used for. I take those used brushes home before they get brought out for another client.
If there's a shortage of time/brushes, or if there are many faces at one job to me made up (like at a fashion show or commercial shoot) , I spritz each brush with Parian spirit, an alcohol and citrus- based brush cleaner that kills bacteria and dries instantly, before it gets used on the next model or subject.
My brush cleansing routine has evolved. I use my Sigma Spa brush cleaning glove (the original edition is the one I have, but I would really love the new 2X edition! *hint* 😆) and the MAC Cosmetics Brush Cleanser for the vast majority of my brushes. If I'm faced with gunky foundation brushes, my secret is to use a makeup cleansing oil before dousing it with water and brush cleaner.
Lip brushes are the hardest to wash. I was delighted to discover Parian Spirit, sadly you can't get it in SG, which deep cleanses my lip brushes so effectively. I would categorise it as professional use only because it's easy to ruin your brushes if you use it incorrectly, as it can dissolve glue and latex, including the glue that bonds your brush fibres.
Not everything has to be expensive- I use a $2 Daiso sponge cleaner and scrub sponges and puffs on the BrushEgg. The brushegg works for all brushes too, just that the Sigma glove is HUGE and can wash so many more at one go for me.
My brushes are an extension of my hands, I take care of them dearly and they stick around for years! I have a select few that have been regularly used for 8 years and still going strong.
The brushes here are about half of my collection. As a makeup artist, it helps to invest and have a larger collection of tools so that I can choose to rotate my brushes, clean and leave them to air dry instead of risking using dirty brushes or them not drying in time.
I use a variety of brushes from different brands. Some are more pricey, like the Make Up For Ever ones, some are affordable, like Bdellium Tools. Some come free when you buy a palette, like those from Urban Decay. Some are available in a set, and great to get just before Christmas when they launch. And some I cough blood out for, like the dear ones from Hakuhodu.
My personal brushes are just a few, I use less than 10 brushes for my personal makeup. A couple of powder brushes, blush brush, bronzer, couple of eyeshadow brushes, eyebrow brush, that's it.
For personal brushes, I always encourage friends and clients to give them a good wash after every 10 uses, max! I know people who break out just because they haven't been cleaning their brushes! If you carry them around in a dirty makeup pouch, the bacteria and dirt will just get onto them more easily too, so you better wash them regularly. I use a plastic cup to hold my brushes in a closed cupboard at home so they're not exposed to dust.
Hope you liked this little nugget of info! :)