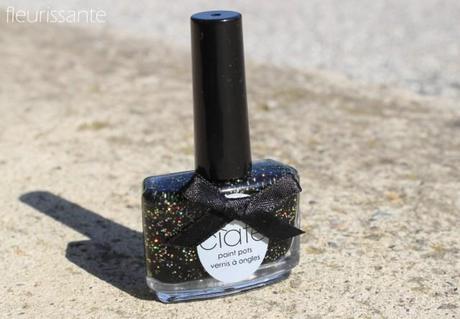 When I first saw the bottle shot of Essie's Belugaria, I was really intrigued. It looked like a nice big glitter in a black base nail polish – elegant with an edge. Imagine my disappointment when I saw what a chunky mess it is.
Eight months forward, I decided to try some Ciate nail polishes. I was always intrigued by the cute bottle with a black bow on it, but I couldn't find any retailer willing to ship the nail polish to me. Then I went to fragrancedirect as I was not willing to pay full price for a nail polish which I might hate. The shades were limited (usually discontinued or limited colours) and the name Jewellery Box really stood out. I didn't bother googling the swatches, so I was pleasantly surprised once it arrived.
Ciate's Jewellery Box is what I thought Essie's Belugaria would be. Other than not being so messy and lumpy looking, Ciate also has smaller glitters and, since the base is clear, the holo glitters really stand out.
Jewellery Box is actually a mixture of tiny black microglitter and bigger holographic gold glitter in a clear base. The nail polish is really pigmented – there's plenty of black glitter which makes it almost opaque in one coat (I used two for the swatch). It is easy to work with – the glitter didn't give me any trouble. The nail polish dries to a textured finish, but you can use a thicker layer of a top coat to make it shiny. I decided to go with the no top coat look. Click on the photos to enlarge them.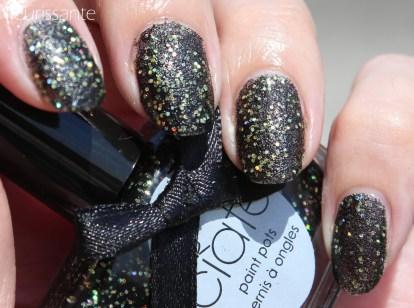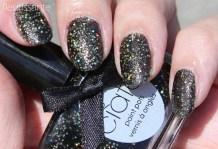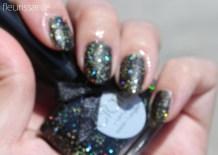 This nail polish is a stunner. The holographic glitter really sparkles, however, it was a bit difficult to capture it with the camera; hence the out-of-focus photo. I guess I found a nail polish to put on my "Best of 2014" list.
xoxo Tamara