Hi chickies!
*press sample*
I hope everyone is having a wonderful week! There won't be a Mish Mash post today because I've been desparately trying to get these swatches up and my schedule just hasn't allowed me! -_- *sigh* work, nail tech class, shopping for Christmas, and having my nail room be 'under construction' has prevented me from doing much of anything with my nails lately :( I really hate it because Christmas time is my absolute favorite time for nail art! But I've made some time and shoveled some stuff off of my nail area and got these swatches done! So let's check them out shall we? ;) 
Laquerlicious is created by Michelle and if you love glitter bombs... you NEED some of her polishes!! ;) She creates beautiful handmade lacquers that are not only 3-free [meaning created without toluene, formaldehyde, or 
dibutyl phthalate] but Michelle also donates a portion of every purchase to her local Pit Bull rescue. This is so important to me because I'm an avid dog lover and I know Pit Bulls can get a bad rep so the fact that she donates part of her earnings to help them out really makes me love this brand even more! Now who wants to see some pretties? :)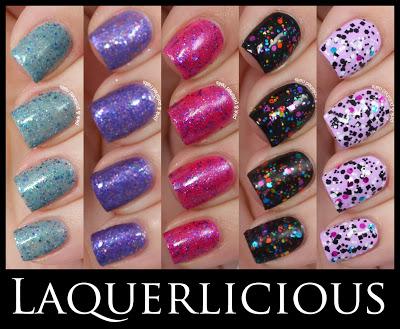 Supreme Queen is a dusty blue with a gray undertone base packed full with various shades of blue, silver, bronze, and some pink micro glitters. The base on this one is somewhat sheer but it builds up nicely. As far as formula goes, it is on the thick side which is to be expected with glitters but it is still easy to work with, unfortunately it does seem to have a little bit of a stronger smell, but nothing too terrible. The polish
 dries slightly bumpy from the glitter so top coat is a must if you want that shiny finish. Swatches below are three thicker coats of Supreme Queen with one coat of top coat.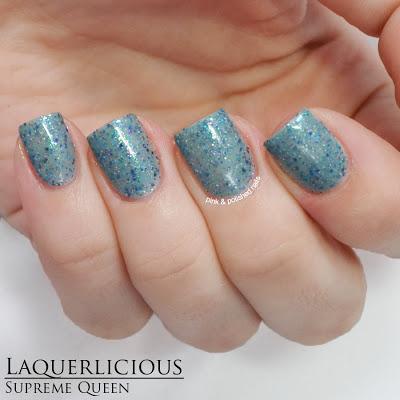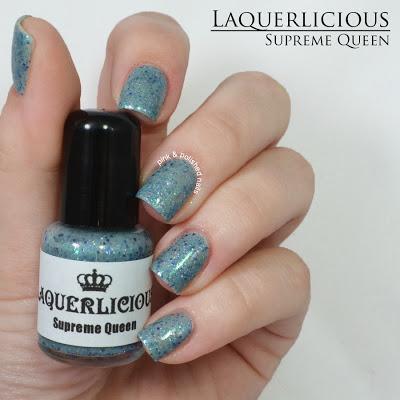 Divine Doll is a very pretty grape base filled with caramel and teal glitter. It also has an aqua shimmer that is more pronounced in real life and super gorgeous. The base was very pigmented and was almost a one-coater! But because it is so pigmented and filled with glitter the formula was pretty thick, definitely workable but you have to work at it and in my opinion it's totally worth it! The same strong smell was present here as well. Swatches below are two coats of Divine Doll and one coat of top coat.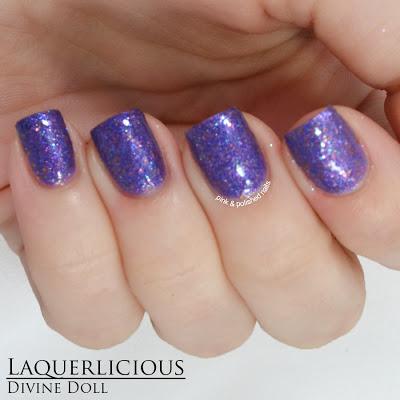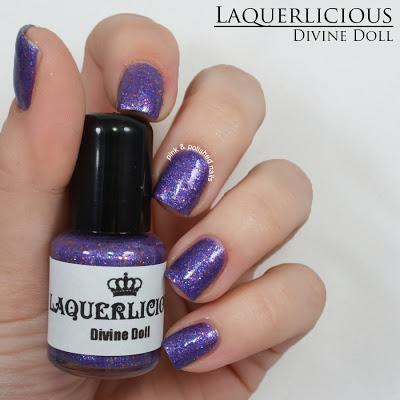 Diamond Diva is a jewel toned pink jelly base filled with purple, teal, and pink micro glitter. There are a few larger pieces thrown in there too along with a really pretty pink shimmer. The formula was thinner on this one because of the jelly base and super easy to work with. Again, it has a stronger smell. Swatches below are three coats of Diamond Diva and one coat of top coat.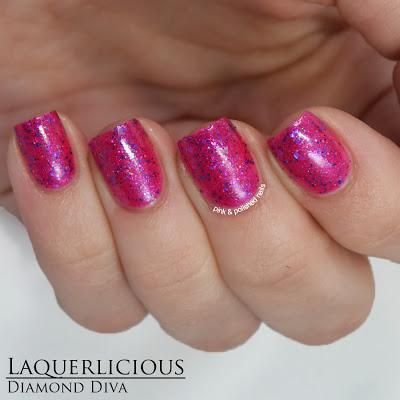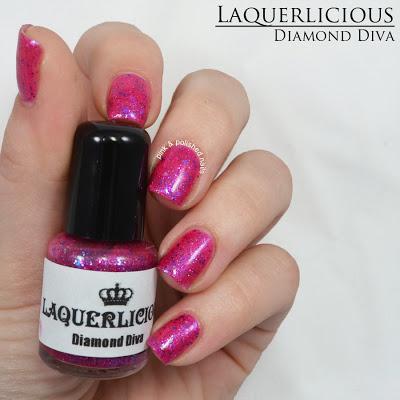 Confetti Aftermath is a glitter topper with black and rainbow glitter. WOW! I mean seriously this is so gorgeous! This polish was just begging to be layered over black so I had to do what it told me to right?? The formula was thicker but manageable, and swatches below are two coats, one applied regularly and one dabbed, over Wet n Wild Black Creme with one coat of top coat except on my ring and pinky in the first photo, those are topped with NYC Matte Me Crazy because MATTE GLITTERS ;)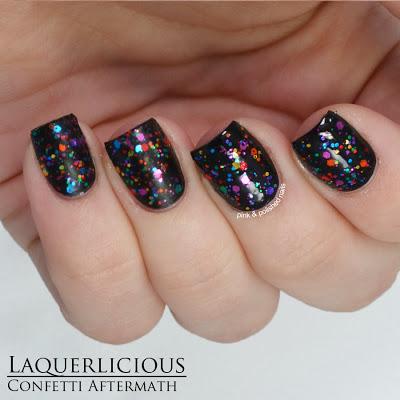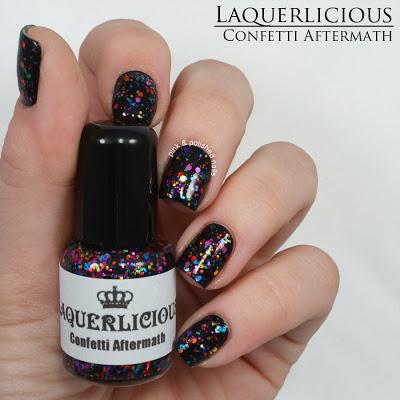 Countdown To Midnight is another glitter topper filled with black, white, teal, purple, and pink glitters. This one might be my favorite of the bunch, I mean who doesn't love black and white glitters with fun colors thrown in?! The formula was thicker because of the glitter but I didn't really have to 'place' any glitters. Below is two coats, one applier regularly and one dabbed, over Lime Crime Lavendairy.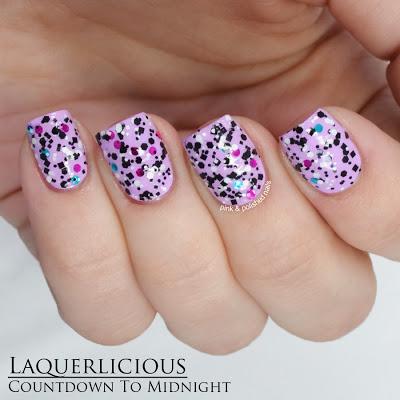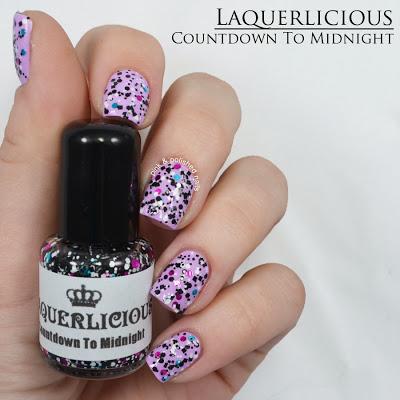 These polishes are so fun and I'm really happy with all of them. This is my first experice with Laquerlicious and I will defintely be going back for more ;) Which one is your favorite?!
Laquerlicious polishes can be purchased at www.laquerlicious.com. The site is currently down to catch up with Black Friday orders but should be opening up soon! Make sure you don't miss out on any updates from Michelle so follow her on:
instagram | twitter | facebook
**Products in this post were provided by Laquerlicious in exchange for my honest opinion.
For more information check out my disclosure policy.
Thanks so much loves!