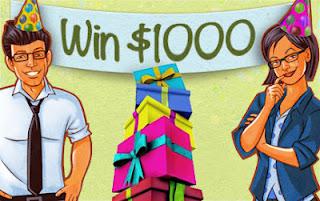 If you got through reading the post below and you decided you want to sign up for SwagBucks.com, I have a Swag Bucks sign up code for new registrants, worth 110 Swag Bucks! Enter the promotional code:
BIRTHDAYBASH12
With that code you will get a 110 Swag Bucks bonus on top of the 30 you normally get for signing up! So you will be starting off your swaggin' with 140 Swag Bucks!
After signing up, head on over to the Birthday Bash RSVP Page, where you can join a team and compete to see which team will earn the most Swag Bucks! You will also be entered to win one of (4) $1000 giveaways!