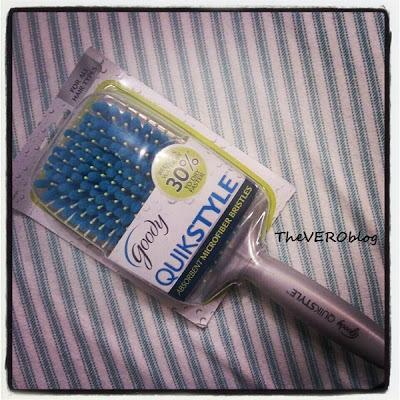 Hey!
I received the Goody QuikStyle Paddle Brush in my Influenster Holiday VoxBox 2012. After having used it a few times, I am still on the fence about it!
Here is some product info from the Influenster website:  "

The GOODY® QUIKSTYLE™ Paddle brush works like a towel and brush in one. The super absorbent (and antimicrobial) microfiber removes 30% of water from wet hair to help speed your drying time! You can effortlessly detangle right out of the shower and continue using it while you blow dry!"


When I first saw this brush, I was completely confused. It looks ridiculous! How can I brush my hair with something that has microfiber bristles in between the regular bristles?
 The main function of this brush is to dry your hair faster by running this brush through your wet hair. I was surprised when I did notice that it dried my hair much faster than if I were to only towel dry my hair. I also was surprised that this brush is able to detangle my hair, even with the microfiber bristles included.
My main concerns with the Goody QuikStyle Paddle Brush were cleanliness and frizz. The packaging claims that the microfiber bristles are anti-bacterial and are easy to clean. I found this brush to be very easy to clean. I was able to pull away loose hair in the bristles very easily and the instructions on washing the brush are simple. In terms of my hair becoming frizzy, I notice that the texture of my hair is much softer after using this brush but I notice my hair appearing more frizzy on the top of my head. This could also be due to the high humidity the past few days.
Overall, I would say that the Goody Quikstyle Paddle Brush is more useful than gimmicky. If you are a person on the go and can't deal with hair dryers (we shouldn't use them anyway!) then this might just be the right brush for you.


*I received this product for free in my Influenster Holiday VoxBox 2012.