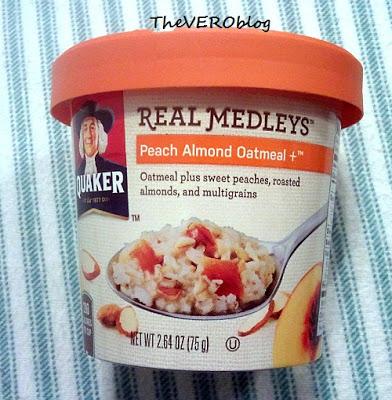 Back for another quick review!
I received a Quaker Real Medleys Peach Almond Oatmeal cup in my Influenster Holiday VoxBox 2012.
Here is the product information from Influenster.com: "

- The best oatmeal ever - made to-go

- Packed with wholesome multigrains and chunks of real fruits or nuts




- Portable single-serve cups


Quaker Real Medleys Oatmeal+ is simply the best oatmeal ever – and you can enjoy it on the go! Whole grain oats, rye, barley and wheat are mixed with large chunks of real fruit & nuts in a convenient single-serve cup. Just add hot water or microwave and you can have a delicious breakfast anytime, anywhere. Enjoy all four delicious flavors – Apple Walnut, Cherry Pistachio, Peach Almond and Summer Berry."
I love the packaging for this oatmeal. It is so sturdy and convenient. I really love that you can travel, prepare and cover it to save it for later, all in the same package. 
The flavoring was pretty good. It was barely sweet which I prefer over overwhelmingly sweet, although I did add a bit of brown sugar for more taste.
What I did not like was that there were way too many nuts in this cup. A few mixed in would have been nice but I felt that it put the peaches and oatmeal on the back burner.
If you are someone who is on the go or someone who loves an abundance of nuts in their oatmeal, then this may be just what you are looking for!


*I received this product for free in my Influenster Holiday VoxBox 2012.