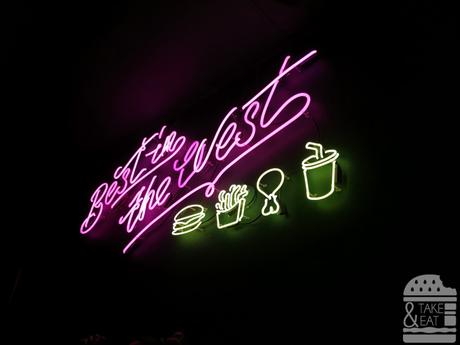 I've heard so much about Superior Burger that I even messaged them on Instagram last year to see where I can purchase one of their shirts! (Unfortunately no luck :P) My friends have raved on about this place for a while but I never got the chance to make the trip out to Wakeley to try it. Conveniently,  Superior Burger is quite close to my church in Lidcombe (roughly around a  20 minute drive) so my friend suggested we go and taste it for ourselves. 
Superior Burger is located in a small shopping area in Wakeley, at first you wouldn't notice it because the carpark in front of the shops is much larger than the shops itself. The area was quite quiet but Superior Burger was buzzing with people so it is definitely not hard to miss. The décor and lighting is electric and has an old school diner feel and even better they play some awesome rnb mixes (good work to the DJ!). What I noticed is that the turnover is quite quick so don't worry if you don't see a table available at first, we were lucky enough to get a table that comfortably fits 3 people.  The menu is simple and honest, which I like, too often do some burger joints add too much weird and unnecessary ingredients that just don't work. Between the 3 girls we were a little bit too ambitious and ended up ordering 2 burgers, fried chicken and large fries! So it's safe to say we were extremely full and satisfied.
Top + Right: Superior Burger - Beef, Cheese, Tomato, Lettuce, Superior Sauce, + McClures Pickles ($15)
Bottom: The Bird- ​Fried Chicken, Tomato, Cheese, Slaw, + Jalapeno mayo ($16)

'The Superior Burger' was the biggest standout for me and I would definitely go back just for that. 'The Superior Burger' has beef, cheese, tomato, lettuce, superior sauce and McClures Pickles. The beef patty was extremely juicy and was paired perfectly with the superior sauce, I have no idea what is in this sauce but it was amazing!! If you've never been to Superior Burger before I would recommend to get this burger as it would probably keep you coming back for more.
The second burger we ordered was 'The Bird' which has fried chicken, tomato, cheese, slaw and jalapeno mayo. I wasn't the biggest fan of this burger because I felt it was quite heavy and the cheese was very overpowering, however the fried chicken is very generous and thick and the jalapeno mayo gives it a nice spicy kick.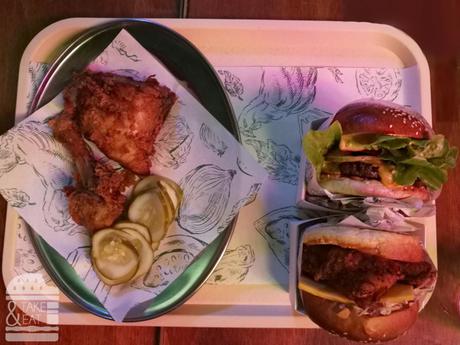 Left: Fried Chicken 'n' Pickles ($10)
The fried chicken and pickles was probably my least favorite out of everything we ordered. The batter around the chicken was very "flakey" and limited on some parts of the chicken that it basically had no coating. The chicken is cooked to be a little pink, I'm quite fussy when it comes to the color of certain meat especially chicken, so when I saw the chicken was pink towards the center I was a bit turned off. 
If you know me well, you would know that I love anything chips! The fries we ordered were extremely addictive, it was coated in some sort of special seasoning- think of it as chicken salt on crack (sounds delicious right!?). The fries complimented the burgers really well and served as a great side to the overall meal.
 Overall, I had a great dining experience at Superior Burger and I completely understand the hype and great name surrounding them. Can't wait to go back and try out their other burgers!
Happy eating x
Bookmark us on Zomato