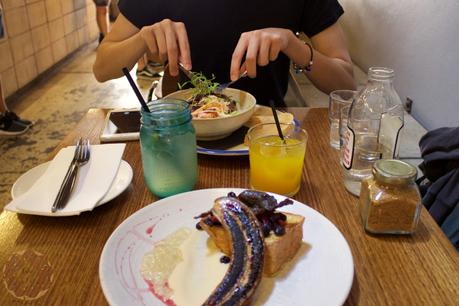 Reuben Hills has always been on my cafe recommendations list because of it's innovative dishes and friendly service. The last time I visited Reuben Hills was almost 2 years ago and of course new and exciting dishes are now featuring on the menu. My friend, who has been wanting to come here for a while, arrived here on a sunny Thursday morning for brunch. We were both quite hungry and we ended up ordering 3 dishes to share (cheat day all day everyday right? :P). We got The French Toast, Salmon Kokoda and The NOT Reuben sandwich. The menu is full of different options to suite everyone's tastebuds.
On this occasion, I wasn't particularly wowed by the food- in fact it was a little bit of a let down... a lot of burnt and overcooked food was served to us. I hope that it was just on this day the food wasn't as good as last time because I really like Reuben Hills..... Now to the food!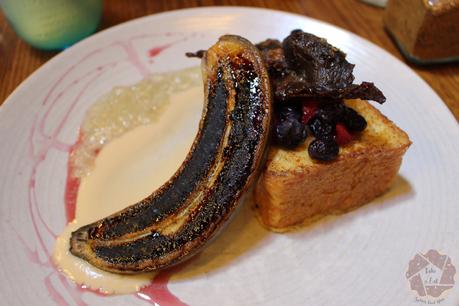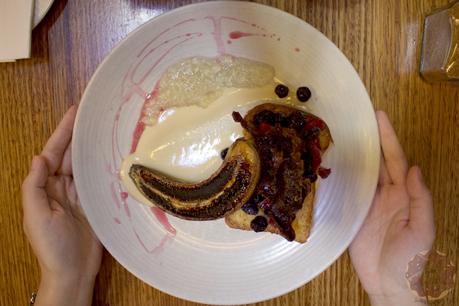 The French Toast | Brioche w/ candied bacon, charred banana, bacon custard, basil black pepper gel & berries

I chose The French Toast because it just sounded very unique and tasty... I mean come on- candied bacon!? The first thing that I instantly noticed when The French Toast arrived at our table was that it was so.... black! The menu said it has a charred banana, but I didn't expect it to look so burnt. Not only did it look burnt, it had a very strong charred/ burnt flavouring which was obviously not very pleasant to eat. If you scrape off the charred top layer the banana was creamy and smooth which was delicious. The candied bacon was very interesting but this was also very burnt and extremely chewy and too hard to eat. The brioche was crispy on the outside and soft and buttery on the inside which went well with the sweet and sour berries. Overall, this dish was a complete let down but after I looked on Instagram of pictures of this dish it seemed that the banana and bacon has the dark/ burnt colouring to it.. maybe it is meant to be like this but I wish the charred and burnt element they were going for wasn't so extreme.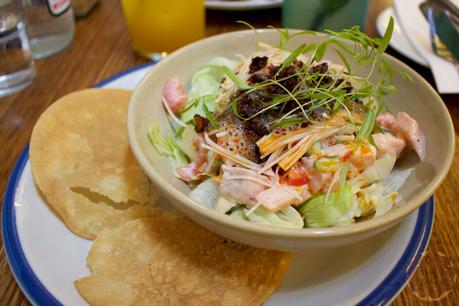 Salmon Kokoda | Fijian Salmon ceviche, green mangoes, basil seeds & lettuce

The Salmon Kokoda is a new dish and is a very refreshing and light dish. The salmon had a nice smooth and chewy bite to it. The dish was a tad bit too spicy for me but my friend enjoyed it a lot! This dish is a great option if you want something light and filling.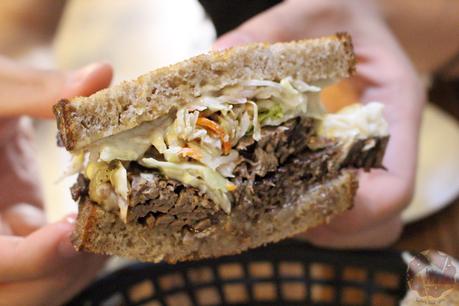 The NOT Reuben | Wagyu salt brisket, pickled slaw, manchego and horseradish mayo on rye | $19.50
The NOT Reuben was a last minute order after we finished the two dishes above because my friend was still hungry. The NOT Reuben sandwich was my favorite dish out of the three. The wagyu salt brisket was tender and melted instantly in my mouth, it was also perfectly seasoned. The sandwich was given a nice fresh kick from the pickled slaw. The sandwich is also very, very big so it is worth the $19.50 we paid.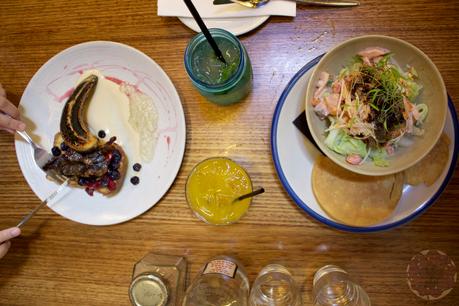 The service at Reuben Hills was extremely good- the staff who helped us were very patient, bubbly and helpful. We had a lot of questions about the dishes on the menu and they explained it all very well and gave us helpful recommendations. Overall, the food wasn't awesome but it did fill our bellies and leave us full for almost the whole day! When the menu changes I'll definitely be back, hopefully they can redeem themselves.
Happy eating x