About 2 weeks ago Superdrug quietly launched an own brand range of make up and skincare called B. which as far as I can tell this appears to be their answer to Boots' No. 7 
Now, I wasn't too interested in the make up. The packaging is pretty plain and the colours aren't very exciting, they seem quite standard to me. 
However, the skincare caught my eye - 2 products in particular. 
The first of those products was the B. Pure Micellar Water. Micellar water is an irreplaceable step in my cleansing routine thanks to the brilliant Bioderma offering. However, Bioderma isn't the easiest or cheapest thing to get hold of, so a Superdrug version seemed like a fantastic find!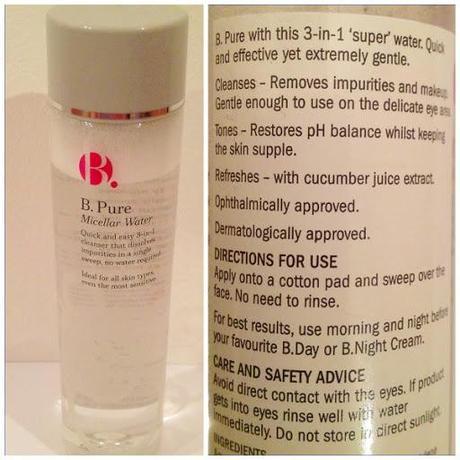 This was on offer when I bought so it only cost £3.99, which is pretty amazing!
Once you take the lid off, there is the world's smallest hole in the top to get the product through. This is really irritating as it means it takes ages to get any of the water out.
It removed my make up quite well, but it did take 5 cotton pads to get everything off my face, whereas the Bioderma only takes 2. Considering how much I had to use to remove everything, the cost suddenly doesn't seem that great as I can see this running out really fast!
Also, this stuff stings! It left my skin feeling uncomfortably tight and dry and when I used it to remove my eye make up....Ouch. Not only did it sting the skin around my eyes, but my actual eyes too. Not what I want.  It doesn't smell of much, a bit plasticky maybe. 
Maybe Bioderma has ruined me for all other Micellar waters, but I didn't love this. I don't think I'm going to be using it again.
Superdrug B. Pure Micellar Water costs £3.99 as an introductory price and will be £4.99 from February 2013 (link here).