I know this is an awful thing for someone so in love with beauty products to admit, but I really dislike applying body lotions.
I love the idea of them, especially since I have eczema and my skin is super dry, they smell great (most of the time) and I always feel like a bit of a beaut after I've slathered them on. I love the effect they have - lotions, butters, creams, if it softens my skin I want it!
However, I'm really lazy. It's all the rubbing it in that does it for me, I simply cannot be bothered most days. And then you have to wait for it to dry before getting dressed....What a chore. Personally, I'd rather have an extra 10 minutes in bed before getting up for work in the morning!
So when I found these Lotion Wipes on the ELF website, my heart did a little leap of joy and into my virtual basket they went.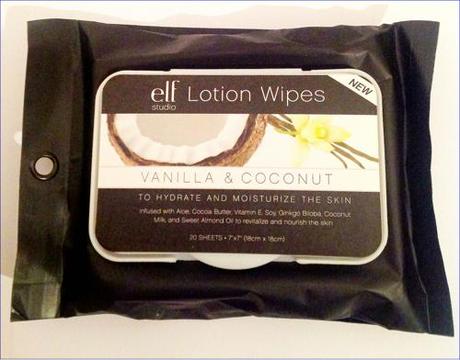 A quick fix for body lotion lazies like me! 
Now, I'm not going to lie, they don't pack quite the same punch as a proper lotion or a body butter, but in a fix or on a not so bothered day, these are perfect! A quick swipe and you're done.
In the Winter months I'll use these on the days when I'm freezing my tootsies off and want to get into some clothes ASAP, but the Summer is when they really come into their own (yes, I've had these for quite a while!). 
Body lotion in Summer is one of my pet hates, it's too hot, I get sweaty! These were a life saver on holiday (and during that one hot week we had here in the UK) as they kept my parched skin hydrated after sunbathing etc.
I will most definitely be buying more of these for the warmer months!
Studio Lotion Wipes are £3.75 from ELF (link here)