A couple of days ago I posted about Superdrug's B. Pure Micellar Water (link here). In that post I mentioned that there were 2 products in the B. skincare range which caught my eye.  The first was, obviously, the Micellar Water and the second was the B. Clean Melting Gel Cleanser.
I was really intrigued by the sound of this cleanser and loved the idea of the melting aspect.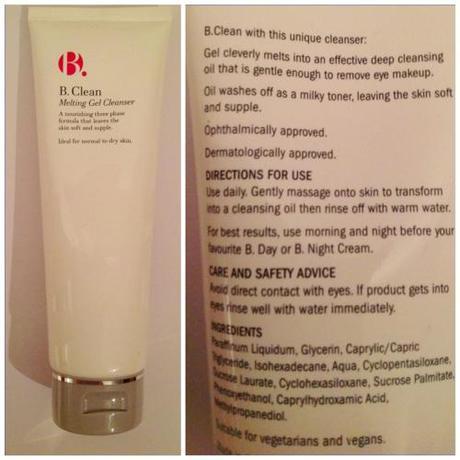 I gave this a go with my Clarisonic Mia, thinking it'd be perfect - non foaming, gentle and deep cleansing.
Let me tell you, B. Clean is going to take some getting used to! It comes out as a clear gel, but when you rub it into your skin it turns into an oil, which feels very strange. When you add water to the mix (either by washing it off or by using the Clarisonic) it turns into a milky lotion.
I can't say how good this is at removing make up, as I like to take mine off before cleansing, but it seemed like it would have done the job for most. I don't think it's a match for mascara though, so something more heavy duty might be in order. It also stings like a (insert rude word of choice here) if it gets in your eyes so I don't advise even trying  to use it to remove eye make up!
Overall I quite like this cleanser - I don't love the strange film it leaves on my skin, but this is easily sorted with some toner. It left my skin feeling quite moisturised, not stripped or dry and tight as some cleansers do. I'm not convinced I'll be repurchasing this, but I'm happy enough with it for now.
Superdrug B. Clean Melting Gel Cleanser costs £6.99 (link here).