First of all i stopped off at superdrug as i needed a new concealer so of course i had to take advantage of the 3 for 2 offer!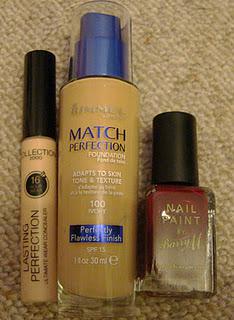 Collection 2000 lasting perfection concealer in fair £4.99
Rimmel match perfection in 100 ivory £6.99
Barry M nail paint in red wine £2.99
I got the foundation to review i also got a sample of the MAC match master in 1.2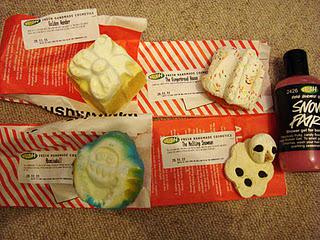 Next stop was lush my favorite 
Golden Wonder Bath Bomb £3.25
Abombinaball Bath Bomb £2.95
Gingerbread House Bubble Bar £2.95
The Melting Snowman Bath Melt £1.95
Snow Fairy Shower Gel 250g £5.95
I also popped into boots to get some drinks and got one of the models own lip glosses.

Have you tried the Rimmel Foundation?
if you like lush whats your favorite? mines snow fairy and melting snowman.