fjlcsbjklvdajvdfjnkvalkjlnrkl!!!!!!!!!!!
HELLO!
Ack I'm so sorry guys! I told you I wouldn't run away and then what did I do? Got up and ran away -_- I truly am sorry that I haven't posted guys, this past week that I've been gone I was struggling with some personal issues, nothing bad, just basically life decided to pile up and slap me in the face. I just had to take a step back, do some deep breathing, and put me first again [and a good cry session never hurt anyone ;)]. I hated being away from the blog because you guys don't know how important this blog is to me. All of you lovely readers, whether you comment or not, are the reason I do this. You all are what keep me going and it makes me sad when I can't be here. But not to worry I'm back and better then ever! Enough with the mushy stuff now it's time for some super late mish mash nails!!!
I've literally been trying to get these up since Wednesday but I haven't had a moment to spare! The theme for this week was gray and I knew exactly what I wanted to do. Among all of the very talented nail artists on instagram THIS manicue from @kgrdnr has made me drool ever since I saw it. I really wanted to do it in pink but alas, gray is the theme so it will have to do ;) I'm really happy with the way these turned out so make sure you take a look :) 
I started with a base of Azature White and then sponged on the gradient using the same and ELF Misty Haze. Then I used gray acrylic paint to paint on the design. For my accent nail I used OPI This Gown Needs A Crown and placed a pearl at the base.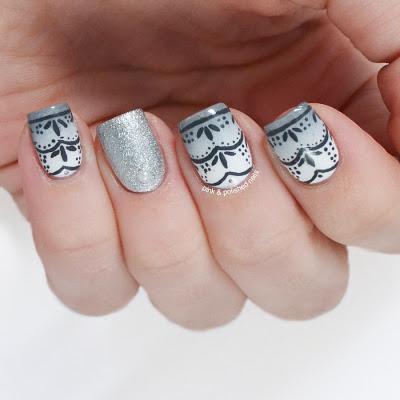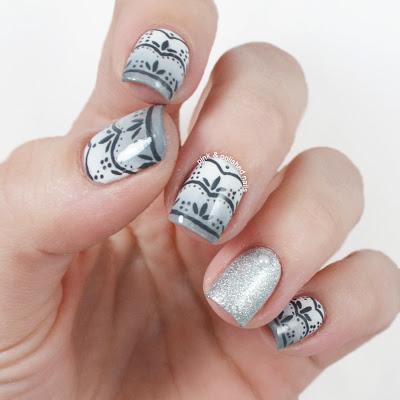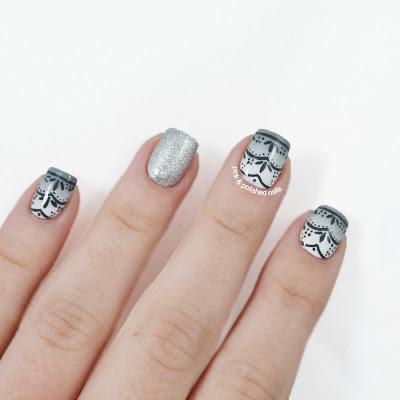 I've got to say I love this! It doesn't do justice to @kgrdnr's original design but I'm definitely still happy with it. 
So thanks again for sticking with me everyone!! Muah!!! <3