As I mentioned in my previous post Federal Hill's humble and historic indoor market - Cross Street Market - is experiencing a long-overdo revitalization. As part of this rejuvenation, 4 pop-up stalls have breathed new life into the market, and I can't express how excited I am for this.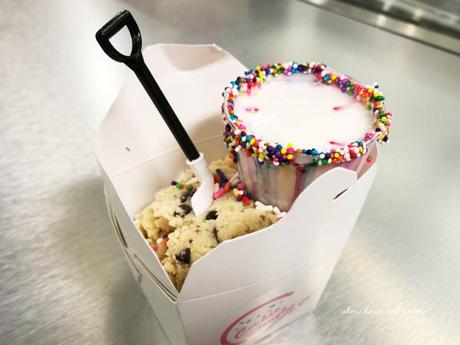 I already touched on Cookie Dough and Co., the edible cookie dough stall where you can fulfill your gluttonous fantasy of eating delicious cookie dough out in the open, no longer hiding in the dark corners of your kitchen, sneaking bites. It's SO good, and there's no risk of any sort of food borne illness. It's the safe cookie dough! And man, it's GOOD.
Now I want to move on to Sundays, a new doughnut concept from Phil Han, the owner of a couple of Baltimore favorites, Dooby's and Sugarvale, just opened their proverbial doors at Cross Street Market.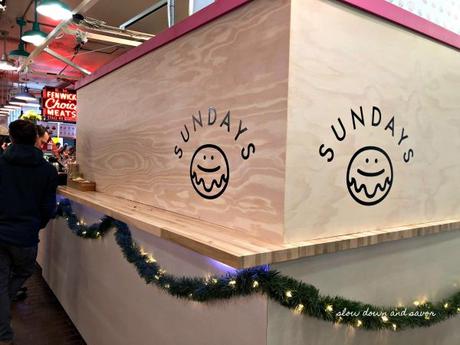 When I walked up to the counter, I was so drawn to their presentation of their beautiful brioche style doughnuts.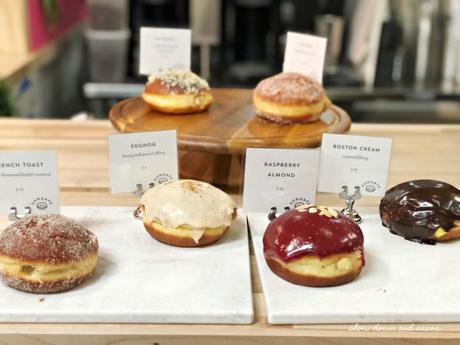 They were offering French Toast, dusted with cinnamon and sugar and filled with maple custard, Eggnog, boozy and inspired by the favorite holiday drink, Raspberry Almond, which was gorgeous, and New York-Style with everything bagel seasoning and a jalapeño and chive cream cheese filling. Yes... a savory donut. You already know how excited I was. There was also a coffee donut, obviously inspired by donut's favorite companion, and finally, a classic Boston Creme. Yum. The donuts are being sold for $3.25 each, and they're pretty big!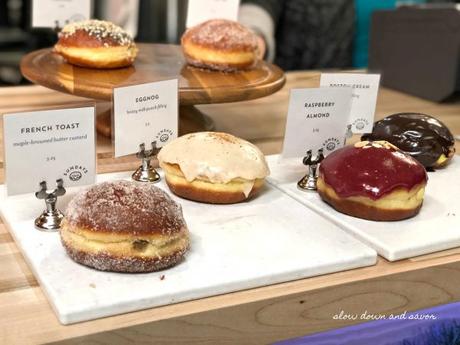 I decided to grab three, one for Jack since Major got the cookie dough, one for Michael and one for yours truly. Jack wanted the french toast, I got Michael the Eggnog, thinking it'd be fun to have a boozy donut, and I chose, of course, the NY Bagel. I couldn't pass that up.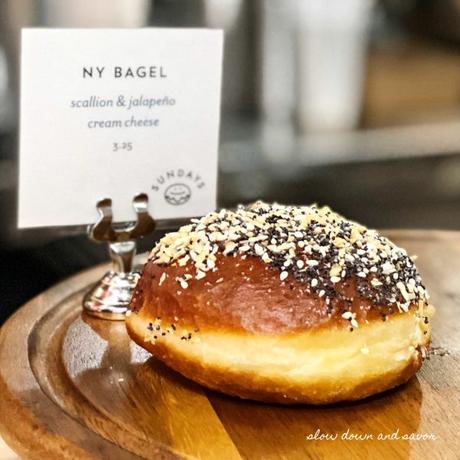 As soon as we got home, Jack dug straight into his donut, and with each bite exclaimed, "MM! GOOD! DONUT! MM GOOD!" He's so cute. I took a taste, and he was right. It was quite amazing. I love the brioche style, making the donuts nice and light. Michael loved his eggnog donut, proving that I was right about it being fun to have some whiskey in your donut.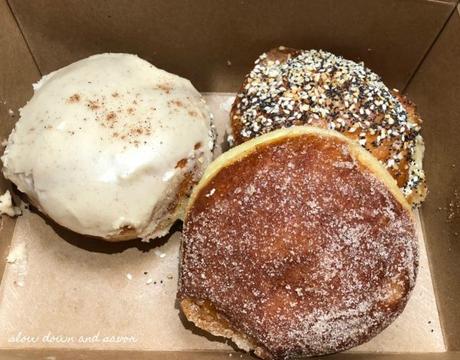 I didn't have my NY Bagel donut until the next morning, since I'd just eaten a sandwich from one of the other new tenants of Cross Street Market (more on this later) and didn't want to over-stuff myself with food. No matter how badly I wanted it right away, I simply had to wait.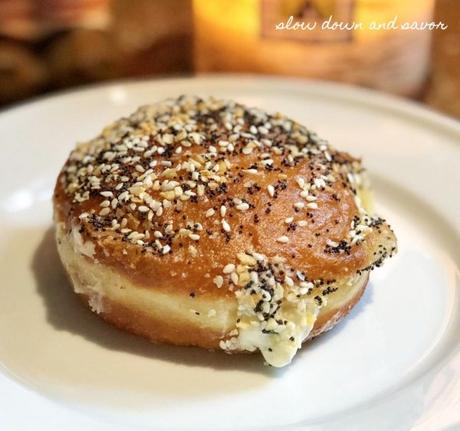 The verdict? INSANE! I don't know why I expected this to be a bagel. I mean, I know it's a NY Bagel flavored donut, soft and fluffy - filled with chive & jalapeño cream cheese, but for some reason I thought it would be a bagel in texture. It LOOKED like a bagel. It wasn't. It was a savory donut, topped with everything bagel seasoning and filled with the oniony & spicy cream cheese. It was insane and I want another. NOW!!!! It was sensational, and creative and it was perfect.
And before I go, I need to mention they do more than just donuts. That's right. They do fried chicken sandwiches too. Boom. Welcome to the neighborhood, Sundays. My family and I sure are glad you're here.