hey everyone,
hope your oki, sorry ive been away from my blog for abit, the last 2 weeks have been absolutely crazy ive been having one day off a week so yeah, you can imagine.
anyway, next week im off quite alot, probably to say thank you :D, but that's not going to help my bank balance, anyway.
i went to Shrewsbury with my mom on Friday (not really a Sunday stash more like a Friday stash but oh well), we went because we wanted some mother daughter time together just us and every time i go to Shrewsbury i never know what's there.
i know they've got a indoor shopping centre and a little bit of a high street but i never knew they had all the old quirky little shops everywhere else, so when everyone went "oh Shrewsbury is a lovely day out" id be like "well really?"
so mom was like right, im taking you there lol
so i only brought a couple of things, i was looking for a really nice maxi dress, the one with the long back and the shorter front, but i couldn't find one, so merry hill it might have to be.
so here is what i got: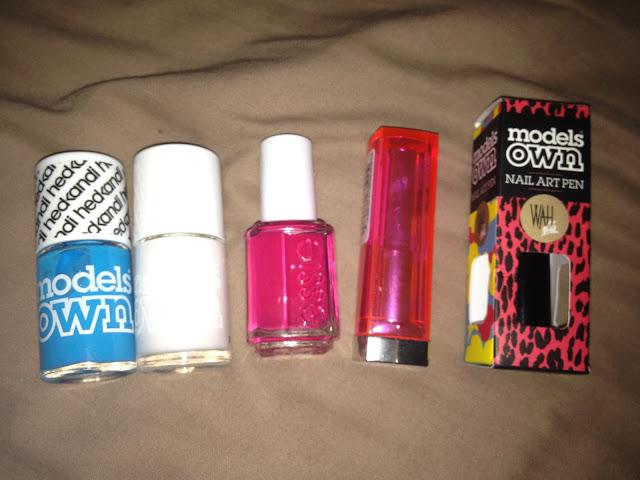 i went to boots. they don't have many beauty counters, which is upsetting because i wanted my first YSL lippy, but oh well, i went around the beauty section in the end. i first spotted models own, and the offer, buy any 2 models own products and get a free nail art pen.
now you know i need some nail art pens, so i was like PERFECT!. i brought snow white and hedkandi Balearic cool and got the black nail art pen for free (you could choose from black, pink or blue). £5 each nail polish and a free £6 pen, isn't bad.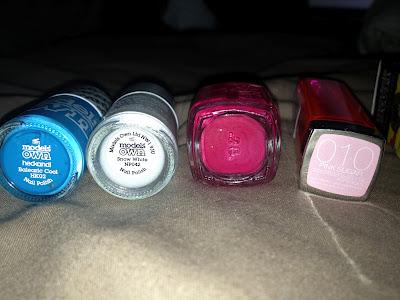 then i saw the maybelline counter with the coolest lipsticks ever, i am going to do a review on this so im not going to show you it :D hehe. the colour is sugar pink and it was £5.99.
then i turned the corner and omgawd they had essie, i was like eeeeeee, so i brought my first ever essie nail varnish, im sooo excited, lol, the packaging is beautiful and for £7.99 i know its quite expensive but i really want to try one, everyone says how good they are, and i know im late onto the band wagon but hey ho, better late then never, so this will be my next nail of the day, im so excited to show you the colour. its in the shade watermelon.
so hope you enjoyed my little mini stash, not alot but oh well :D
see you guys soon xxx