The heat is on!  I've been wanting to do this post for a few days now, but the lazy summer mood got to me.  One or two of these items are new but I've been using them practically everyday since I got it, and two of the items are almost empty.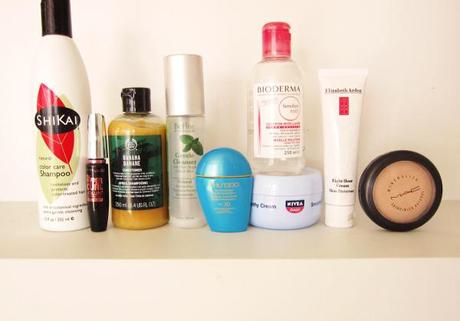 From left (reviewed items in bold): 1. Shikai Natural Color Care Shampoo, 2. Maybelline VolumExpress HyperCurl Waterproof Mascara, 3. The Body Shop Banana Conditioner, 4. BeFine Gentle Cleanser, 5. Shiseido Sun Protection Liquid Foundation, 6. Bioderma Sensibio H2O, 7.  Nivea Smoothy Cream calming moisturizer, 8. Elizabeth Arden 8-Hour Cream, 9. MAC Mineralize Skin Finish Natural baked/pressed powder. (dapat ginawa ko nang 10 para nicer, pero these were the only ones that were top of mind at the moment)

1. Shikai Natural Color Care Shampoo – I picked this up at S&R, I forget now whether it was Fort or Alabang, but both outlets should have it.  It's about Php500 and I like that it's a natural lathering, UV shielding color care formula with a light scent and with an ingredients list that isn't as long as your leg.  I'll review it soon.  They also have a normal variant for untreated hair.
2. Maybelline VolumExpress HyperCurl Waterproof Mascara – I've reviewed this na in the past and I'm liking it even more now. It's a great ALL-AROUND mascara that holds curl, isn't too gloopy, doesn't clump and gives just the right of volume without smudging.
3. The Body Shop Banana Conditioner   -  I LOVE THIS.  Basically, this is how good it is, it's got that yummy tropical scent, if you like bananas and a bit of coconut, I don't think there's coconut but something in it smells similar.  It's made my color-treated hair feel like untreated healthy hair.  So far I don't get the "frizzy" dryness that usually accompanies colored hair and I've got bounce and shine.  Bananas in Pajamas, gotta give it to 'em.  I use this every other day when shampooing.  I don't shampoo everyday to let my hair and scalp be themselves for a bit, chemical-free at least for a day in between and also to avoid unnecessary hair-fall.  I'm also not a sweaty person so that's not disgusting for me to have a non-shampoo day.  They're on sale 50% off until April 26.
4. BeFine Gentle Cleanser – I had to switch over my facial cleanser months ago because my face was suddenly mildly rejecting the Clean & Clear foaming glycerin facial wash I've loved for years.  I think it just needed a break from unnatural chemicals.  So I picked up this BeFine Gentle Cleanser from Beauty Bar, which isn't cheap at Php900 for 100ml but it lasted me a LONG time (2-3months) because of its economical pump.  It's a paraben free, cruelty free cleanser made of mint, oats, rice and sugar.   It took some getting used to because of the minty scent on the face when lathering up, a bit like the scent of a good minty toothpaste, but there's no annoying menthol cooling feel, don't worry.  My skin feels light,  refreshed and ready for a little moisturizer and I don't get the annoying itch after.
Read more to get the full post!
5. Shiseido Sun Protection Liquid Foundation  -   My current favorite base which I've just reviewed a few posts ago.  Foundation fancy.  Its thin consistency, transfer resistant and oil-controlling formula, semi-matte (NOT FULL MATTE) finish, the color match for me, and UVA/UVB SPF 30 protection (theres an SPF 43 version) makes this my perfect summer base alongside a few tinted moisturizers.  You can compare it to Chanel Vita Lumiere Aqua and Estee Lauder's new Invisible Fluid foundation. *paid for by StrawberryNET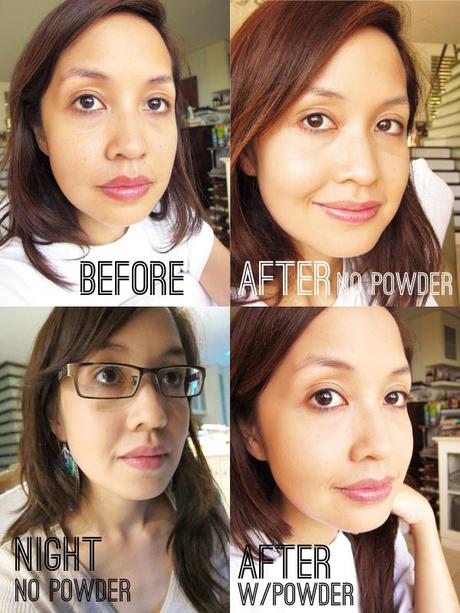 *wearing Shiseido Sun Protection Liquid Foundation
6. Bioderma Sensibio H2O – From France, Bioderma H2O is a cooling, refreshing makeup removing cleansing water.  It removes most waterproof mascaras (not all) and is safe for the eyes.  Used by most models and makeup artists behind the top shoots and shows in Europe.
7.  Nivea Smoothy Cream calming moisturizer – My skin savior, as in, plus it's available at places like PCX, Watsons, or wherever they have Nivea baby products.  I've never liked a moisturizer as much as I like this and it's great for face and body.  It's intended for face and body on babies but it also works wonders for me.  It's got skin calming ingredients like calendula and it's free of alcohol, parabens, and colorants.  Basically when I apply it on myself it sinks in within several minutes and can easily also calm any irritation another product might have temporarily caused me.  If I happen to have one of those "after shower" reactions where my skin sometimes along the jawline flares up for a little while with a rash, I make a mad dash for this cream, apply it generously, and within 5-10 minutes the allergy/rash subsides and my skin feels baby soft.  I believe its purpose for calming babies' sensitive reactive bums also works for my face extremely well.  The soft, supple finish it gives me throughout the day does not compare to any other high-end moisturizer I've used so far, closest performance is Embryolisse which to me is lovely but still a bit too rich. *provided by NIVEA
8. Elizabeth Arden 8-Hour Cream – I grew up in the 80s remembering mom applying this on me with her fingers if my lip had cracked and split due to dryness, if I kept peeling my lips she'd stop me and put this.  It's a bit greasy but it's a wonder therapeutic, heavy, rose gold tinted, oozy gel consistency that HEALS dry skin, sunburn, or even abrasions.  I remember getting a bit overdone on my shoulders during summers past and if it hurt real bad mom would apply this generously on the painful burnt area.  It's a strange sort of "off" but fragrant scent and very memorable.  It's a makeup pro essential for dry peeling lips and professionals abroad also use it to add quick dewy finishes on models shoulders, cheekbones, and also to give glossy lids for certain looks on top of eyeshadow (it will crease the eyeshadow but if it's just for a photo, it will do the job for that moment).  Will review this completely on its own.  I apply this on my lips at night before bed and midday for the last 4 days so far. *paid for by StrawberryNET
9. MAC Mineralize Skin Finish Natural baked/pressed powder. – I don't want to describe this too much because I have an upcoming review on it supposedly (the photos were taken MONTHS ago pa) but what I'll say is if you want a pressed powder that gives you a finish with a hint of glow/definition that isn't flat matte, this is the powder for you.  It's also LIGHT coverage so it's not exactly a full powder foundation.  It's more like a setting finishing powder than a covering sort, but according to Wayne Goss if you apply this with a damp sponge or wet it also gives a beautiful heavier but glowing finish.  I usually set my light foundations with this or if I'm in an ultimate rush I'll grab concealer and this and use the powder alone just on top of my entire face after I've concealed certain areas.  No shimmer, no glitter, just powder with an understated satin finish.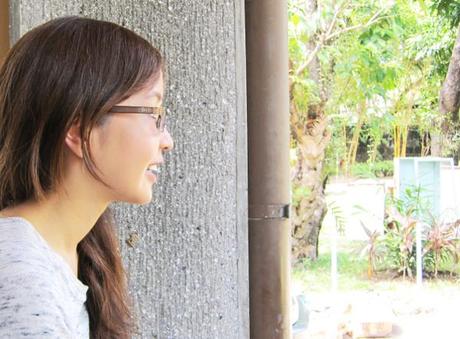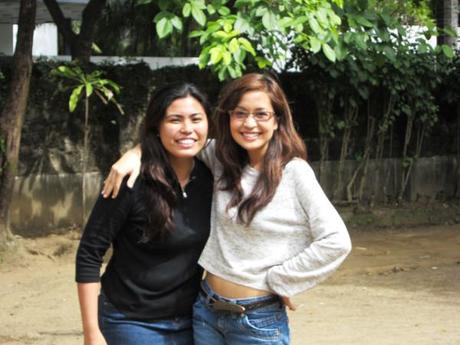 Here's a random photo of one of my favorite summery moments so far, I went back to my old gradeschool, International Montessory School in Forbes, I only stayed there till I was 3rd grade then transfered to a Christian school in Sun Valley Bicutan where I graduated highschool from.  We were called back to IMS because my friend and then classmate (and weird, sometimes rival na hindi for top of the class), Melissa, the principal's daughter, announced that they were closing down the school.  It was the last day of packing up for our teachers WHO WERE STILL THERE!!!  So Mel and I took a few photos on campus. It was quite sunny out and I was wearing my Shiseido foundation.  I'm a bit peeved that I didn't throw in a tenth item, I just really grabbed the items that were top of mind and the ones I was really using almost everyday so far.  The items that are almost gone are my BeFine Cleanser and my Bioderma Sensibio *sniff.  I don't think I'll be repurchasing BeFine as my facial cleanser yet, one because of the price and because my aunt gave me a Kiehl's Acai Anti-Damage Foaming cleanser that I will have to finish first (I don't like accumulating lots of bottles in the bathroom anymore, I finish what's there.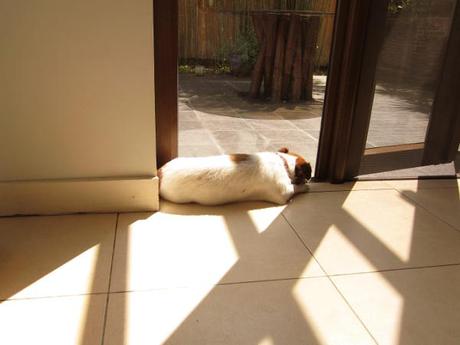 Enjoy the rest of summer, I do hope this summer lasts longer than last year's did.  Our dogs are certainly enjoying the fine weather.