Hey everyone!
Summer has begun and so has the heat, sweat, tan, oily skin...etc. I often get caught saying that I can tolerate any amount of heat when compared to the snow and cold weather. But come summer and I am here complaining about the heat and sweat! Its a love-hate relationship between me and summer! A lot of things change in the lifestyle of a person during summer months. The food we eat, fruits we get, we tend to gorge up on cherries, mangoes, plums and all the other summer seasonal fruits. Our attire changes as well to a much light colored, loose fitting, airy and short ones.While I was aware of all these changes, what I was unaware of, until recently, was that our skin care regime has to change during summer as well!
I have only recently (over the last 4 years) started paying attention to my skincare products/routine. And all these years, I used to use the same products all year round. Just a few months back, I realized (thanks to YouTube gurus!) that I am supposed to switch up my skincare.
So today's post is dedicated to my summer skin care routine. I am by no means an expert in skincare, (Still researching and trying new products, though I will get there one day ;) but I still want to share my routine and the products that i use during summer months!!
Hope you enjoy this post!
First things first, cleansing the skin is very important, as it is essential to remove all the sweat, dead skin, dirt, products like sunscreen, makeup accumulated during the course of the day. I have been enjoying the benefits of double cleansing of late. Double cleansing is, using an oil based cleanser, like a cleansing oil or cleansing butter and massaging it all over the face. This process loosens the dirt and makeup on the face and also the massage increases the blood circulation on the face. After massaging the butter/oil for about a minute or two, yes A MINUTE OR TWO is important to really cleanse the skin well, I use wash cloth soaked in hot water (as hot as your face could take) and wipe away the oil, repeating the hot wash cloth wipe 3 to 4 times to get rid of all the oil. This process really relaxes me and preps me for a good night's sleep.And then I usually use a foaming cleanser (not sure if using a synthetic foaming cleanser after an all natural oil cleanse is a good idea, I am researching this aspect at the moment and will update you guys) as a second cleanse, to remove the oil that remains, if at all any (I get paranoid because, I dont want to leave any excuse for the pesky acne causing bacteria to thrive on my face - Gross)!Products I use for cleansing:
First cleanse:1. The body shop camomile cleansing butter2. Lush cosmetics ultrabland - trying a sample of  this one out currently, and I seem to be liking it3. Burt's bees cleansing oil with coconut and argan oils - testing this one out too.
Second cleanase:1. Clean and clear essentials foaming facial cleanser2. CeraVe foaming facial cleanser (Not pictured, sorry :(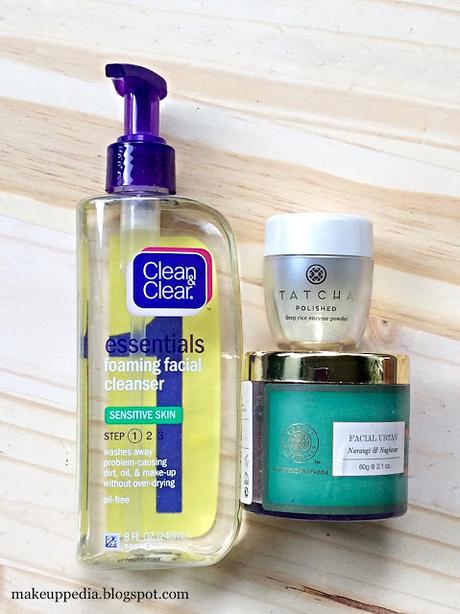 At times, if I feel the need to physically exfoliate, I substitute a facial scrub in place of the second cleanse foaming face wash and get my skin exfoliated.
Exfoliating cleanser:1. Forest essentials narangi and nagkesar ubtan2. Tatcha polished deep rice enzyme powder
About twice a week, I like using a mask. Two masks that I am currently using are:
1. Vichy Normaderm 3 in 1 mask
2. Boscia luminous black peel-off mask.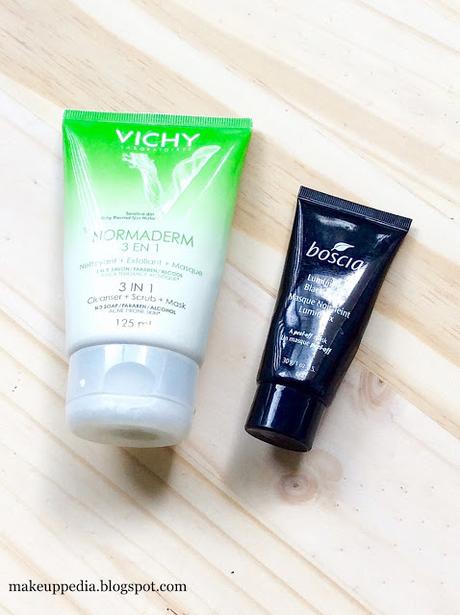 The second step in my summer skin care routine is toner. The toners I will be referring to are acid toners, which are not the conventional toners, but are exfoliating liquids like AHA - Alpha Hydroxy Acid and BHA - Beta Hydroxy Acids. These liquids chemically exfoliate the dead skin cells and helps make skin smoother and brighter. As someone with combination oily and dehydrated skin, I use both AHA and BHA acids as toner:
1. Paul's choice 2% salicylic acid exfoliating liquid.2. Pixi glow tonic with 5% glycolic acid.I am planning to do a separate post about acid toners, so have a look out for that.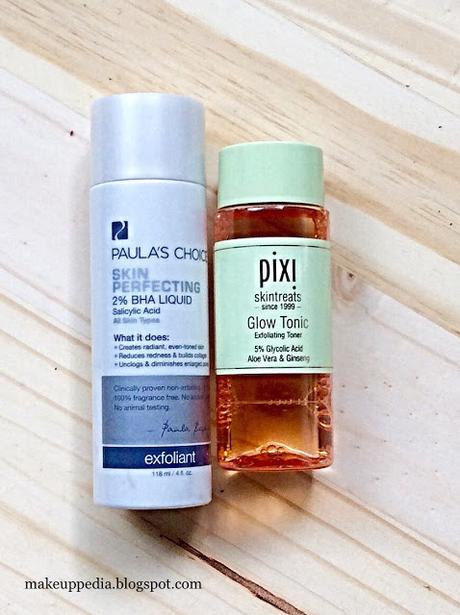 The next step is a serum. A serum is a product with a thinner consistency than a moisturizer and is best when used after toner and before moisturizer, that is either a treatment or just rich in anti-oxidants. You can use the toner as a treatment like a retinol booster or vitamin c booster or hyaluronic acid or just a serum with a bunch of anti oxidants to help prevent the signs if aging.
The serum I use are:1. Keihl's midnight recovery serum concentrate.
2. Paula's choice 1% clinical retinol treatment.
3. I also like to apply an oil as a serum for extra hydration. I am loving using Marula oil at the moment.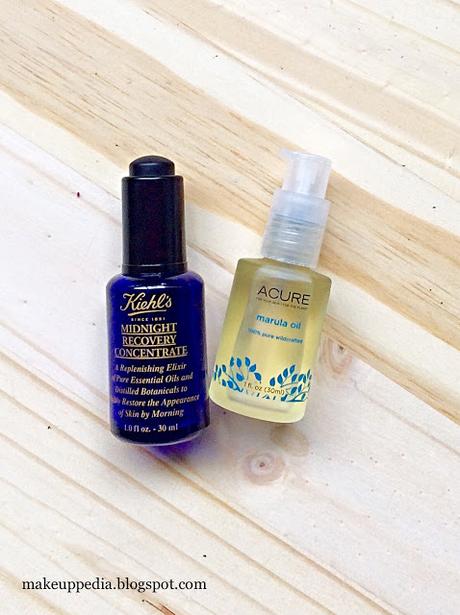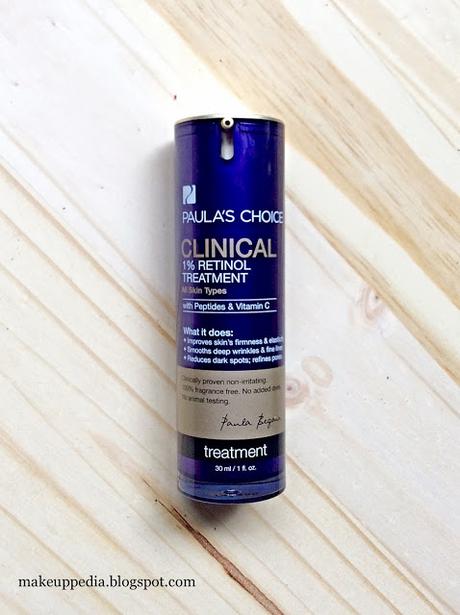 The next step in my skin care routine is moisturizer. This step helps seal the goodness of all the previous steps into the skin and keeps the skin hydrated.
During day time, I like to use a moisturizer with SPF, so I dont need to pile products up on my face. A few moisturizers with SPF that I am enjoying are:
1. Drunk Elephant Umbra Sheer Physical Defense with SPF 30. This one is an physical sunscreen.
2. Neutrogena Ultra sheer dry touch broad spectrum sunscreen SPF 55. This I use when I know I am going to be spending time outside for long.
3. Earth Recipies waterful sun gel SPF 50+ PA+++. This is a chemical sunblock and really moisturizing!!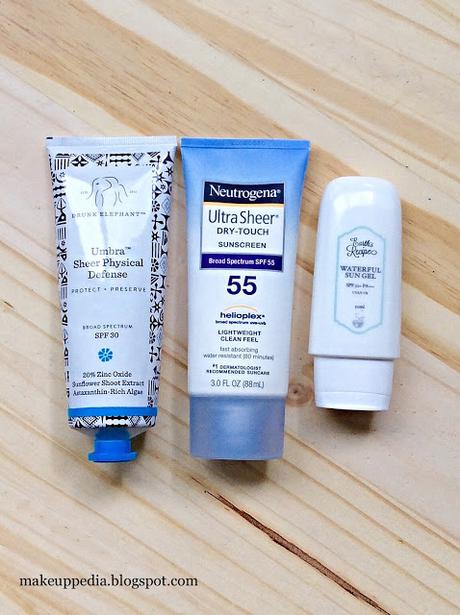 At night, before bed my favorite moisturizer is:
1. CeraVe pm moisturizing lotion at night.
I also like to apply almond/coconut oil on my face, just for a change!
After completing all the steps, I like to spray some deionized water on my face. I have used facial mists in the past, but have never really felt any difference.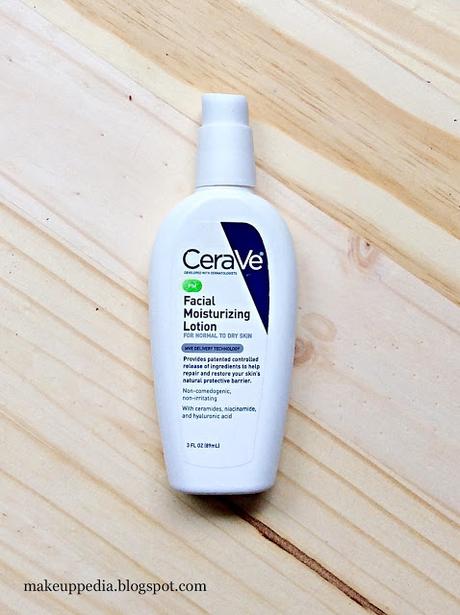 I am still working on improving my skin care routine. Will definitely do another updated skincare routine post soon!
Also summer = short dress, shorts! So it is very essential to shave regularly, to have a smooth skin and flaunt it. Initially I started off with the drugstore disposable razors, but that turned out to be pretty expensive. Then i heard about Dollar Shave Club, which is a monthly subscription box which contains a handle and a razor cartridge (which has 4 razor blades). You can adjust the frequency of your box. You get the razor cartridge and the handle in your first box, and then after, you get the cartridge alone. Also, I feel that the blades are far sharper than the drugstore feminine razors and I get a smooth shave. I really love these Dollar Shave Club razors and am thinking about order a box for myself. During the process of finding the perfect razor for my husband from the DSC, we ended up ordering a couple extra handles and so I have been using one of the extra handles.
If you guys would like to check out the DSC page, here is the link : https://www.dollarshaveclub.com/blades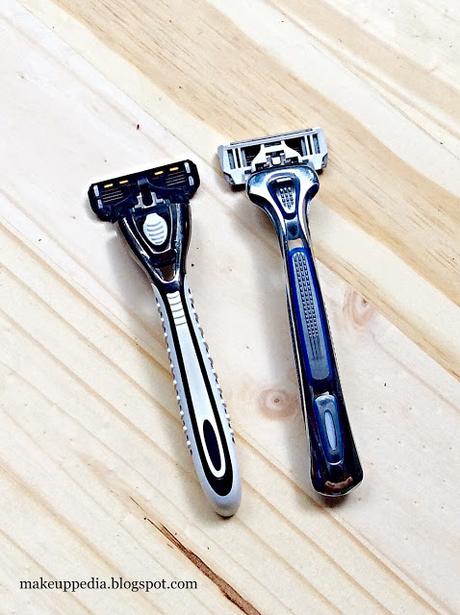 Hope you enjoyed my summer skincare routine! What does your routine consist of? Let me know in the comments section. I would love to know yours!
Have a great day!