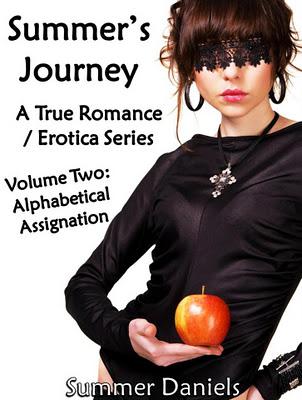 The second volume of this continuing True Romance / Erotica series follows Summer's journey as we find out what happens after that little black dress hit the hotel room floor in Volume One.
"Your intelligence and literary verve have lent themselves to an idea for how to expand your sexual horizons while giving us both a great deal of pleasure. In that vein I will say that you have arrived here tonight for what I will call an alphabetical assignation. Over the next year, if you choose to continue on our journey together, you and I will explore the sexual alphabet together."
Come with me on my journey of sexual self-discovery. See through my eyes and feel through my touch.
Alphabetical Assignations:  A Review
I can close my eyes and transform what is going on in these pages into my own fantastic fantasy.  What happened when that dress hit the floor?  Heat.  Passion.  These intense feelings and emotions play out in this very realistic portrayal of sexual exploration and awakening. One of the keys in this story is trust.  This is integral to the entirety of Volume II.  
Summer is nervous as she walks in the door of the hotel room.   Mark is confident, controlled.  The way Ms. Daniels writes brings you into the story, and you become the characters.  I can't seem to get enough from this talented author!  I have found myself going back and reading this Volume several times.  What a turn on!  This story is wrought with ideas to explore with your partner if you feel adventurous.
This delicious piece of erotica deserves 5 of 5 shooting stars.  mrroww off to adventure!
Author Bio --- A Little Bit Of Summer:
I am a recent divorcee who is on a journey of self-discovery and sexual independence.  I work as an IT executive by day and a new erotica author by night.  You can probably venture a guess which one is more fun!
I am also a very new author who has only been writing professionally for a few months, but it is something I've always wanted to do.  I am self-publishing, but I am getting a lot of feedback from fellow authors and readers that they cannot believe my stories have not garnered a publisher's interest yet.
My friends and family actually have no idea I am writing or published.  I thought it would not be fair to my nieces and nephews in particular to discover some of the naughty things their aunt has been up to!
 The first two volumes of my Summer's Journey series are the beginning of a larger True Romance / Erotica series.  They chronicle the adventures I have been having since my divorce.  Summer's Journey is autobiographical to some extent, with just enough fiction thrown in there to protect the guilty.  (i.e. myself!)
Volume One is an introduction with a lot of background information about what happened to my marriage, how I met Mark, and his unusual method of communication.  It ends in a cliffhanger of sorts as my little black dress hits the hotel room floor.
My ebooks can be purchased in the following locations:

 Amazon:
Author Page:   http://amzn.to/slmg4S
Volume One:  http://amzn.to/oMmFPb
Volume Two:  http://amzn.to/nrMLAJ
Smashwords:
Author Page:  http://bit.ly/uwqiUy
Volume One:  http://bit.ly/rkyggp
Volume Two:  http://bit.ly/pUkWqB
Barnes & Noble:
Author Page: http://bit.ly/t0vZ6V
Volume One:  http://bit.ly/q6lkNQ
Volume Two:  http://bit.ly/oWJCQr
Please connect with me online as well - I love to hear from readers, fellow authors, etc.
My blog is where I post excerpts from my current work in progress, news, future guests spots, and ramblings from my fairly perverted mind. 
Blog:  http://sexysassysummer.blogspot.com/
Facebook:  http://www.facebook.com/summersjourney
Twitter:  http://twitter.com/#!/sexysassysummer
Google Plus: https://plus.google.com/106991151617762959435/

Or send me an email – I'd love to hear from you!  

[email protected]