Summer is officially over here in the U.K., and I'm spending today putting away my holiday/summer clothes and busting out my winter gear. It's a sad day obviously. I was also cleaning up my desk area and wanted to get rid of any products that just didn't work for me. I realised that I was extremely careful about what I purchased this summer and I found that I didn't have a lot of products that failed me, except for one.
Before I continue with the review of the Garnier bodytonic with seaweed extract hydrating firming lotion, I need to say specify my skin condition right now. If this is not the type of skin you are dealing with then this review doesn't apply to you. I'm at the age where my pores are starting to show and where dry skin is now visible. I didn't have this problem 2 years ago, but now in my early 30's, this is happening to me.  This is the tale of the aging woman, but I can cry about it or move on, and I choose to be graceful about it (or at least try lol).
I needed a cheap body lotion that I could apply everyday and when I saw the word "FIRMING" in bold black letters on the front, I figured this is the lotion for me.  I did zero research on it prior to purchasing it (big mistake).  I grabbed the bottle at Boots as it was 30% off, and I brought this baby home.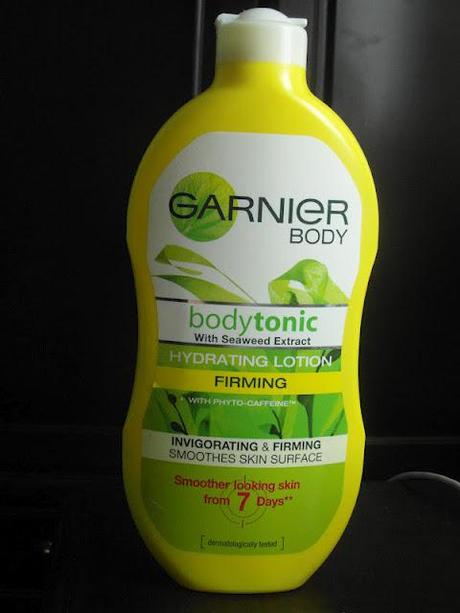 You see what I mean? FIRMING in bold black letters against a yellow and soft toned bottle. Marketing people are so clever.....a little too clever for my liking sometimes.  Here are my pros and cons for this product. Let me start with pros as they are few.
PROS:
1.  400ml bottle for less than £5
2. Squeezable bottle for easy access to product
3.  Available at your local Boots, Superdrug, or supermarket
4.  Non-greasy
CONS:
I only have one "con", but it's a big one and therefore has caused me to put this product in the failure department.
This lotion is non greasy and has a gel-creme texture.  It leans more like a gel than a creme.  I don't have a problem with that, but because it is a gel, it only gives the skin a cosmetic sheen, but it DOES NOT give the feeling of smoother skin.  When your skin is dry and starts to crack and lines appear, lotion is suppose to soak into the skin and make it supple making it appear less cracked.  This gel only glides over the top of the skin and does not go into it to fix the dryness.  In fact, it felt very odd on my skin and left my hands smelling like cheap dish detergent.  This lotion does not fix the root of the problem, but only as a quick fix.  Sure they didn't lie to us on the bottle, because the gel consistency reflects the light to make it appear smoother, but it is deceptive because if you really read into their claim, it says "smoother looking skin" not smoother skin by the touch, which in essence is what a lotion is suppose to do.  it also says on the bottle that it "smoothes skin surface", well it sure did just that and smooth the skin surface but a proper lotion needs to do more than just the surface.  I definitely was sold on this product by deceptive marketing, and I won't make that same mistake twice.
I hope that I don't sound too bitter in this review as this is what beauty blogging is all about...trying new products despite some of them being failures, but I can't keep quiet at the marketing tactics that I see all over the place by big companies.  It's not right despite being perfectly "legal".  I'm not saying that this product isn't perfect for someone else who's skin may not need as much moisturising as mine, but I urge every consumer to read carefully and read between the lines.  It will definitely save you a pretty penny along the way :)
Have you tried this product? What was your take on it?