Sugar Smudge Me Not Liquid Lipstick Review Swatches Price
Today I am dishing out five Sugar Smudge Me Not Liquid Lipstick Review. I love liquid lipsticks and it's always nice when you can source your makeup easily . So let's see what Sugar has to say about their liquid lipsticks.
If you've ever lusted for a "one-coat wonder" product for your lips, your search ends here. Get a full-blooded burst of pigment with just a single swipe of the SUGAR Smudge Me Not Liquid Lipstick that will stay the day and right up till the night! Wine, coffee & date-proof – this is a matte lipstick that is guaranteed to last longer that your longest day. Available in 20 stunning shades that will make it difficult to choose – the question is, are you ready to commit to a lipstick that is built to last?
How to Apply: For precise application, apply it to your bottom lip first and then tend to your upper lip. Since the formula is very pigmented, we suggest applying the colour to the bottom lip first, pressing your lips together and then filling in your Cupid's bow.
Benefits: The SUGAR Smudge Me Not Liquid Lipstick gives you opaque pigmentation with a single swipe that stays all day with zero feathering or fading. Our favourite mattifying fix contains a generous helping of Vitamin E and comes in a full range of 20 gorgeous shades that is guaranteed to make your OOTDs stand out.
Additional Details: The SUGAR Smudge Me Not Liquid Lipstick is available in 20 gorgeous shades viz., Brazen Raisin, Brink Of Pink, Tan Fan, Plum Yum, Rust Lust, Tangerine Queen, Rethink Pink, Wine And Shine, Suave Mauve, Drop Dead Red, Greige Rage, Don Fawn, Wooed By Nude, Teak Mystique, Blush Rush, Bare Flair, Fiery Berry, Divine Praline, Jet Set Violet and Cocoa Ammo .This product is dermatologically tested & approved and 100% safe for your skin.
Size: 4.5 ml.
List of Ingredients: Isododecane, Dimethicone, Isododecane & Trimethylsiloxysilicate, Cyclopentasiloxane & Trimethylsiloxysilicate, Disteardimonium Hectorite, Propylene Carbonate, Vitamin – E, Propyl Paraben.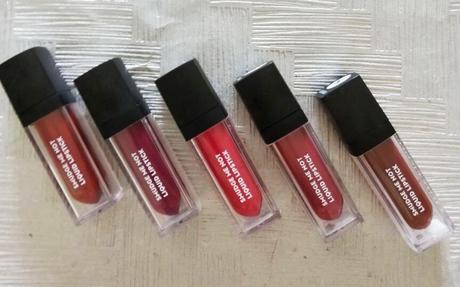 Sugar Liquid Lipsticks
So now lets begin the review on the SUGAR Smudge Me Not Liquid Lipstick.
PRICE: These retail for INR 499. I feel these are decently priced, similar liquid lipstick that is comparable to these in the drugstore would be Colorbar Kiss Proof Lip Stain which retails for INR 900 nad has 6.5 ml of product vs Sugar liquid lipstick which has 4.5 ml product. Another option is the The Body Shop Matte Lip Liquid but doesnt have a wide range of colors to choose from.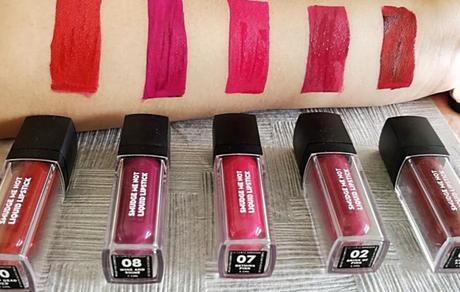 Sugar Smudge me not liquid lipsticks review
TEXTURE: Sugar Smudge Me Not Liquid Lipstick is  very thin in texture and not grainy, they glide on easily and do not clump after few hours of wear, they fade away from the center of the lips if you have oily food, otherwise these are pretty long wearing, infact a bit too long wearing. However these are full matte and drying, you can compare the feel to Colourpop Ultra Matte Liquid lipsticks.
ALSO SEE : Colourpop Ultra Matte Liquid Lipstick Review 
PIGMENTATION: These are very pigmented, you dont need to double dip your applicator. I like the fact the consistency is thin and yet its packed with pigment.
APPLICATOR: The applicator is doe foot and the shape is long and thin and it bends easily on the curve of the lips to give a perfect application. I prefer this applicator to the Colourpop applicator.
STAYING POWER : The staying power of the Sugar Smudge me not liquid lipsticks is insane, these stay put for the longest time and its quiet a task to actually remove them. If however you eat oily food you will notice some fading on the lips. But they do not crumple.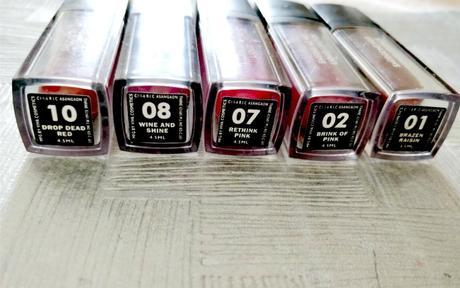 Sugar Liquid Lipsticks
Sugar Smudge Me Not Liquid Lipstick is a tad bit too drying. These are same in feel to the Colourpop Ultra Matte Liquid lipsticks, these however are thinner hence easier to apply. If you do not like the excessive dryness you can always apply a thin layer of lip balm underneath and then go on to apply your lipstick over it. Its always a good idea to exfoliate and moisturize your lips before applying any matte lipstick, regular or liquid. You need an oil based remover to remove these lipsticks because they do not come off easy.

SUGAR Smudge Me Not Liquid Lipsticks Swatches
The five shades I have are :
01 Brazen Raisin : Sugar Smudge me not liquid lipstick Brazen Raisin is a bold deep burgandy liquid lipstick, which is perfect for fall/winter. I quiet like this color.
02 Brink of Pink : Sugar Smudge me not liquid lipstick Brink of Pink is a muted dusty mauve color, its perfect for someone who doesnt like a deep dark or bold lip color. Its very wearable and a good option for lipstick for Indian skintone.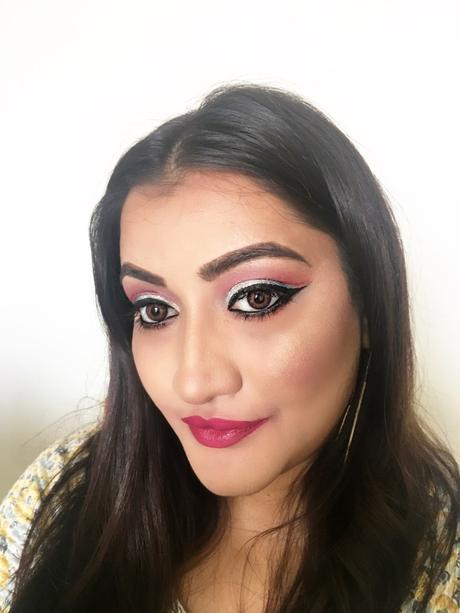 02 Brink Of Pink
07 Rethink Pink : Sugar Smudge me not liquid lipstick Rethink Pink is a bright Warm Fuchsia with red undertone, its a beautiful shade because it doesnt pull off any neon colors and hence works well for all skintones.
08 Wine & Shine : Sugar Smudge me not liquid lipstick Wine & Shine as the name suggests is a deep violet berry shade, and again is going to be very popular for the fall winter season. Its very flattering very opaque and looks good and is suitable for all skin tones.
10 Drop Dead Red : Sugar Smudge me not liquid lipstick Drop dead red is a beautiful brown red lipstick. I was hesitant about this lip color initially but once I applied it I fell in love with it. It will go beautifully with ethnic Indian wear, and again a shade that will look good across all skin tones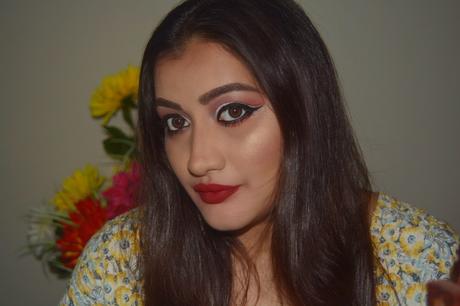 Sugar Liquid Lipstick 10 Drop Dead Red
Overall I am pretty impressed with the Sugar Smudge me not liquid lipstick , only area of concern is the dryness. Which I can make work with a little help from lip balm . So that is okay. From the price point its very fairly priced and I also love that Sugar cosmetics came out with 20 shades, which is pretty impressive. All other drugstore brands dont have nearly half of the color range as this , so kuddos to Sugar. If you can work with the dryness and do not mind a little sheen to your lips then these are perfect for you. I hope you all liked the Sugar Smudge Me Not Liquid Lipstick review.
Related
Related Posts via Categories
Lakme 9to5 Primer + Matte Lipstick Review, Swatches
Colourpop Ultra Matte Liquid Lipstick Bumble and More Better Review, Swatch
NYX Liquid Suede Cream Lipstick Vintage Review
Bourjois Rouge Edition Velvet Lipstick Nudeist 07
LOREAL COLOR RICHE LIPSTICK 290PLUM PASSION REVIEW, SWATCHES AND FOTD
COLORBAR VELVET MATTE LIPSTICK PEACH CRUSH REVIEW, SWATCHES
COLORBAR TRUE GLOSS PINK STAIN REVIEW SWATCHES AND LOTD
COLORBAR VELVET MATTE LIPSTICK HOT HOT HOT REVIEW AND SWATCHES
Maybelline Pink Alert Lipstick POW 4 Review and Swatches
Tags:
affordable liquid lipstick, affordable makeup, brazen raisin, brink of pink, budget beauty, drop dead red, drugstore makeup, liquid lipsticks, liquid lipsticks in India, rethink pink, sugar smudge me not liquid lipstick review, sugar smudge me not liquid lipsticks, wine and shine