STYLING YOURSELF AND FINDING THE INNER FASHIONISTA IN YOU NEED NOT BE A FUSS. HERE ARE  TEN USEFUL STYLE TIPS FOR EVERYONE: 
1
) EARRINGS
 - USE THEM SPARINGLY.. unless you don't want it to overshadow your outfit..Use studs and dangling alternately.
2. 
NECKLACE 
- If your outfit already has a statement stud, design, embroidery, accent, sequin, do not anymore put on a necklace because it will overrule the outfit. THE LESSER, THE BETTER.
3)
 SHOES
  -  Match the color of your shoes with either your bag, pants or the entire outfit. Do not wear socks that are the same color of your shoes unless it is white or black. Be careful with colors, it can work or not work for you.
4)
 TIE
 - ties should only be worn with a long sleeve polo, not with a barong, a short sleeve, a polo or t-shirt. If your long sleeve has stripes or accent, avoid ties with prints or pattern. On the other hand, ties with pattern or print should be used with plain colored, monochromatic polo. A bow tie will work but do not wear them all the time.
5) 
 TOPS/BOTTOMS
 - the polo, shirt, blouse, whatever the design is should matched in color, style and design with the bottoms you are wearing. Colors should be limited to three. Four colors, and you will look like somebody selling ice cream. Combining tops and bottoms should be limited to three, IF it is a four -piece, make sure they are color coordinated. 
6)  
COLOGNE
- use perfume, cologne only when you have taken a bath. You do not want your odor mixed with that expensive eau de toilette, otherwise, people will run away from you, even the BEES....
7) 
 BRACELET
 - the less sounding it is, the better. Stick to two to three colors only. It should matched with the outfit. You can wear them as may as you like if you are wearing a plain tank top and some denim shorts...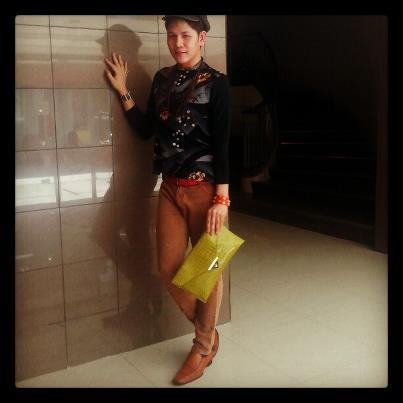 8)  
BAGS-
  A small bag is for the party, a large one for travel, a medium for office. If you do not plan to carry any bag, and you end up shopping, avoid carrying plastic (BUT WE CANNOT AVOID THEM). Recyclable bags should be always at hand, whenever you go out. You might never know what you can buy when you drop by an urban bazaar. 
9) 
 SOCKS
 -- should not be multicolored. Avoid wearing them when you are with sandals, but please do wear one with leather and sneaker. Color should match either the pants and shoes. Avoid those striped, patterned socks. For guys, please have them long enough so that when you cross your legs, your skin will not show. For girls, shoe socks, or sandal protectors should not be seen.
10) 
UNDERWEAR
 -  When you are wearing a skimpy, see through slacks, a T-back may be useful (if you can carry them without hurting yourself) , so that your bikini line will not show. For boys, avoid wearing  underwear that catches the audience of your back, as it seems that everybody now a days wears similar branded stuff. Use fabric conditioner all the time to preserve the garter and texture of the underwear. 
Should you need styling tips from me, or want to make over yourself, just leave your comments below and I'll be happy to reply to you immediately.