One of the downsides of being a lady is to always have to deal with the headache of hair removal. Yes, we're talking about unwanted hair in places like your legs, underarms and sometimes "down under".  There are a myriad of hair removal options, from D.I.Y. shaving and epilation to more professionally done waxing and IPL, each requiring a certain level of pain tolerance. That said, for a quick, pain-free and longer-lasting result, opting for IPL sessions is the way to go.
Just a little background on IPL (Intense Pulsed Light): 
An advanced and semi-permanent hair reduction method,  beams of specially filtered light are used to disintegrate hair from the root and target the hair follicles which are responsible for hair growth. This helps to delay new hair growth is delayed and ensure that a percentage of hair may not re-grow.
Benefits of IPL:
Provides you with a semi-permanent hair reduction solution
Lightens pigmentation such as the pesky dark patches on your underarms
Helps to reduce the occurrence of ingrown hair substantially
Can be used on almost any area of the body: legs, bikini line, back, underarms, arms, upper lips and etc
Safe and painless (depending on the area) hair removal method. Some customers may experience mild reddening of the treatment area for a day or so, but other complications are rare.
Walk-through and Review:

The Paragon outlet was tastefully decorated with kitschy decor,  giving it a warm and homey feel,which is great for calming those pre-treatment nerves! (Especially if you're a first-timer!)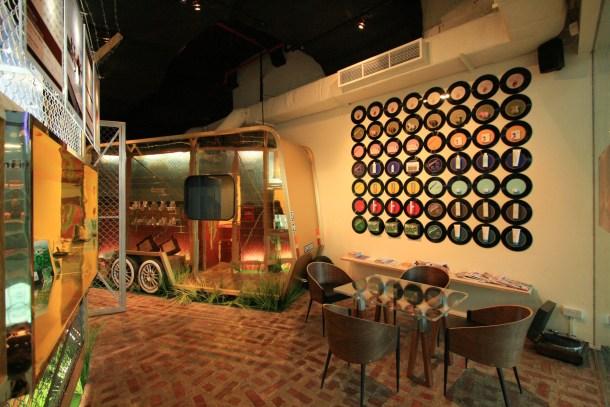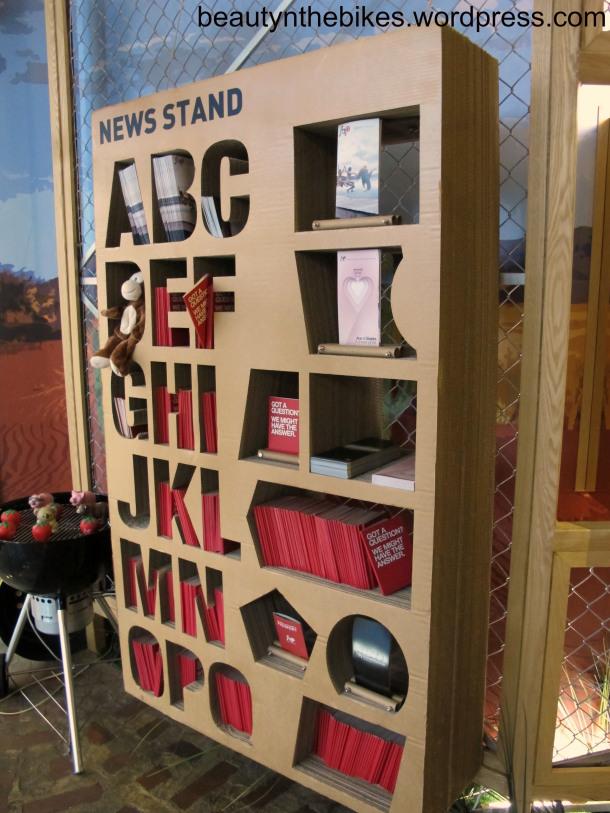 Sip on a cuppa and flip through some magazines while waiting for your appointment. Weiying kindly gave me a brief run-through of what to expect during the treatment and then I was off to the treatment rooms.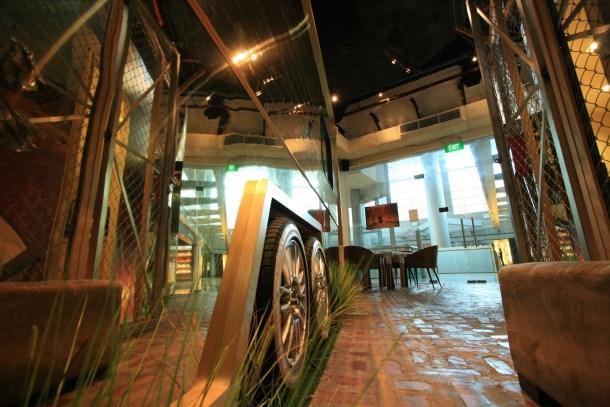 Passing a trailer on the way to the treatment room.
Procedure for IPL session: 
After I was relaxed and making myself at home on the snug treatment bed, I was given an eye mask to put on to protect my eyes from the light emitted by the machine. While I'm not sure if anyone has fallen asleep during the treatment before, it was certainly more than comfortable enough to do so!
The therapist will then clean and powder the treatment area before shaving off any existing hair. This is to help the IPL machine detect the hair follicles more easily.
A cold gel (fresh from the fridge) is applied to treatment area: This helps with both heat and light distribution, keeping the process pain-free and effective.
During the IPL: I was pleasantly surprised because the entire process was 100% pain-free.  Granted there were times when I did feel a slight heating sensation but  it was not unpleasant at all. If you're more sensitive, just tell the friendly therapist and she will add more cold gel accordingly. The IPL machine Strip uses delivers light energy to the skin very gently and the hand-piece helps to extract heat from the skin for maximum protection when each pulse of light is administered. Do note that if you're going for a brazilian IPL, it may be slightly more painful since it's a more sensitive area but is still a lot less painful than waxing.
After the treatment is over, what's left of the cold gel will be wiped off and their signature "Ice Cream", a soothing calming cream that puts out skin flames and fires with lasting moisture is applied on the treatment area.
Aftercare: After the session, the therapist will advised me on post-treatment care such as no tight clothing around the treatment area or intensive exercise for the next 24 hours and no suntanning or scrubbing for a week. If you have a memory  like Dory from "Finding Nemo", no worries because they  provide a mini post-treatment care booklet that can be handily tucked into your wallet.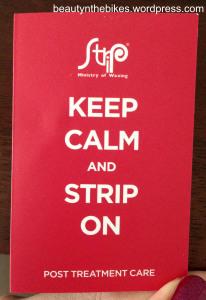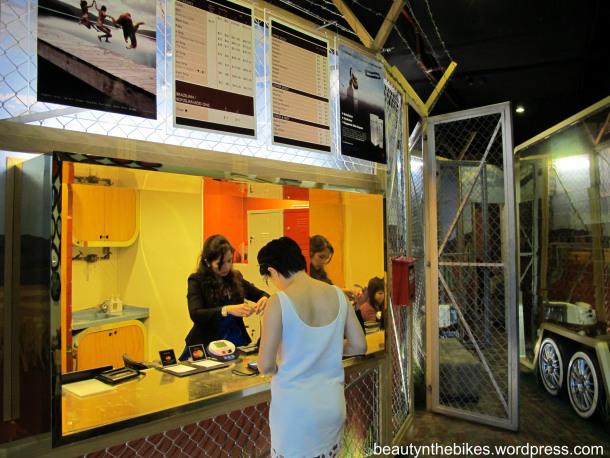 Whew! You survived the treatment, so time to book your next one!
Overall, I had a virtually pain-free experience, which was a pleasant surprise considering how there are so many horror stories floating around about IPL feeling like rubber band snapping on your skin. It was also executed very professionally and efficiently so it took about 10 minutes and I felt no discomfort nor did I experience any redness in the treatment area right after the session. My hair did regrow about 5 days after the session but it was much less and even so, the hairs that grew back were much finer than before.
Also, the general misconception of IPL is that it is permanent hair removal, when in reality, it is more of permanent hair reduction. So you can expect some regrowth over time but it is usually much less and tends to be finer than before. If you're doing a couple of sessions, you're not supposed to wax, tweeze or pluck in between the IPL sessions because doing so will remove the hair follicle that the IPL targets.
All in all, although IPL is more pricey compared to other hair removal methods, it definitely saves you time and  the hassle of  keeping certain areas smooth and hairless. If you're in the market for  quick and pain-free hair removal, do considering popping by Strip to give it a try.
STRIP IPL is available at all STRIP outlets in Singapore. 
100 AM 
Beauty Emporium  (Dempsey)
Wheelock Place
The Cathay
Great World City
Ion Orchard
Mandarin Gallery
Katong
Paragon
Raffles City Basement
Raffles City Street Level
Holland Village
Vivo City
Tampines 1