My love for street art has grown exponentially in the past few years.  No wonder it has happened since visiting Berlin as it is the mecca for street art.  Graffiti is scrawled on almost every imaginable place, even on escalator steps.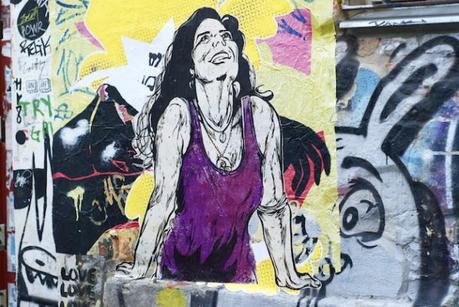 This visit I was keen to go on a different sort of tour of Berlin.  The first time I did a historical tour and also one of Sauchenhausen concentration camp.  Both engaging and informative but with the history covered I was looking for something more.
My travel mates were up for it and I led us to go on an Alternative Berlin Tour.  There are many choices of 'free tours' in Berlin making them all quite good so you can't really go wrong with any  company you choose.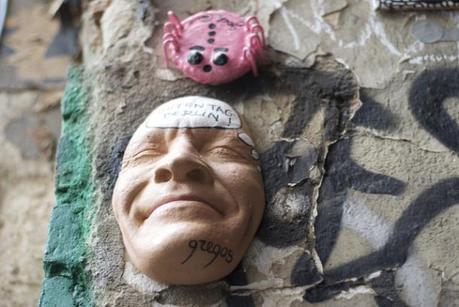 While the bulk of this tour covers street art and graffiti it is peppered with odd and interesting stories about Berlin.  Our guide Lynn from Luxembourg managed to navigate our group through the city and keep me engaged (mostly) the whole time.  My patience for tours has diminished as of late and even the most engaging tour gets a bit old for me fairly quickly.
The basics:
Street Art is ILLEGAL in Berlin.  Many people wrongly believe that it is entirely legal to engage in street art in the city.  The reason why Berlin is the mecca is because there is an obvious absence of CCTV.  The team of police who specialize in busting offenders of this kind consists of just 6 people.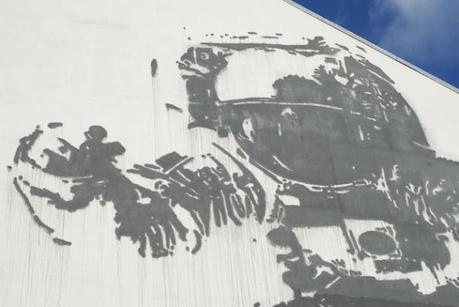 There are an abundance of paste ups around and while there are many reasons for this (easy to produce, quick to place) the one that mainly drives it is money.  If you are caught placing a paste-up on a wall the fine is 15 euros compared to £2000 for a permanent image.
There are however some free walls in the city that do allow for art and graffiti.  Artists are also commissioned to do work, some of it advertisement and if not pointed out by a guide a tourist would have no clue.
A Few Prolific Street Artists in the City
One United Power
The biggest crew operating in Berlin is the 1UP (One United Power) crew.  Their name was plastered all over the city big and small, and once it was pointed out to us it was hard not to notice.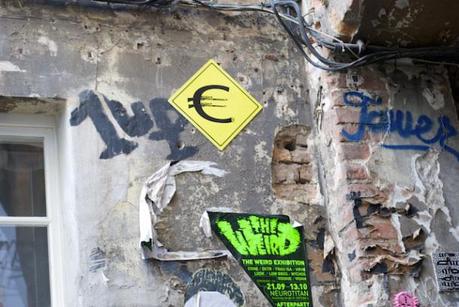 They make sure that they complete their large scale graffiti/art within 3 minutes, this is so if the police are called they can get away.  To do this everyone in the crew has a specific task, one may do the outline, one color in etc.
They often break into metro stations, pull alarms to stop a train and much more.  Watch this video here, it is clear they are tired of constantly being bombarded with advertisements and part of this is their push back.
El Bocho
El Bocho has been working on the streets since 1997 and is by now amongst the most famous and visible street artists in Berlin.  His work was my favorite.  His large sized melancholy girls, murderous Little Lucy, and tourist advice were fun but also had meaning.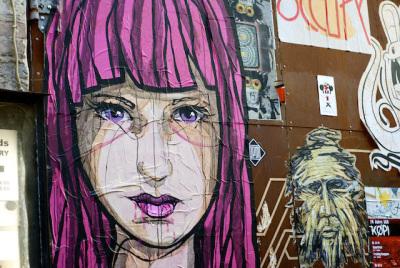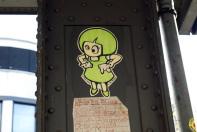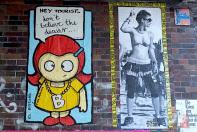 Communication and references to urban life are the main components of his work.  His melancholy girls are usually accompanied with a quote about how life in Berlin has changed.  Little Lucy was a Czech children's show and Lucy had a cat she loved.  El Bocho's version has Lucy finding various ways to kill her beloved cat.
There is also a game that you can play with Little Lucy.  If there is a picture of Lucy with no cat then the cat is somewhere near by – and dead.
Sober
Another artist who primarily uses paste ups is Sober.  He puts up images of women who are dancing and partying and drunk.  It is funny to then be called sober but his stuff is a tad one note and thus wasn't one of my favorites.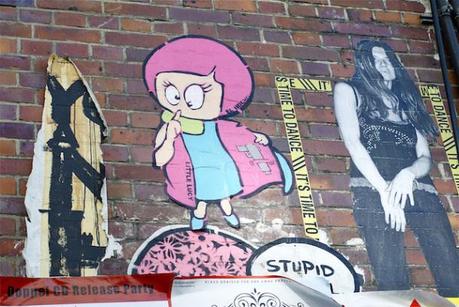 In this picture you can see Little Lucy without her cat but a gun.  Another paste up was near by with a dead cat hanging and a hole through its belly.  Of course some times the game doesn't work because the cat has been removed or pasted over.
Vhils
Vhils is a Portuguese artist who creates portraits with explosives.  He has a large portrait in London's east end so I had heard of him before and I knew his style and it was nice to see something familiar.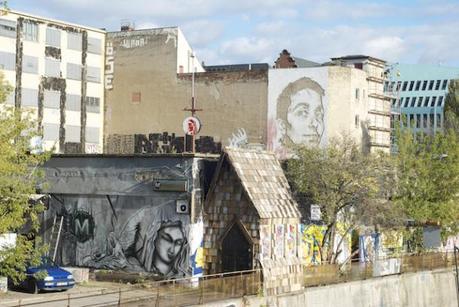 This Portrait is showing Gould from "Various & Gould", one of the most known street art duos in Berlin.  Our guide told us that this piece was commissioned and is actually an advertisement.
Directly to the left of this scene is written 'Fuck off media spree' in reaction to the fact that street art is now being commissioned.  Street art and graffiti is organic, temporary, and counter to main stream culture so it is completely understandable that people who are firmly in the street art world would be against corporations getting involved.
I highly recommend going one of these tours as it is just as important to do a counter culture tour when visiting Berlin because it is a huge part of the past and the present.  It is what makes the city unique and exciting.