The best things in life are free!
Way back in April I attended a free Masterclass run by Cannon & Cannon matched with craft beers from Oldershaw Brewery.  I soon learned that Cannon & Cannon operate out of Borough Market and are experts in their field.  The class was held in St Pancras station's MI + ME restaurant.  These complimentary weekly masterclasses, run as part of Renaissance Hotels global entertainment programme, Evenings at Ren.
From the eventbrite page:
Running once a week, the Cured Meat and Craft Beer Pairing classes will be led by meat experts Cannon & Cannon who are based in Borough Market and also have a stall at the King's Cross Real Food Market. Oldershaw Brewery, who produce the hotel's exclusive St Pancras Beer, will be showcasing a variety of craft beers, personally selected to highlight the flavours in both the meats and beers.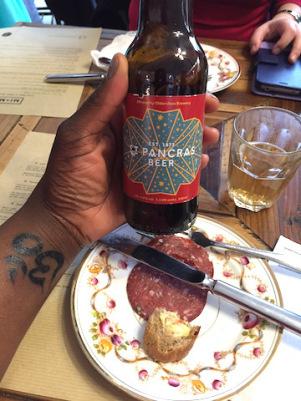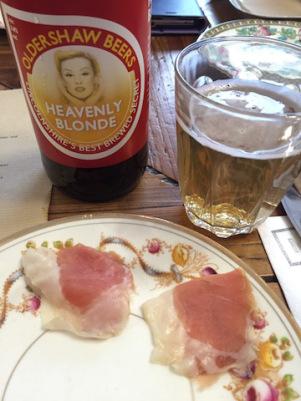 During the 1.5 hour session, participants will be introduced to a range of cured British meats, including Bath Chaps, Air-Dried Loin of Pork and Venison Salami by an expert tutor from Cannon & Cannon Meat School. In addition to explaining the provenance of the meats, the tutor will also talk through their specific characteristics and how to pair them with beer to get the best effect. This knowledge will then be put into practice using Oldershaw's selection of craft beers including a 4.8% Old Boy with a nutty, roasted malt base and a 5% Blonde Voluta with tropical and citrus notes.
The masterclass series is designed to help guests and visitors get under the skin of the local King's Cross neighbourhood as well as learn a new skill or find a hidden talent. 
I quite liked the format and found our class leaders to be informative, encouraging and genuinely interested in the subject matter.  I must admit that I was a bit clueless when it came to all of the above –  beer, cured meats and putting them together.  I'm not a beer fan usually, except for on a really hot day nothing beats an ice cold beer.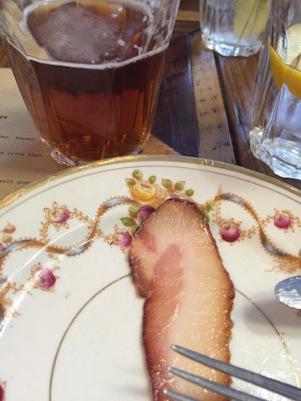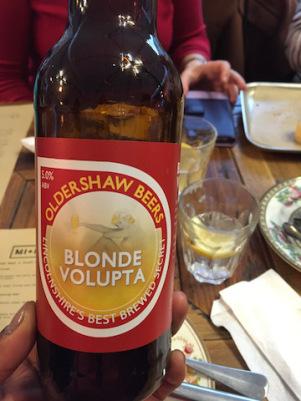 The fantastic thing about the event was that it was quite laid back and I didn't feel as though the participants were competing with each other over who knew the most about the subject.  There was however one American at our table (of course) who knew about everything.  She was mostly harmless but buddy if you know everything why are you there?!  I will never understand these people.
While I cannot detail to you the best beers to go with the best cured meat I can let you know a few things.  I do not like lamb charcuterie.  One of the pairings was lamb and the smell of the meat was so strong that it was off putting.  I also liked almost all of the beers.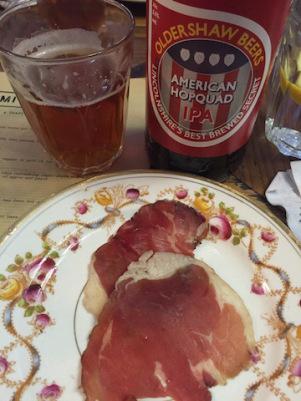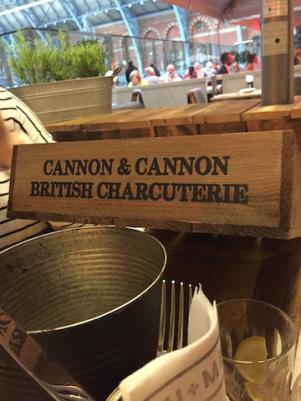 So I highly recommend popping into Oldershaw Brewery which is right beside the MI + ME restaurant.  They can let you know what pairings are best but I think that you should experiment.  Our table found that some of the pairings weren't 'right' and that the beer was too over powering for the meat.  It is all about enhancing the flavor but at times the flavor was too potent.
For a free event I was surprised at how generous they were with the beer and the meat.  Our table had 4 people but some were sharing just two and if that was me I'd be drunk at the end.  I was quite tipsy when I was done so there is no way I'd be able to handle fewer people sharing at our table.  The Renaissance Hotel is stunning as it is to be expected but very inviting.  I would go and have drinks there easily.  It consistent mostly of tourists, city types and a few people who don't fit into those descriptions – mainly myself and my friend.
While the free events are over make sure to keep an eye out on event brite's page because they put up tons of free events throughout the year.  Something popped up on my twitter, I asked if anyone wanted to attend and then my friend booked it.  You can't hesitate in London when you hear the word free.